Hmmm … what comes to mind when viewing Potash Corp's (NYSE:POT) most recent quarterly earnings release?
The Hindenburg? Maybe the Titanic?
Q3 earnings dropped to 74 cents per share versus 94 cents in Q3 2011, on revenues of $2.143 billion USD versus $2.321 billion.
Cash flow was still respectable, at $804 million ($0.94 per share) versus $964 million ($1.11 per share) in the year ago quarter.
This is in the best agricultural input market in the last four years, if not North American history. And the stock is down a third over the last year and a half.
Potash Corp's offshore potash shipments were 1.1 million tons versus 1.4 million a year ago. They've been flat lining all year.
North American potash shipments were 0.95 million tons, versus 0.77 million a year ago.
The N. American realized average potash price was $466 USD/ton, down from $533 a year ago.
The offshore average potash price was less than $400, at $398 USD/ton, versus $406 a year ago.
This is still an immensely profitable business for Potash Corp: Cost of Goods Sold was $160/ton, so GM is positive for both sales segments.
I've been arguing for over two years, that their international potash business was vulnerable to the lack of buying power of its major customers, combined with their desire to become "Canpotex free" because of the high cost of the product and the inflexible negotiating tactics by Canpotex.
The sleeper issue has been the increasing price competitiveness of delivered product from the Russian and Belarussian potash producers, namely, Uralkali (OTC:URALL) and Belaruskali.
And this has played out pretty much as forecasted. The stock is trading at $40 US, versus $60 a year and a half ago.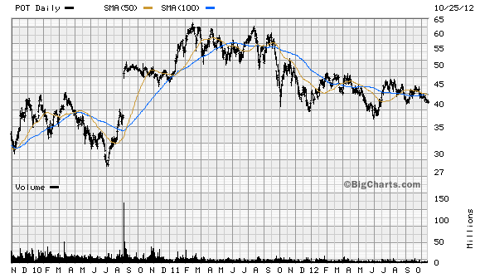 Arguably, the August 2010 BHP Billiton bid for PotashCorp would have been more profitable for POT shareholders, than being forced by the federal and Saskatchewan governments, that they must hold their shares. I believe BHP would have paid up to $60 per share on a split basis.
Earnings guidance for 2012 from the POT (smoking?) company dropped from $2.80 to $3.00 EPS to $2.40-$2.60 (down 16.7% at the midpoint).
Brazil has been a bright spot for Canpotex, due to the increasing demand for soybean and corn given the US shortfall in these crops.
But it's only a matter of time before Vale (NYSE:VALE), their biggest mining company, also starts selling potash to their home country, forcing Canpotex to take a lesser role.
Those who have argued (and several SA authors have) that PotashCorp must be a great investment, because people "need to eat" have been terribly wrong over the last few years. They continue to say the earth must be flat, so Christopher Columbus must fall off the edge.
I'll put more meat - pun intended - on this story in the future.
Disclosure: I have no positions in any stocks mentioned, and no plans to initiate any positions within the next 72 hours. I wrote this article myself, and it expresses my own opinions. I am not receiving compensation for it (other than from Seeking Alpha). I have no business relationship with any company whose stock is mentioned in this article.