On October 23rd, 2012, we wrote A Look at 10 Companies With High Debt Characteristics. One of the names to make the list is Guess? Inc. (NYSE:GES). Today the stock is trading around $24.45 versus its 52-week range of $24.23-$$37.75. The stock is down 22% in the past 1-year. The stock pays a dividend yield of 3.3%. It is trading at a P/E multiple of 11 times versus a forward P/E of 10 times. The company's five-year average P/E is 12 times. Its peer Express Inc. (NYSE:EXPR) trades with a P/E multiple of 8 times, and a forward multiple of 7 times. Bebe Stores (NASDAQ:BEBE) trades at a P/E multiple of 66 times, and a forward multiple of 23 times. Bebe stock is down 45% in the past 1-year.
Fundamentals that put valuation at risk:
Operating margins have continued to decline and the trend will continue going into 2013 and beyond. Operating margins have declined from 17% in 2009 to 15.5% in 2012. The company's efforts to drive sales will have to be a combination of additional promotions, and higher marketing spend. This could impact margins by another 50-100 bps going forward.
Europe will continue to be a challenge. The challenging economic environment in Italy, and France will weigh down on earnings considering half of the company's European exposure comes from these two countries.
Higher pricing of Guess merchandise is the biggest contributor to the risk to earnings. Their products are 15-35% more expensive than both Express, and H&M. A difficult consumer-spending environment in the U.S., and Europe do not support spending on Guess merchandise, which is more expensive, and less fashionable.
The company has a strong balance sheet with $282 million in cash & short-term investments. Something to keep in mind is that SG&A has increased to $1.2 billion 2012 from $923 million in 2009. This trend is expected to continue as Guess tries to promote its products via additional marketing spend.
Conclusion: As discussed in our introduction, Guess looks cheap on valuation, but the fundamentals but the valuation at risk going forward. Also, although management has increased dividend year-to-year, this time they might have to wait to see an improvement in earnings before returning extra cash to investors. Investors await a turnaround in Europe, Guess merchandise, and the pricing before adding this name to their portfolio.
The chart below compares share performance over the past year. "E"s mark earning reports.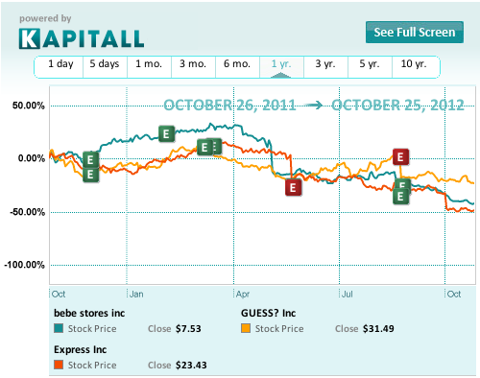 Written by Kapitall's Sabina Bhatia. Tool provided by Kapitall.
Disclosure: I have no positions in any stocks mentioned, and no plans to initiate any positions within the next 72 hours.
Business relationship disclosure: Business relationship disclosure: Kapitall is a team of analysts. This article was written by Sabina Bhatia, one of our writers. We did not receive compensation for this article (other than from Seeking Alpha), and we have no business relationship with any company whose stock is mentioned in this article.