By: Brendan Gilmartin
Baidu, Inc. (BIDU) is scheduled to report 3Q 2012 earnings after the closing bell on Monday, October 29. The actual results are expected to come through at approximately 4:00 p.m. EST with a conference call slated to follow at 8:00 p.m. Baidu is China's largest search engine and offers an array of additional services, making it among the most trafficked local sites.

Non-GAAP Earnings Per Share (3Q 2012): The current consensus is $1.29, the midpoint of analyst forecasts ($1.23 - $1.34). (Source: Yahoo! Finance)
Revenues (3Q 2012): Baidu previously said it sees 3Q 2012 revenue in the range of $983.0 mln to $1.009 bln. The consensus is at $1.0 bln.
Revenues Guidance (4Q 2012): The current consensus is for revenue to grow 46.3% to $1.03 bln.
Baidu shares are currently trading at around 18.4x forward earnings, resulting in a FWD PEG ratio of just 0.70.
Keep an eye on the following as potential sympathy plays: Sohu.com (SOHU), Sina (SINA), and Qihoo 360 Technology (QIHU).
Recent News

Technical Review
Baidu shares are trading in a relatively narrow 10-point range ahead of the 3Q 2012 earnings release. Should the results surprise to the upside, there is initial resistance at $117.50 - the upper end of the recent trading band, followed by the 200-Day SMA near $125. Conversely, support is at $110, with downside risk to the $105 area, followed by the 52-week low of $99.71. (Chart courtesy of StockCharts.com)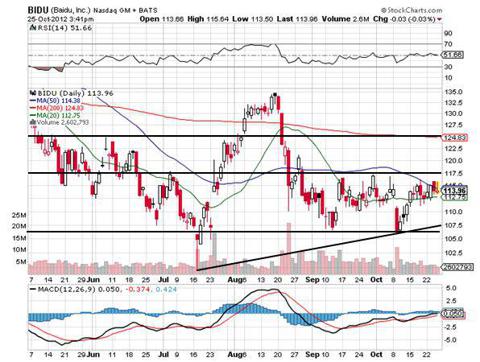 Click to enlarge
Summary
Baidu shares have come under pressure in recent months, trading 25% below the 52-week high of $154.15 on March 27. The company is facing increased competitive pressure in the Chinese search market, particularly from Qihoo 360 Technology, along with the increased adoption of mobile devices and the challenging ad market. Bulls argue that recent data points to a bottoming near-term in the Chinese economy, while the company maintains a dominant position in the local search market. At 18.4x forward earnings, the Forward PEG ratio is also a mere 0.7, suggesting downside may be limited over the near-term.
Disclosure: I have no positions in any stocks mentioned, and no plans to initiate any positions within the next 72 hours. I wrote this article myself, and it expresses my own opinions. I am not receiving compensation for it (other than from Seeking Alpha). I have no business relationship with any company whose stock is mentioned in this article.
Disclaimer: By using this report, you acknowledge that Selerity, Inc. is in no way liable for losses or gains arising out of commentary, analysis, and or data in this report. Your investment decisions and recommendations are made entirely at your discretion. Selerity does not own securities in companies that they write about, is not an investment adviser, and the content contained herein is not an endorsement to buy or sell any securities. No content published as part of this report constitutes a recommendation that any particular investment, security, portfolio of securities, transaction or investment strategy is suitable for any specific person.