It has been a great run for cloud data provider Equinix (NASDAQ:EQIX). The hedge fund favorite has rallied more than 70% this year, and was up over 100% at its peak in September. As hedge funds scurried to embrace "The Cloud" and the profits to be generated therefrom, EQIX became a consensus favorite. By June, hedge funds collectively owned an astonishing 42% of the company's equity float. It would take 21 days for hedge funds to liquidate those holdings in an average volume environment. That's an awfully crowded looking trade. But the bet isn't strictly one-sided. The stock has 12% short interest. Both sides are playing with fire, as either could be squeezed by a rapid move.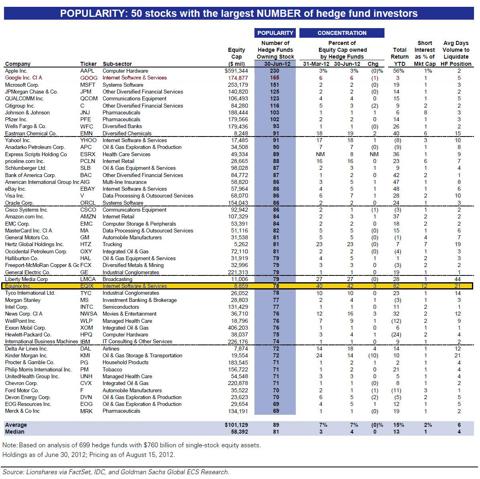 While hedge funds continued to add to EQIX positions in 2012, they haven't been joined by company insiders. There are many reasons folks sell, especially in smaller companies that have been rewarded with higher stock prices, so I wouldn't put too much weight into insider sales - but that said, there are only insider sales for EQIX. Nobody on the inside has purchased stock in the last year according to SEC records.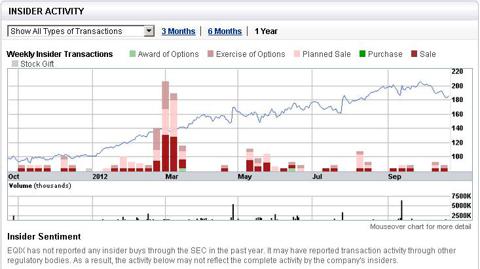 Recent price action suggests that the good times for EQIX may be over for now. The stock's rapid rise over the last two years took the form of a rising wedge. It's a sentiment scenario whereby bulls and bears alike grow increasingly bullish, but the growing optimism of bears is outpacing that of bulls. There is an increasingly optimistic consensus. Roughly speaking, rising wedges tend to resolve to the downside about 66% of the time.
It appears that EQIX broke to the downside of a rising wedge last week. The breakdown came after money flow went sharply negative during the preceding top, a condition that often signals a weakening rally. After falling under its trend line support and 50 day moving average, the stock failed in an attempt to regain the 50 day moving average on Thursday morning.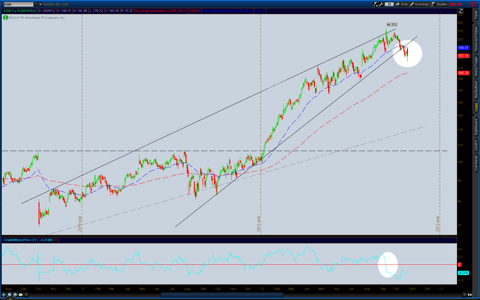 To start 2012, EQIX broke out from a 10 year bullish consolidation pattern. After repeatedly topping around $100 from 2002-2011 while the bottom steadily rose (forming an "ascending triangle"), the stock finally broke through $100 and quickly doubled in 2012. It's interesting to note that the rally brought EQIX along the underside of a trend line that started in the 2002 bottom. I mention this only to note that should the selling in EQIX get nasty, $100 should provide very strong technical support for the stock.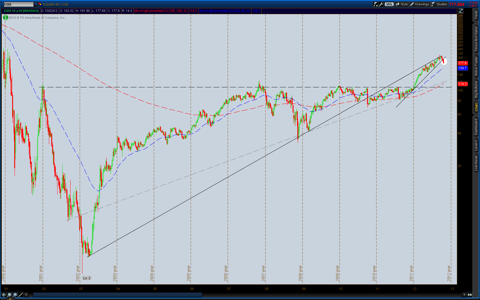 My analysis always focuses on sentiment over fundamentals, but the fundamentals at Equinix look vulnerable as well. As is usually the case with fast-rising stocks, the company engendered enthusiasm by growing rapidly in a hot sector. Equinix has steadily grown annual revenue at 30%-plus since 2009, and earnings growth is expected to top 50% this year. Strong earnings beats in the first two quarters of 2012 helped propel the stock to new highs. But new highs have been accompanied by lofty valuations. The company trades at a P/E north of 90, with a Price-to-Sales over 5 and Price-to-Cash Flow over 16, all of which are well above their industry average.
I do not believe valuation concerns alone are reason enough for the stock to sell off. But combine stretched valuations with price action that shows sentiment turning negative, and the risk escalates. Make it a crowded trade among the hedge fund community which isn't exactly known for patiently waiting out tough times, and EQIX may be ripe for a sell-off.
Disclosure: I am short EQIX. I wrote this article myself, and it expresses my own opinions. I am not receiving compensation for it (other than from Seeking Alpha). I have no business relationship with any company whose stock is mentioned in this article.