Why are WTIC Crude (NYSEARCA:USO) prices so weak? There's a three-pronged reason for it.
Production
Fueled by advances in production much like those affecting natural gas (NYSEARCA:UNG), that is, horizontal drilling and fracking, U.S. production of crude - long in a downward trend - has inverted direction. This inversion came as a surprise both to the "peak oil" advocates, counting on continued lower production ever since the 70s, and to infrastructure operators. This has meant that much of the U.S. crude is landlocked, with insufficient pipeline capacity to take it to the world markets where benchmark crude is more than $20 per barrel higher.
Measures are being taken to address this problem, which will over the longer term disappear. An example of such measures has been the inversion of the Seaway pipeline, and soon enough, a substantial increase in its capacity. But for the moment, WTIC prices continue to suffer as production powers ahead as shown in the chart below (source: EIA).

Click to enlarge
Stocks
Associated with the newly-increased production and lack of capacity to move the crude, the market has seen increased inventories. As always these pressure prices downward. (source: EIA).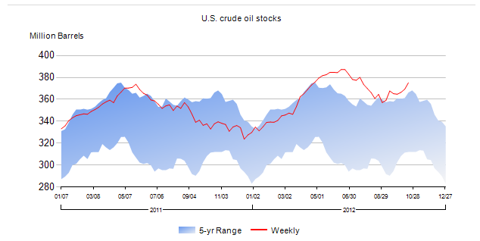 Click to enlarge
This situation is particularly difficult in the Midwest (PAD District 2), which includes Cushing, where WTIC futures liquidate physically, bringing further downward pressure to WTIC prices (source: EIA).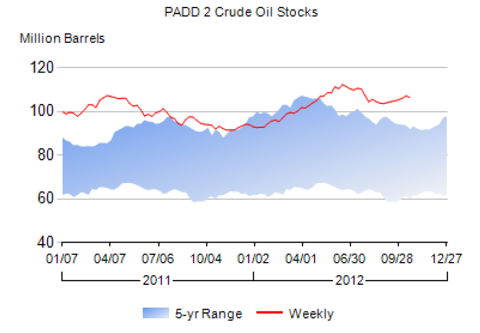 Click to enlarge
Consumption
Finally, the sluggish economy also has a bearing on crude oil, as it provokes slower consumption of oil products. This happens in a market that, as we've seen, is already seeing unexpected increased production and is swimming in inventories. The consumption of crude products has not recovered from the 2008 recession, and after an initial drop has been flattish ever since (source: EIA).

Click to enlarge
Conclusion
A combination of unexpectedly higher production, lack of infrastructure to move said production, large inventories and sluggish demand has led both to lower WTIC crude prices, and a large differential to other worldwide crude benchmarks such as Brent. The differential should disappear over time as the U.S. builds out infrastructure to deal with larger production, but such might take 6 months to a year to happen.
Disclosure: I have no positions in any stocks mentioned, and no plans to initiate any positions within the next 72 hours. I wrote this article myself, and it expresses my own opinions. I am not receiving compensation for it (other than from Seeking Alpha). I have no business relationship with any company whose stock is mentioned in this article.