On Thursday afternoon, Apple (NASDAQ:AAPL) announced its widely anticipated fourth-quarter earnings. There was more talk than average around this report, given the iPhone 5 release and new product announcements just two days ago. For those who missed it, here is my official preview article for the report. I did not give a specific prediction this quarter as to what I thought Apple would report. Instead, I attempted to show what I thought Apple would report in each product category, based on the current Street estimate at that time. Also, for those who missed it I did a bull/bear debate for Q4 a month ago, focusing on the important themes that would likely impact this quarter's results.
Fourth-Quarter Results, Analyst Estimate Reductions
There was an interesting thing that happened with Apple recently, and it has been something I've mentioned in articles over the past week or two. Analysts had been reducing their forecasts for Apple in recent weeks. About two weeks ago, the average estimate for Q4 revenues was $36.39 billion and earnings per share of $8.91. By Monday, that number was down to about $36.23 billion, and earnings of $8.85. The numbers came down more as the week went on, after CEO Tim Cook's statement that Apple had broken the 100 million iPads sold level. He announced that when Apple was unveiling its new products. This led many analysts to believe Apple only sold 15 million to 16 million iPads during the quarter, and the original expectation was for about 18 million to be sold.
By Thursday afternoon, the average estimate for Q4 revenues was $35.80 billion, and earnings per share of $8.75. Apple reported $35.97 billion in revenues, and $8.67 in earnings per share. Had analysts not taken down expectations over the past few days, this would have been a complete miss. Instead, Apple beat on the top line but missed on the bottom line. However, both numbers were ahead of Apple's guidance for the quarter, $34 billion in revenues and $7.65 in earnings per share.
The following table shows Apple's Q4 numbers compared to the results of Q4 the past two years.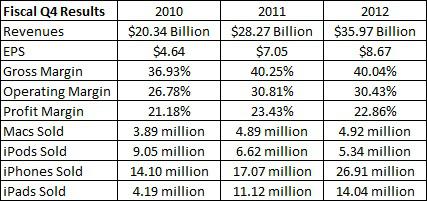 I noted in my preview article that analyst estimates for the Mac were above 5 million units. The iPad was at 18 million prior to Cook's announcement, and about 15 million to 16 million afterward. The average iPhone estimate was in the 26 million to 27 million range.
Overall, I see the Mac and iPad units sold numbers as disappointing, and the iPhone number was slightly above expectations. The iPod number was a bit weaker than expected. I had noted in my preview article that if Apple maintained the selling prices from last quarter, it could hit the revenue target (from analysts) with about 5 million Macs sold, 17 million iPads sold, and 27 million iPhones sold. But as you'll see later, Apple's selling prices on Macs and iPhones were strong. So although it didn't sell as many units, overall revenues were decent.
Margin Analysis -- Breaking Down the Income Statement
Overall, Apple's revenues increased by 27.22% over last year's period. However, the cost of those revenues increased by 27.68%. The faster rise in the cost of revenues led to a 21-basis-point decline in gross margins for the period. Gross margin dollars were up 26.55%.
On the operating side, research and development expenses rose by 40.47%. Selling and general expenses rose by 25.98%. Overall, operating expenses rose by 29.48%, faster than both the rise in revenues and gross margin dollars. Thus, operating margins took more of a hit than gross margins. Operating margins for the period declined by 38 basis points over the year-ago period.
Other income also came in at a negative $51 million, compared to a positive $81 million in the prior year period. That decline could not be offset by an improved effective tax rate, which declined from 24.66% in the year-ago period to 24.51% in this year's quarter. Had Apple's other income come in around the levels of the year-ago period, Apple probably would have matched or beaten on the bottom line.
Overall, net income rose by 24.16%, or $1.6 billion. That rise was also not as fast as operating income, so net profit margins declined even faster than operating margins. Net profit margins fell by 56 basis points over the prior year's Q4. Since Apple takes an expense hit upfront when it ramps up new products, it appears that Apple's expenses in relation to the iPhone 5 were the culprit for the lower margins. iPhone revenues as a percent of the total were actually good, coming in at 47.61%. That was toward the higher end of the range I was expecting.
Apple noted on the conference call that margins would trickle down in Q1 as new products (or re-priced products) would represent about 80% of sales. Apple stated that those new products had slightly lower margins. Additionally, the company stated that it expects some extra shipping charges in the quarter, as it transports some products by plane rather than ship in an effort to get them to consumers quicker.
Average Selling Prices
The following table shows the average selling prices for each of the products over the past year.

I noted in my preview article that the Mac refresh could lead to higher prices. The rise in desktops was a nice surprise. I expected portables to rise, because of those $2,000-plus MacBook Pros with retina display. Those obviously helped, as the average for portables shot up. iPod prices continued their decline, but that's not much of a shock. iPhone prices posted a nice rebound thanks to the release of the new phone. iPad averages trickled down slightly, but I expect those to decline even more next quarter with the release of the iPad Mini. Overall, the pricing trend was rather good compared to what it has been in recent quarters. Unfortunately, it seems as if expenses were a bit higher too, and thus we saw margins decline in all three primary categories.
Full-Year Results
Since most people will only be focusing on the fourth-quarter numbers, I won't spend too much time here. But since this was the fourth quarter, Apple's fiscal 2012 has finished. Here is the quick summary of Apple's year-over-year results:
Revenues increased from $108.25 billion to $156.51 billion.
Earnings per share increased from $27.68 to $44.15.
Gross margins increased from 40.48% to 43.87%.
Operating margins increased from 31.22% to 35.30%.
Net profit margins increased from 23.95% to 26.67%.
Balance Sheet Update
The following table shows some key balance sheet numbers and financial metrics. I've compared this quarter's end to the end of the prior two fiscal years (we just finished a fiscal year) and the end of this year's Q3, which ended in June. Dollar values are in millions.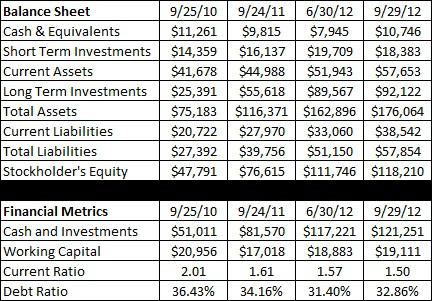 The cash and investments pile rose by another $4 billion in the quarter. I believed that a $3 billion to $5 billion rise would occur, instead of a $7 billion to $10 billion rise that we've seen in some recent quarters. The reasoning is simple. Apple paid a $2.65 dividend in the quarter, and net income was lower than Q3, which hurt cash flow from operations. In terms of the balance sheet, working capital stayed in the $17 billion to $20 billion range where it has been for several quarters. The current ratio declined slightly, but remember, most of Apple's strength is in its long term investments number. Also, the company has more than $3 of assets for every dollar of liabilities.
Apple is still generating a huge amount of cash, and declared another $2.65 dividend. The company also started buying back some shares in fiscal Q1 to offset the dilution from executive options.
Guidance Update
Apple investors are used to the company giving very conservative guidance for the next reported quarter, and that is what Apple did again. Apple guided to $52 billion in revenues and earnings per share of about $11.75. Analysts were looking for $54.98 billion in revenues and earnings per share of $15.41.
The revenue guidance does not seem that light to me, especially for what Apple usually gives. The earnings guidance is a bit low, but that probably means margins will be coming down because of the launch of the iPad Mini, plus other factors I've mentioned above. I've noted in the past that regular iPad margins were about half that of the iPhone. Apple also refreshed the iPod, which is a lower-margin product. Also, I've always mentioned that it's not the number of units Apple sells of the iPhone that leads to margin numbers, but the percentage of iPhone sales of Apple's total revenue that drives Apple's margin. Of course, this probably means Apple will come in with earnings of at least $13, because it is always conservative.
Final Thoughts, After-Hours Action
Overall, the results for the quarter were not terrible, but they were a little below what people were expecting a few weeks ago. Apple only beat on the bottom line because revenue estimates dropped from about $36.4 billion two weeks ago to $35.8 billion on Thursday. On Wednesday, estimates were still above $36 billion, so Apple would have missed if the report was a day earlier. On an earnings-per-share front, the company missed because of lower margins and a drop in "other income." Apple gave its usual conservative guidance, but the revenue guidance wasn't that low. Also, this Q1 will be 13 weeks as opposed to last year's 14 weeks. On an earnings-per-share front, guidance was a bit disappointing, but margins will be coming down a bit.
In the after-hours session, Apple traded up and down between $590 and $610. Friday's trading session will be a very interesting one. Some investors might be concerned over the lower margins, but if Apple sells as much as many expect it will, it could do close to $60 billion in revenues. Investors who believe that the long-term picture of Apple is still intact after today's report might want to buy or accumulate more shares on any stock weakness.
Disclosure: I have no positions in any stocks mentioned, but may initiate a long position in AAPL over the next 72 hours. I wrote this article myself, and it expresses my own opinions. I am not receiving compensation for it (other than from Seeking Alpha). I have no business relationship with any company whose stock is mentioned in this article.
Disclaimer: Investors are always reminded that before making any investment, you should do your own proper due diligence on any name directly or indirectly mentioned in this article. Investors should also consider seeking advice from a broker or financial adviser before making any investment decisions. Any material in this article should be considered general information, and not relied on as a formal investment recommendation.