The charts of Pandora (NYSE:P) and Sirius XM (NASDAQ:SIRI) saw quite the rush of activity in late day trading on Thursday. The fuel for the fire? News from Bloomberg that Apple (NASDAQ:AAPL) has accelerated plans to enter the free Internet radio space currently dominated by Pandora.
Apple Inc. and major music labels have intensified negotiations to start an advertising-supported Internet radio service by early next year, according to people with knowledge of the talks.

Talks are centered in part around how to share ad revenue and a deal could be reached by mid-November, with Apple starting a service within the first three months of 2013, said the people, who asked not to be named because discussions are still in progress.
As can be seen by the following charts, Sirius XM and Pandora's share prices initially took a severe beating, yet Sirius XM's share price recovered quickly, while Pandora's share price remained absolutely decimated, down nearly 12%.
Sirius XM
(click images to enlarge)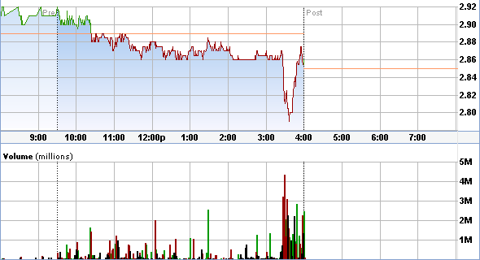 Click to enlarge
Pandora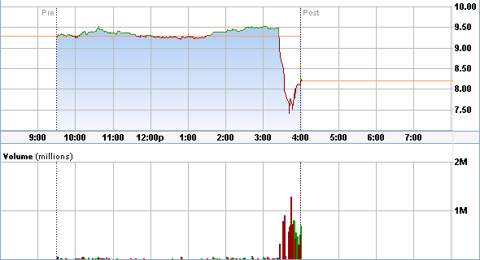 Click to enlarge
To be fair, this news is actually a re-hash and update by Bloomberg of an old story from 9/7/2012. News of Apple's intentions to enter the Internet radio space has been known at least since that time, and speculated long before.
The negotiations, reported Sept. 7, have centered around advertising, the people said. In addition to an upfront fee, record companies are seeking a percentage of ad sales and the ability to insert their own commercials for artists, they said. Apple sees the service as a way to grow its iAd mobile advertising platform, and is exploring ways to integrate iAd with iTunes to steer customers back to iTunes.
But even so, news of talks accelerating can't be good for companies currently operating within the Internet radio space. I've made my opinions very clear on the subject. For those who have been following along, I was clear in my opinions the other day that Pandora has no moat and no walls, and is completely vulnerable to current and even new competition:
Internet radio is last. The space is currently dominated by Pandora, but there are other players in the arena such as Spotify, Slacker, MOG, and a host of others. An investor looking for a moat, or even walls, will find that Pandora has none. The start up costs for Internet radio require software and licensing for music and "getting the word out." In today's Twitter and Facebook (NASDAQ:FB) filled world, "the word" is out faster than you can blink. The entire delivery system, very much a strength of terrestrial and satellite radio, for Pandora is "the Internet." As you know, the Internet is widely available to everyone. It's a blessing and a curse for Pandora all in one. What makes Pandora possible is the very same thing that makes Pandora a terrible investment.

It's a serious problem, and recent news that Microsoft (NASDAQ:MSFT) will begin offering a free streaming music service only serves to highlight this issue. Granted, I personally do not see much concern for Pandora investors over Microsoft's service itself, but it does serve to put a big red flag of warning over Pandora's keep, and show that there really are no walls to speak of. Almost anyone can enter. There's no moat, and literally no defense for an investor's hard earned money. Your money may as well be a pile of gold left on the ground inside a wooden palisade with the guards asleep at the gate.
I see Pandora's move down as sensible, and not an overreaction of any sort. Investors would do well to bail on this company until or unless it can prove that it has some form of defense against competition. For fans of the television show "Shark Tank", the concept of a barrier to entry should be quite familiar, as it is often mentioned when discussing the safety of a shark's investment in a fledgling business. For those out there who own their own business, well, this concept should need no explanation.
On the other hand, Sirius XM's drop on this news was nothing more than a knee-jerk reaction, and the share price activity following the modest drop should be proof of this. For those who were paying attention, shares of Sirius XM could have been had in the $2.70s -- a sharp discount on the day if you were quick enough. Consider what I wrote about Sirius XM in the moat article above and you'll understand why :
Satellite radio is next. The moat here is massive. There is one single satellite radio company in the United States, Sirius XM. For another company to enter this space would require securing licenses for spectrum that simply do not exist. If one could secure licenses, massive amounts of capital would be required to launch satellites, secure content to the amount which would be required to compete with the already established Sirius XM, and get radios developed and out in the public domain. The chances of this happening are zero point zero, and this gives Sirius XM an impenetrable wall to another player invading the satellite radio space.
Apple entering the free Internet radio space is not at all a problem for Sirius XM. Mobile IP is not robust enough in coverage yet, and will not be robust enough to offer a seamless experience in a moving automobile for at least several years. Sirius XM's ability to operate in both the Internet radio space as well as its bread and butter -- satellite-delivered radio -- provides an advantage that simply can not be matched in the automobile, even by the mighty Apple.
This is not to say that such developments on the Internet radio side of things do not deserve attention from Sirius XM investors. As someone who is long a substantial amount of Sirius XM shares myself, I'd say watching the IP radio space is important, especially as Sirius XM enters gradually with the hybrid satellite/IP delivered system that Sirius XM 2.0 offers.
While this news of accelerating plans by Apple to enter the Internet radio space may be bad news for Pandora investors, the news here is "no news" for Sirius XM investors. This news does not change my opinion of either company, though it does reinforce my sell opinion on Pandora.
Disclosure: I am long SIRI. I wrote this article myself, and it expresses my own opinions. I am not receiving compensation for it (other than from Seeking Alpha). I have no business relationship with any company whose stock is mentioned in this article.