On Tuesday, United Technologies (NYSE:UTX) reported weak third-quarter results. Sales advanced 6%, but earnings dropped by a similar amount, excluding restructuring costs. Organic sales fell 2% as negative foreign currency fluctuations adversely impacted expansion by 3 percentage points. The company's operating margin also fell 100 basis points from the prior-year period, after adjusting for restructuring costs and net one-time items. Though the results weren't as strong as we would have liked, we don't expect any change to our fair value estimate to be material (click here for a read on how we calculate United Technologies' intrinsic value).
New equipment orders were solid at Otis and in its North American residential HVAC business, but commercial aerospace spares orders dropped over 20% at Pratt & Whitney and 6% at UTC Aerospace Systems. However, we view the large declines in aerospace orders as more a function of difficult year-over-year comparisons, as opposed to any considerable weakness in the commercial aerospace sector. Still, given recent performance at General Electric (NYSE:GE) and Honeywell (NYSE:HON), we don't expect to add further exposure to aerospace-namely in EDAC Tech (NASDAQ:EDAC), which is tied to United Technologies' demand trends in the portfolio of our Best Ideas Newsletter (click here for a read about our stock-selection process) on the basis of expectations for less-positive news flow than any real deterioration in fundamentals.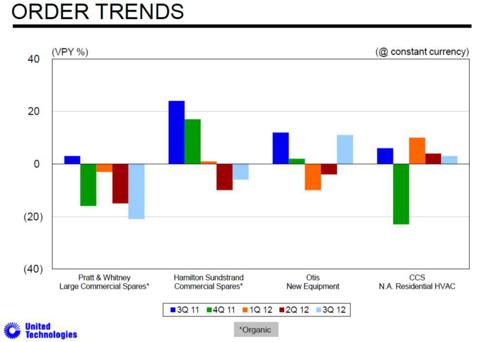 Image Source: United Tech Earnings Slide Deck (page 3)
The firm noted that its integration of Goodrich and IAE is progressing well, though management indicated restructuring costs would come in higher than expected. Net cash flow from operations dropped materially from the year-ago period, and free cash flow also suffered as capital expenditures advanced significantly from last year's quarter. Still, we like the company's dividend, as we outline here. Looking ahead, United Technologies expects sales of roughly $58 billion (was $58 billion to $59 billion) for 2012 and earnings per share to come in the range of $5.25-$5.35 per share (no change). We're keeping a close eye on the company.
Disclosure: I have no positions in any stocks mentioned, and no plans to initiate any positions within the next 72 hours. I wrote this article myself, and it expresses my own opinions. I am not receiving compensation for it (other than from Seeking Alpha). I have no business relationship with any company whose stock is mentioned in this article.
Additional disclosure: EDAC is included in our Best Ideas portfolio.