On October 23, Apple Inc. (NASDAQ:AAPL) released its widely anticipated iPad Mini tablet computing device. Apple's CEO Tim Cook started off the company's presentation with a video on Apple's retail stores and discussed the new iPhone 5. Cook also touched upon how over 200 million devices are running on Apple's iOS 6 operating system and that the company recently sold its 100-millionth iPad.
Other nifty milestones included 35B apps downloaded from the App store and 300M iMessages sent in the past year. Although sales of the old-school traditional Mac computer have been eclipsed by the iPad, and indirectly the iPhone, Apple believes that there are plenty of bites left for the Mac product line. Apple's Senior Vice President of Worldwide Marketing Philip Schiller introduced a new 13" MacBook Pro notebook computer, which will sell for $1,699 and began shipping on October 23.
Schiller also introduced the Mac Mini, a small form factor desktop computer that also began shipping on October 23 and would be selling for $599. The last new Mac related product was a new 21.5" iMac, which will be released in November and which carries a $1,299 price tag ($1,799 for the 27" screen).
Apple's iPad with Retina Display (4th Generation iPad)
Tim Cook revisited the smashing success that is the iPad tablet computing device. Despite the introduction of hundreds of new tablet computing devices by Apple's competitors since the 2010 iPad debut, the iPad retains 70% of the tablet computing market, according to BusinessWeek. Tim Cook reiterated that the iPad accounted for over 90% of all web traffic for all tablets during the Q2 2012 period and that tablet computing device sales volumes exceeded the sales volumes of traditional PCs.
Tim Cook refrained from snarky comments about tablet devices from its competition iPads and discussed how iPads are making inroads into the business enterprise IT computing environment. We remembered how in September when Apple was building up to the release of the iPhone 5, Cook mentioned how 94% of the companies that make up the Fortune 500 are testing or deploying iPads.


Source: BusinessWeek
Apple's new 4th Generation iPad device has an A6X chip and replaces the 30 pin dock connector with the Lightning Adapter. When Apple announced that it was holding a media event on October 23, we were anticipating the iPad Mini and we were somewhat surprised that the company also announced a next generation iPad device.
Considering that Microsoft (NASDAQ:MSFT) has scheduled the release of its Microsoft Surface tablet device on October 26 and Google (NASDAQ:GOOG) and Amazon (NASDAQ:AMZN) have checked in with new tablet offerings recently, we think it is apropos for Apple to bring out a new standard size iPad, as well as the iPad Mini. Apple announced that this iPad would follow Apple's pricing pattern in which it starts at $499 for a 16GB Wi-Fi enabled device and $629 for a 16GB Wi-Fi and LTE enabled device.
Apple also announced that it was discontinuing the 3rd generation iPad that it introduced in March. We were surprised at that, but considering Apple still offers the iPad 2, the iPad with Retina Display, and the iPad Mini, there should be enough choice for customers.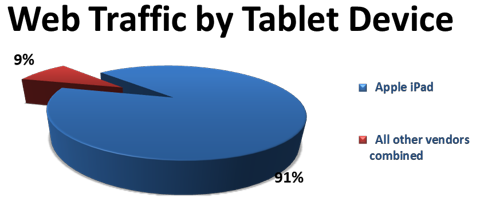 Source: MacObserver
Apple's iPad Mini
Apple's Senior Vice President of Worldwide Marketing Philip Schiller had the honor of formally introducing the highly anticipated iPad Mini. The iPad Mini is 7.2 millimeters thin and weighs 308 grams (53% lighter than the new 4th generation iPad). The screen size for the iPad Mini was 7.9" versus 9.7" for the standard iPad. The price of the iPad Mini starts at $329 for the Wi-Fi enabled version and $459 for the Wi-Fi and LTE enabled version.
The iPad Mini has A5 dual core chip, FaceTime HD camera, 5MP iSight rear camera, LTE capabilities, Wi-Fi, Lightning connector and a 10-hour battery life. Both the iPad with Retina Display and the iPad Mini will run on the iOS 6 operating system. Although its $329 starting price is higher than that of the Kindle Fire, the Google Nexus and the Microsoft Surface, it offers a wider screen than those devices, but at a 20-30% discount to the standard iPad. Pre-orders for both the iPad with Retina Display and the iPad Mini begin October 26. Wi-Fi enabled devices ship November 2, and the LTE models will ship in the middle of November.
Mobile Carrier Partners for the new iPads
In the US, the three mobile carriers that will be carrying the new iPads are AT&T (NYSE:T) (naturally), Verizon (NYSE:VZ) and Sprint Nextel (NYSE:S). The reason why we see Sprint carrying the iPads as noteworthy is because both new iPad models are LTE-enabled and Sprint has been replacing its 2G Nextel iDEN network with 4G LTE coverage as part of its Network Vision program.
Another reason why we like to note Sprint carrying the iPads is that this has broken the AT&T/Verizon duopoly on the iPad in the United States. In our September 7th and 21st reports on Sprint, we pointed out that Sprint has made the case that it had earned the right to sell Apple's cutting edge iPad tablet computing devices and Apple has confirmed our expectations on October 23.
So far, AT&T has over 10M more connected devices subscribers than Sprint, but we believe that Sprint's Network Vision program will serve to keep that gap from getting worse and that Sprint carrying the new iPad devices will enable it to potentially close that gap. Considering that Sprint is currently only selling the Motorola Xoom with Wi-Fi for $399.99, we believe that Sprint's tablet computing device offerings will be upgraded significantly now that it is selling the new iPad as well as the iPad Mini.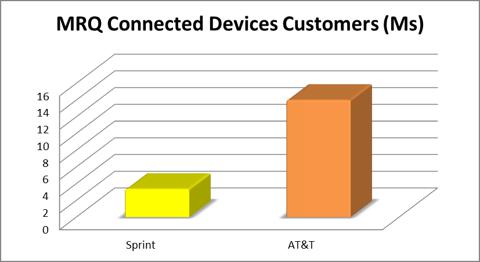 Source: MRQ Releases for Sprint and AT&T
In conclusion, Apple has shown that it is the game-changer in the mobile communications industry. We can see that Apple is the unquestioned, undisputed leader in the tablet computing space and that it has no intention of easing up against its competitors.
Although we were displeased that Apple discontinued its 3rd generation iPad and kept the iPad 2 (we would have preferred the opposite), we can see that Apple continues its tradition of providing innovative (mobile) computing devices that people can't wait to get their hands on. Apple softened the blow for people who bought the 3rd generation iPad by allowing those who bought it in the last 30 days to exchange it for the 4th generation iPad.
We believe that the introduction of the new iPad With Retina Display and the iPad Mini will allow Apple to continue to dominate this product category space. We also liked that Apple has managed to upstage its competitors and take the momentum away from Google, Microsoft and Amazon with regards to the new tablet computing devices those companies have to offer. Apple has a better mousetrap than its competition and much better ability enticing consumers to beat a path to its door, which reinforces our long position thesis on Apple.
Disclosure: I am long S, AAPL. I wrote this article myself, and it expresses my own opinions. I am not receiving compensation for it (other than from Seeking Alpha). I have no business relationship with any company whose stock is mentioned in this article.
Additional disclosure: This article was written by an analyst at Saibus Research. Saibus Research has not received compensation directly or indirectly for expressing the recommendation in this article. We have no business relationship with any company whose stock is mentioned in this article. Under no circumstances must this report be considered an offer to buy, sell, subscribe for or trade securities or other instruments.