After Apple (NASDAQ:AAPL) re-opened for after-hours, post-earnings trading, I could tell the reaction would be mild when the stock barely dropped below $600 and immediately bounced. This could be good news going forward as the bounce may help form a bottom for AAPL for the next quarter of trading.
A continued pullback to the 200-day moving average (DMA) around $586 will now seem relatively mild if it happens over the coming days or weeks. Such a pullback will be very consistent with the downside pressure on the stock for the past month or so. Regardless, anywhere around current levels, AAPL looks like a good buy.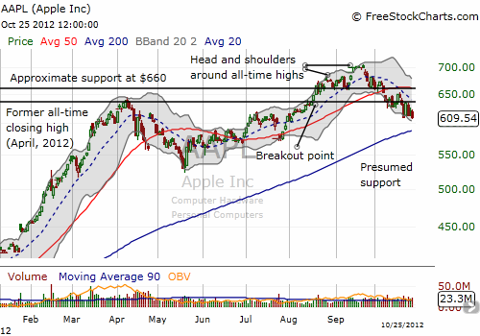 Apple hovers above critical support at its 200-day moving average
The flat close in after hours trading will likely lay waste to premiums on both the call and put side of the options ledger during Friday's trading. This scenario is an options seller's dream, but it is of course exactly the worst outcome for the hedged Apple earnings trade I described earlier. My only saving grace is that I traded calls earlier to offset some of the cost of the position. I still think AAPL can still make the upside target around the 50DMA ($660 or so), so I think the call spread will do OK.
In order to continue improving these earnings trade analyses, it is important to record lessons learned while the glory or, in this case the pain, is still fresh. Hindsight tends to converge on 20/20 with the passage of time. My biggest lesson from this latest earnings trade is perhaps an ironic one, especially considering the success these methods have had this year. By enhancing (aka, complicating) the template that relates post-earnings trading performance to historical price patterns with other signals like the put/call ratio, short interest, volatility, and extreme analyst bullishness, I diluted the simple and primary message from the data: the odds favored a modest move to the upside.
These other factors seemed more important because of the wild trading going into earnings. I noted the complication of having an important product release event just days ahead of the earnings report, but I did not spend time using data to understand the potential implications. (Having said that, I do plan to more formally add earnings and revenue trends to the model as a tool for confirmation).
I also (re)learned an important lesson about risk-based positioning. Given the risks I took with the put spreads and calls, I should have simply sold an out-of-money put spread. I maintained a general bullish bias on AAPL, and I viewed the prospect of a steep sell-off as a golden buying opportunity. In other words, my bullish bias should have trained the earnings trade model on the opportunity presented by a potentially large sell-off rather than the opportunity to profit from its immediate aftermath. (I used a similar idea on NFLX's earnings by selling call spreads, so I have no excuse here.)
So what to do going forward? I will of course salvage what I can, if anything, from the weekly put spread. What was left of the weekly call option should be completely erased right at the open. I look forward to the prospects for the November call spread and will even consider closing out the short side of that spread.
One key wildcard is the NASDAQ (NASDAQ:QQQ). QQQ closed Thursday right on its 200DMA as it continues to receive pressure from poorly received earnings reports from various high-tech companies. The support at the 200DMA has defined QQQ's uptrend for the entire year. In fact, 2012 trading started with a telling breakout ABOVE the 200DMA. A breakdown from here will likely do more damage to tech sentiment that could feed on itself.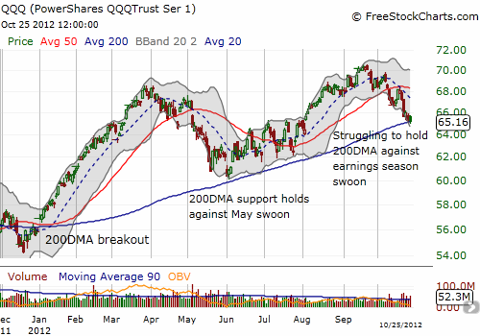 QQQ struggles to hold onto nearly year-long 200DMA support
Source for charts: FreeStockCharts.com
Be careful out there!
Disclosure: I am long AAPL. I wrote this article myself, and it expresses my own opinions. I am not receiving compensation for it (other than from Seeking Alpha). I have no business relationship with any company whose stock is mentioned in this article.
Additional disclosure: Long AAPL call and call spread. Long AAPL put spread.