Apple (NASDAQ:AAPL) reported Q4 results Thursday.
Key highlights:
Revenue: $36 billion, +27% y/y
EPS: $8.67 per share, +23% y/y
Gross margin: 40%, vs 40.3% a year ago
iPhone sale: 26.9 million units, +58% y/y
iPad sale: 14 million, +26% y/y
Mac sale: 4.9 million, +1% y/y
iPod sale: 5.3 million, +19% y/y
Q1 guidance:Revenue of $52 billion and EPS of $11.75
What I liked: Strong topline growth, iPhone 5 in China by December
Apple's topline came in above expectations, driven by solid sales from all operating segments.
iPhone and related products/services generated $17.12 billion, +56% y/y, as Apple sold close to 27 million units, +58% y/y. iPad revenue totaled $7.5 billion, +9% y/y, on 14 million units, +26% y/y. Macbook sales grew 17% y/y to $5.3 billion, which offset the weakness in desktop sale, down 26% y/y to $1.2 billion.
All geographic segments produced positive y/y revenue growth, with Japan leading the pack (+113% y/y), followed by the US (+43% y/y), Asia (+15% y/y), and Europe (+8% y/y). Retail sales were also robust, +18% y/y to $4.2 billion. At the end of the quarter Apple has 190 stores (140 in the US) that achieved average revenue of $11.2 million, +4.6% y/y from a year ago.
Sales from China were also encouraging. In the quarter, revenue from China increased 26% y/y to $5.7 billion and finished the full year with $23.7 billion, +78% y/y. In addition, the iPhone 5 will be available in China by December, according to management. In my view, China will be a key market for Apple to maintain its growth momentum due to Apple's superior product quality, the brand-oriented purchasing behavior among the Chinese consumers and decreasing iPhone prices that are making iPhones more affordable to the middle class.
What concerned me: Profit miss and lower guidance, margin deterioration continues, potential cannibalization from iPad mini
Apple's EPS of $8.67 came in lower than the consensus $8.75 and guided both revenue and EPS ($11.75 per share on $52 billion) below the consensus ($15.46 per share on $55 billion).
We also saw continued margin deterioration as Apple introduces new products that carry higher cost (eg. iPhone 5 and iPad Mini). Gross margin declined 280 bps q/q to 40% due to new re-priced products and the cost associated with demand.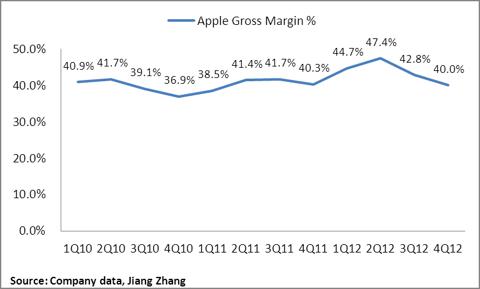 Heading forward, management expects 4% sequential decline in gross margin as new products (eg. the iPhone 5 and iPad mini that carry lower margins) ramp up during holiday season.
In my view, Apple's biggest threat in the tablet market is not competition from Amazon (NASDAQ:AMZN) and Google (NASDAQ:GOOG) because they both lack a robust ecosystem of apps, superior user experience and product quality despite the Kindle HD having more total pixels, HD capabilities and better audio, and Google Nexus' Android having most customizable features. In reality, Apple's biggest threat in the tablet space is the cannibalization of the larger iPad by the iPad mini.
Aside from the difference in size, display resolution, and processor, the iPad and the iPad mini are nearly identical. From a user perspective, the iPad mini may have a higher value proposition than the iPad due to:
Lower cost (on average 30% cheaper than the iPad)
Smaller size for easy carrying
The user's indifference over resolutions and processor speed
For a casual tablet user who is not into graphic intensive apps, the iPad mini will likely be the preferred product over the larger iPad. Over time, Apple could see its iPad sales continue to decelerate and margins deteriorate due to ramp up of iPad mini which carries lower ASP and higher cost.
Unless Apple can effectively differentiate the iPad mini from the iPad, cannibalization may weigh in on the sales growth heading forward.
Disclosure: I have no positions in any stocks mentioned, and no plans to initiate any positions within the next 72 hours. I wrote this article myself, and it expresses my own opinions. I am not receiving compensation for it (other than from Seeking Alpha). I have no business relationship with any company whose stock is mentioned in this article.