The CBOE Volatility Index (.VIX), which often subsides when equities move higher, closed with a big gain Friday. The rally in the VIX comes despite a third consecutive advance for the S&P 500 (.SPX). The S&P 500 added 2.65 points Friday and is up 27.2 points, or 2.2 percent, since Tuesday. Yet, although the S&P 500 is up three days straight, VIX rose 1.27 to 25.66 Friday and its highest weekly close since July 7. The jump in the market's so called "fear gauge" is a sign that bearish sentiment has returned to the extremes seen in mid-July, which has been confirmed by a number of other indicators as well.
According to the American Association of Individual Investors [AAII], bearish sentiment is up from 43.21 to 54.88 percent in the latest week. Bullishness fell from 37.04 percent to 29.27 percent. By way of comparison, the same survey hit an extreme of 25 percent bullish and 58.14 percent bearish in mid July.
Increasing levels of bearish sentiment have been seen in the options market as well. For example, the ISE Sentiment Index [ISEE] produced a series of low readings last week. The ISEE is a unique indicator developed by the International Securities Exchange [ISE], today's largest exchange for trading equity puts and calls. The indicator tracks call buying divided by put purchases on the International Securities Exchange [ISE]--options sales are ignored. Therefore, when put buying, or bearish bets, increase relative to call buying (bullish bets), ISEE will fall. It fell below 100 (more put than call buys) three times last week. As a result, the ISEE ten-day average is now 105, which is down from 129 two weeks ago and not far from its lows in mid-July when it dipped to 103.  
Bollinger's Put Volume Indicator [PVI] also suggests that investor bearishness is once again at extremes. Developed by John Bollinger, PVI tracks the day's put volume divided by a ten day average. It can be applied to any stock, index or market to gauge put activity relative to normal levels. For example, when applied to trading across all of the US options exchanges, the put volume indicator reached a high of 1.66 on September 4 (see figure 1). The spike pushed PVI to its highest levels since January 8 and hints at extreme levels of put volume in the options market. It rose again on September 9 (to 1.57) and confirms that options traders are beginning to lean heavily on the put side of the trade, which has historically occurred when bearishness is at an extreme and the market is oversold.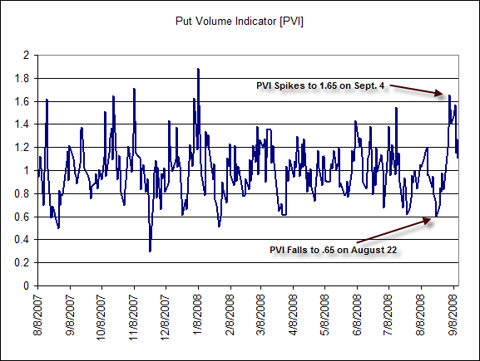 In conclusion, from a contrary view of the markets, extreme bearishness is a reason to be bullish. It suggests that fear and pessimism is taking a toll on equity prices and, in the long run, the trend creates rare buying opportunities in the equity markets. Of course, diving in while stocks are still reeling isn't an easy thing to do. For that reason, it is often better to wait for the fear to subside and for signs that the extreme bearishness is beginning to ease before leaning too much on the bullish side of the trade. In other words, it's probably okay to nibble, but as the old adage goes, it's the second mouse that gets the cheese!
Stock position: None.