We were surprised that Richard Schulze was willing to pay $24-$26 per share for the 80% of Best Buy (NYSE:BBY) that he doesn't own, especially after he was pressured into stepping down as Chairman of the Board in May. Maybe he feels honor bound in doing this because the company has fallen on black days since his protégé Brad Anderson retired in 2009 and was replaced by Brian Dunn. When Schultz and Brad Anderson were running the show, they made beautiful music together. Since Brad Anderson left in 2009, it has been a bittersweet symphony for Best Buy shareholders as we've been hearing a lot of sour notes coming from this company. We're thankful that we're not shareholders because if we were, we'd be hearing the sounds of madness coming from Best Buy's Minnesota headquarters, as well as from the Best Buy Store# 596, which is our local Best Buy at the Watertown Mall. We're pleased that Best Buy put Brian Dunn out to grass, though we would have preferred it because of his poor performance as Best Buy's CEO and not because the board found out about his dalliance with a subordinate.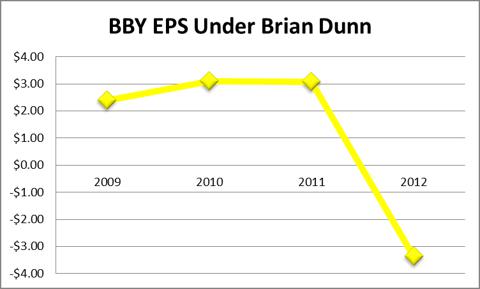 Click to enlarge
Source: Morningstar Direct
BBY's new CEO Hubert Joly came to the company from the Carlson Companies and he has been in his position since August. Joly led the Carlson Wagonlit Travel division from 2004-2008 and system-wide revenue for CWT grew from $8B in 2003 (the year before he arrived) to $25B in 2007 (his last full year at CWT). In 2008, he was promoted to CEO of the Carlson Companies and was the first person outside of the Carlson family to serve as CEO of the company. We have seen three notable executive departures since Joly came on board Best Buy in August. The first one was Best Buy's CFO Jim Muehlbauer, who stepped down on October 9th. Two weeks later, Best Buy announced that its U.S. business president Mike Vitelli will leave the company at the end of its February 2013 fiscal year and that its EVP of U.S. Operations Tim Sheehan will be leaving the company at the end of the month. These departures came about as Best Buy's new CEO Hubert Joly eliminated the most senior level of its U.S. operations and the heads of BBY's three U.S. groups will report directly to Joly.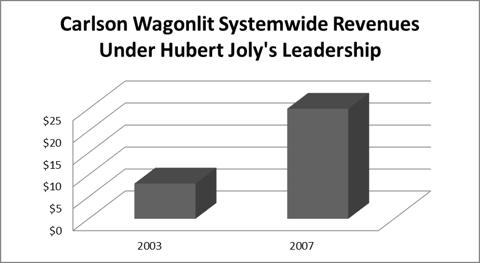 Click to enlarge
Source: Hubert Joly's Biography at BestBuy.com
Outlook
In addition to announcing the executive departures and restructurings on October 24th, BBY also announced that its Q3 2013 adjusted EPS would be significantly lower than the $.47 it earned last year. Best Buy also announced that it would see its same-store sales declining at a low-to-mid single digit rate, which means that BBY has posted negative comp-stores sales growth in nine out of its last 10 quarters. Another factor that will result in BBY's expected EPS shortfall is increased spending on training the staff. Let's hope that BBY trains the staff so they don't repeat the clumsily predatory product pushing episode that Forbes Columnist Larry Downes experienced last year. At least the company got this earnings warning out of its system before the quarter ended and before its November 1st Investor Day in which Joly will discuss his plans for the company's future. We think the best way for Best Buy Co., Inc. to become a "Best Buy" for investors is to convince Best Buy Founder Richard Schulze to play the part of Sean and Leigh Anne Tuohy and blindside Best Buy's Board of Directors with a formal buyout bid of $24-$26 per share. When Schulze made his bid in August, we believed that maybe he saw Best Buy as a fixer-upper. Judging by the recent poor performance in Q2 2013 and now in Q3 2013, Best Buy's stakeholders should call 1-800-DIAL-A-PRAYER in the hopes that Schulze doesn't think that Best-Buy is a blower-upper.
Conclusion
In conclusion, we give a lot of credit to Best Buy for surviving as an independent consumer electronics company while Circuit City and CompUSA have liquidated and while RadioShack (NYSE:RSH) has begun losing money. While Best Buy's new CEO had overseen solid performance results in his previous position at hospitality giant Carlson and may bring a fresh outsider's perspective on the company, we believe that it will take time for Joly to turn around Best Buy. Best Buy and its remaining consumer electronics brethren need to find a way in which these companies can avoid serving as showrooms for competitors that can outcompete these firms on price. We believe that Best Buy should do whatever it can to compel Richard Schulze to formally extend an offer to buy out Best Buy and to let the Best Buy turnaround be the problem of Schulze and the investors he potentially lines up. We can see why analysts have been reducing their EPS forecasts for BBY, but we're surprised that analysts are still expecting over $2.92/share EPS for BBY in FY 2013 and $2.74 for BBY in FY 2014 (according to Morningstar Direct).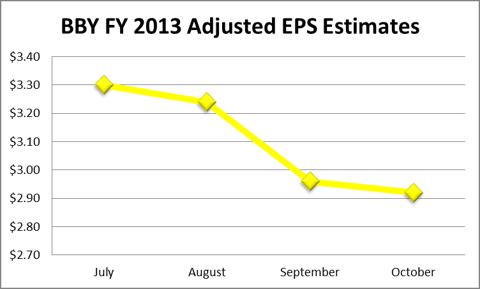 Click to enlarge
Source: Morningstar Direct
Disclosure: I have no positions in any stocks mentioned, and no plans to initiate any positions within the next 72 hours. I wrote this article myself, and it expresses my own opinions. I am not receiving compensation for it (other than from Seeking Alpha). I have no business relationship with any company whose stock is mentioned in this article.
Additional disclosure: This article was written by an analyst at Saibus Research. Saibus Research has not received compensation directly or indirectly for expressing the recommendation in this article. We have no business relationship with any company whose stock is mentioned in this article. Under no circumstances must this report be considered an offer to buy, sell, subscribe for or trade securities or other instruments.