While we have preferred to stay out of the heavy equipment industry with our proprietary portfolio, we have always had a strong level of respect for Caterpillar Inc. (NYSE:CAT). Our respect has been reinforced by CAT's ability to increase its revenues, EPS, free cash flows and profit margins over the last 10 years, with the exception of a major hiccup in 2009. Even with the weak global economy slamming Caterpillar's revenue by 37% that year, the company still generated almost $900M in profits and maintained its dividends. For an economically cyclical, capital-intensive company, that is impressive.
Click to enlarge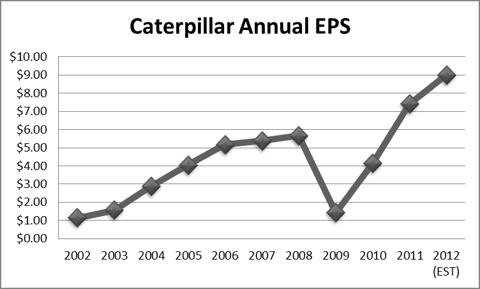 Sources: Morningstar Direct and Caterpillar's Q3 2012 Report
One important takeaway for investors in analyzing and evaluating Caterpillar based on our analysis is that a company's outlook more often than not is more important than what its trailing results were. We cannot take away Caterpillar's success over the last decade and even over the last three years.
Despite the fact that the developed world has been muddling in the muck and morass of mediocre economic momentum, Caterpillar has shrugged it off like a champ and registered a 105% growth in revenues and a 530% increase in EPS since bottoming out in 2009.
The performance can be explained by the company's high level of fixed operating costs in its business. If the company can generate healthy levels of revenue growth, it has a powerful effect on the bottom line and vice versa. Although the company reported impressive EPS growth in its Q3 2012 and YTD results, its outlook was a bit more subdued. Considering the high level of operating leverage and financial leverage that the company employs, we think that is an appropriate outlook for management.
On September 24, the company cut its EPS forecast from $15-$20 in 2015 to $12-$18 after the markets closed. That caused the company's shares to drop by 4.25% on September 25. Since then, the company's shares have continued to steadily decline over the last month and are trading at $83.78 as of October 23.
Although Caterpillar reported adjusted EPS of $2.29 that was slightly ahead of analysts' expectations, the company's revenue of $16.54B missed expectations by 2% and the company also announced a downward revision of $.35-$.60 to its previous 2012 EPS estimates of $9.60. The company also announced that it would expect to see soft results in the first half of 2013, with growth momentum picking up no earlier than the second half. CAT's GAAP EPS included a $273M pre-tax gain from the sale of its third-party logistics business.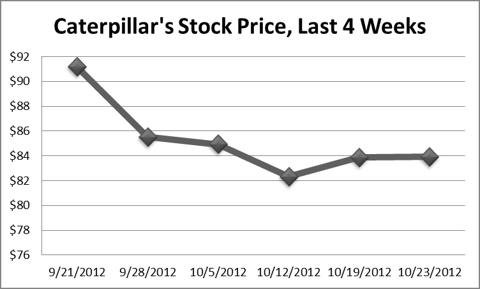 Source: Morningstar Direct
Caterpillar has nearly $40B of outstanding debt versus nearly $18B in equity and while it is most certainly not an AAA Credit, we can see that it earns its Single A Rating from the major credit rating agencies. We see a similar dynamic with its balance sheet as we do with Ford Motor Company (NYSE:F) in that although both companies have a high level of nominal debt relative to equity, the overwhelming majority of that debt is concentrated within each firm's respective financing divisions (Ford Motor Credit and Caterpillar Financial Products).
In the case of Caterpillar, 73.2% of its debt ($29.2B) is related to Caterpillar Financial Products. In comparison, debt attributed to Ford Motor Credit accounts for 86% of Ford's debt. Caterpillar Financial's $29.2B in debt is largely offset by $33B in short- and long-term financing receivables related to Caterpillar Financial.
Caterpillar also has $5.7B in cash and short-term investments, which basically covers its interest bearing debt capital by 95%. Ford also has a similar dynamic exception that Ford has a positive net cash position of $9.5B for its automotive division and $32B overall.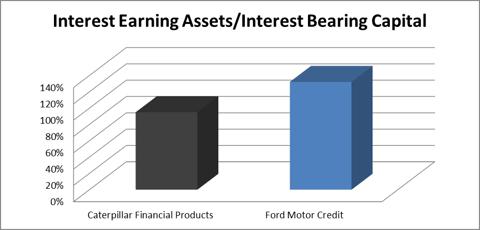 Source: MRQ Reports for Caterpillar and Ford
In conclusion, Caterpillar's results have reinforced our thesis of the company. Caterpillar is a great company for the heavy machinery and engines industry. However, its industry is a capital-intensive, economically sensitive industry, and although we are attracted to its low PE ratio, we are aware that such companies have historically volatile results.
We can see that investors who invested in Caterpillar in 2002 have benefited from the company's increased revenue and increased positive operating leverage, which has resulted in the company increasing ROE from 14.4% to 41% as of Q3 2012, while maintaining its average financial leverage at around 6x during the period. Because of the economic sensitivity of this business, we can see why it has a high beta of 1.8x, according to Yahoo Finance.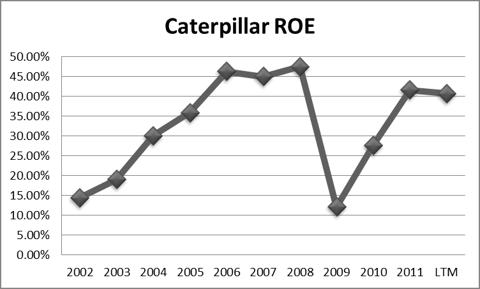 Source: Morningstar Direct
Disclosure: I have no positions in any stocks mentioned, and no plans to initiate any positions within the next 72 hours. I wrote this article myself, and it expresses my own opinions. I am not receiving compensation for it (other than from Seeking Alpha). I have no business relationship with any company whose stock is mentioned in this article.
Additional disclosure: This article was written by an analyst at Saibus Research. Saibus Research has not received compensation directly or indirectly for expressing the recommendation in this article. We have no business relationship with any company whose stock is mentioned in this article. Under no circumstances must this report be considered an offer to buy, sell, subscribe for or trade securities or other instruments.