Market pull-backs and macroeconomic slowdowns have always been buying opportunities for long-term investors, especially dividend investors. Falling prices mean higher dividend yields and greater opportunity for capital appreciation.
During these macroeconomic slowdowns, I like to take one or two of my dividend stocks and determine entry points to add to my position. For example, I did this quick analysis for Caterpillar Inc. (NYSE:CAT), which yielded an entry point below $80/share. The market has not been kind enough (yet) to allow for adding to my position in Caterpillar.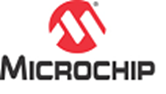 In this article, I present my analysis of Microchip Technology Incorporated (NASDAQ:MCHP), one of my favorite dividend stocks. My current yield on cost is approximately 6%. My last purchase was in June of this year with a price of $32/share.
I have applied a couple of new evaluation techniques for this analysis (for me at least). First is the Buffett approach. I just finished reading The Warren Buffett Stock Portfolio, by Mary Buffett and David Clark,1 and I would like to put my newfound knowledge to work.
We know Buffett likes to buy companies with strong competitive advantage. The book explains one way he likes to evaluate this is to ensure the company has an increasing book value per share (BVPS) over time (Figure 1). Microchip passes the first test with compound annual growth rate (OTCPK:CAGR) of 6.63% in BVPS2 for the last 10 years.
Click to enlarge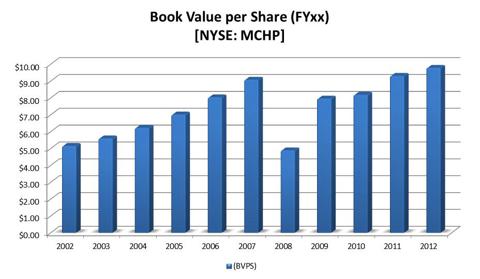 Click to enlarge
Figure 1: Microchip Book Value per Share per Fiscal Year
Next, Buffett wants to ensure the company can produce constantly increasing earnings per share (EPS) over a long period of time (Figure 2). Since the semiconductor industry can be a capital- intensive industry at times, I also included free cash flow per share (FCFPS),3 which I prefer over EPS. I also included S&P's core earnings per share (CEPS)4 as a reference point.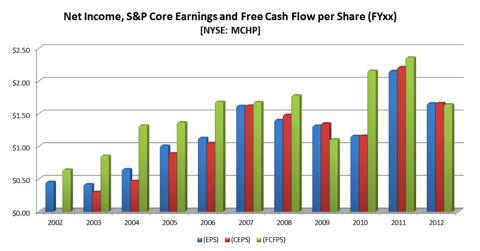 Click to enlarge
Figure 2: Microchip Net Income per Share , S&P Core Earnings per Share (CEPS), and Free Cash Flow per Share (FCFPS) per Fiscal Year
One can see the cyclic nature of Microchip's earnings and cash flow. Over time, there is an increasing trend with no negative earnings or free cash flow. EPS has a CAGR of 13.8% for the last 10 years, S&P core earnings have a CAGR of 20.9% over the last nine years, and free cash flow has a CAGR of 9.8% over the last 10 years. In more recent times, the growth rates for the last five years have been 0.48%, 0.49%, and -0.40%, respectively.
Buffett wants to estimate what the value of his holdings would be in 10 years. That is one reason I like this approach because MCHP is a buy-and-hold for me in a drip-style account through Sharebuilder. In his examples, he used the EPS CAGR (13.8%) for the last 10 years to calculate the next 10 years.
Given the strong management team at Microchip, that CAGR would not surprise me, but I would like to be a little more conservative. I reviewed the annual percent increase/decrease for EPS, FCFPS, and CEPS for the last five years. The average increases (some years more, some years less) were 6.3%, 8.5%, and 6.8%, respectively. If I weight5 them with 6.3% being pessimistic, 8.5% being optimistic, and 6.8% being most likely, I get an average annual increase of 7%.
Starting with a FY13 EPS of $1.936 and an annual increase of 7% per year, FY23 EPS should be $3.80. Using a historic low P/E ratio of 12, a reasonable FY23 share price would be $45.60 (Note: MCHP average P/E for the last five years is closer to 16x, which would give a share price of $60.80).
For total return, you have to include dividends. Buffett assumed a flat dividend for the next 10 years. I am not going to be that conservative. I am going to assume MCHP increases the annual dividend by $0.01 per year for the next 10 years. If the FY13 dividend is $1.42, FY14 dividend is $1.43, etc.; after 10 years, you would have $14.65 in cash.
Therefore, $45.60 share price + $14.65 dividend = $60.25 total return. If you require a minimum total return of 8% per year, you would have to buy at $27.91/share today.
I looked at a few other metrics to get a sanity check. The Graham Number using FY12 values is $19.21/share. Using FY13 EPS of $1.93 and a 5% increase in BVPS over FY12 (for an estimate), you get $21.10/share.
Ideally, one would buy at tangible book value per share (TBVPS). For the most recent quarter, MCHP tangible book value per share was $8.87/share. With a market close price of $31.64 on 23-Oct-2012, MCHP is currently trading at 3.5x tangible book.
Using the Gordon Growth Model with a FY13 dividend of $1.42/share, a required 8% rate of return, and a 5% dividend growth rate (60% of the average FCFPS annual increase for the last five years), you get $47.40/share. Interestingly enough, if you use 10% as your required rate of return, the share price drops to $28.44/share, which is more in line with Buffett's "safe" investment level.
So, what level am I using to add to my position? Well, if MCHP gets below Buffett's "safe" investment level of $28/share, I will be buying, assuming there is not negative company-specific information that is driving that share price. I believe any price below $31.39/share is a "safe" entry point based on using the PEG and PEGY ratios (Figure 3).7,8

Click to enlarge
Figure 3: PEG and PEGY ratios for MCHP for FY13 and FY14
For FY13, I used Standard and Poor's FY13 EPS estimate and for FY14 I used the midpoint of the First Call's EPS estimate (FY14: $2.27/share) and Standard & Poor's estimate (FY14: $2.09/share) since Standard & Poor's estimates would result in a dividend yield that is too high (I do believe MCHP has a great deal of dividend yield protection around 4.5%).
Any price below $31.39/share would result in a multiple for FY13 that is less than the EPS growth rate. Since investors do pay up for Microchip's dividend yield, adding ~4.5% growth (as a result of the return associated with the dividend) to the EPS yields a FY14 price target of $41.92/share.
Normally, if I had dry powder, I would be adding to my position under $32/share. Since the FY13 Q2 conference call is on November 8, 2012, I will wait until then to get some color on the remainder of FY13, unless the share price drops below $28/share, in which case I will find some dry powder.
In conclusion, if we assume next year at this time MCHP's stock price reflects FY14 EPS and the macroeconomic concerns are behind us, a conservative share prince estimate would be $40/share. An entry point today under $31.40/share would yield a capital appreciation of 27% and a safe dividend yield of 4.46%. With Microchip strong growth during the past 10 years and two recent acquisitions (details below), I believe Microchip is a great long-term investment.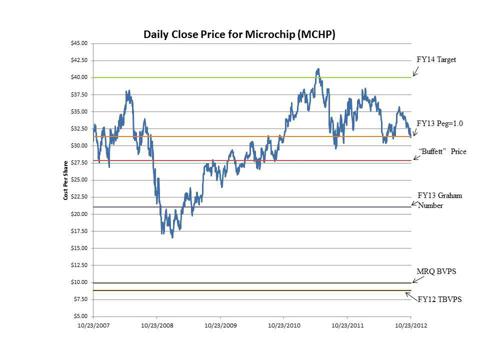 Click to enlarge
Figure 4: Daily Close Price for Microchip for October 23, 2007 through October 23, 2012. Source: Yahoo! Finance.
At the time of this writing (October 23, 2012), the Nasdaq (NASDAQ:QQQ) was down -0.88% for the day. MCHP opened at approximately $31.10/share, dropped to a low of $31/share, then rallied to close at $31.64/share, up +1.12% for the day on average volume. Investors were not willing to pass up MCHP with a dividend yield over 4.5%.
Interesting comments made by Steve Sanghi, Chairman, CEO and President, during the FY13 Q1 conference call, when referring to Standard Microsystems Corporation (NASDAQ:SMSC), which Microchip just purchased:
Many of SMSC's products are based on the microcontroller core. They are, in fact, special-purpose microcontrollers for automotive, wireless audio or computing applications...

…SMSC's mixed signal/analog products sell into many markets like automotive, PC, industrial and consumer, and we expect that they will benefit from Microchip's broad penetration in a large horizontal customer base. Similarly, we expect Microchip's microcontrollers, analog and memory products will find home in more automotive, wireless audio and computing customers with SMSC.

..We see the acquisition of SMSC as a natural addition to Microchip's continued growth and penetration into certain vertical markets. The addition of SMSC will add wireless audio and computing as 2 additional vertical markets for Microchip. The automotive market is already a significant area of focus on Microchip. It's not something we break out, but we have broad automotive penetration and we do business with nearly every tier 1 automotive manufacturers. Microchip has devices in many hundreds of car and truck models around the world. For example, there are over 20 Microchip microcontrollers on the current model of the Mercedes (OTCPK:DDAIF) S-Class cars."
Back in April 2012, Microchip purchased Roving Networks, an innovator in low-power embedded Wi-Fi® and Bluetooth® solutions based in Los Gatos, California. From Microchip's April 19, 2012 press release:
Roving Networks wireless solutions are well positioned to capitalize on a number of embedded markets, including the market for smartphone accessories, said Mike Conrad, Roving Networks CEO. Microchips operational excellence combined with their broad customer reach and extensive channel presence will be key for the next stage of our growth.
About Microchip (from the latest 10-K):
We develop and manufacture specialized semiconductor products used by our customers for a wide variety of embedded control applications. Our product portfolio comprises 8-bit, 16-bit, and 32-bit PIC® microcontrollers and 16-bit dsPIC® digital signal controllers, which feature on-board Flash (reprogrammable) memory technology. In addition, we offer a broad spectrum of high-performance linear, mixed-signal, power management, thermal management, RF, safety and security, and interface devices, as well as serial EEPROMs, Serial Flash memories and Parallel Flash memories. We also license Flash-IP solutions that are incorporated in a broad range of products. Our synergistic product portfolio targets thousands of applications worldwide and a growing demand for high-performance designs in the automotive, communications, computing, consumer and industrial control markets. Our quality systems are ISO/TS16949 (2002 version) certified. Microchip Technology Incorporated was incorporated in Delaware in 1989.
The Warren Buffett Stock Portfolio: Warren Buffett Stock Picks: Why and When He Is Investing in Them, Mary Buffett and David Clark (New York: Scribner), 2011.
Book Value per Share (BVPS) calculated as (Total Assets - Total Liabilities) / Number of Diluted Shares Outstanding.
Free Cash Flow per Share calculated as (Cash Flow from Operating Activities - Capital Expenditures) / Number of Diluted Shares Outstanding.
Standard & Poor's Core Earnings is a uniform methodology for adjusting operating earnings by focusing on a company's after-tax earnings generated from its principal businesses. Included in the Standard & Poor's definition are employee stock option grant expenses, pension costs, restructuring charges from ongoing operations, write-downs of depreciable or amortizable operating assets, purchased research and development, M&A related expenses, and unrealized gains/losses from hedging activities. Excluded from the definition are pension gains, impairment of goodwill charges, gains or losses from asset sales, reversal of prior-year charges, and provision from litigation or insurance settlements.
Weighting: (Pessimistic + Optimistic + (4 x Most Likely)) / 6
Standard & Poor's FY13 estimate, per 20-Oct-2012 stock report, which is post Microchip's 15-Oct-2012 revenue guidance revision for Q2 FY13.
PEG = 1.0 = [ Share Price / EPS ]/[EPS Growth *100] Note: EPS growth rate expressed as a decimal. For example, 15% = 0.15.
PEGY = 1.0 = [ Share Price / EPS ]/[ (EPS Growth + Dividend Yield) *100] Note: EPS growth rate and dividend yield expressed as a decimal. For example, 15% = 0.15.
Source of financial information:
1. EPS, Free Cash Flow and Book Value numbers are taken from Yahoo! Finance and the perspective 10-K reports.
2. S&P Core Earnings are taken from its 20-Oct-2012 stock report for MCHP.
Disclosure: I am long CAT, MCHP. I wrote this article myself, and it expresses my own opinions. I am not receiving compensation for it (other than from Seeking Alpha). I have no business relationship with any company whose stock is mentioned in this article.