Previously, I made three points for why Starbucks (NASDAQ:SBUX) will continue to outperform.
They were:
Upside Reason No. 1: Exceptional Management
Upside Reason No. 2: Best of Breed
Upside Reason No. 3: Quality and Clean Accounting
But with every investment there are risks that should be considered. No matter how good a company is, no company is invincible.
Although I've outlined the bullish case, instead of falling into confirmation bias, here are three reasons why Starbucks could underperform along with a 12 page SBUX PDF report for your research taken from the OSV stock valuation and analysis spreadsheet.
Downside #1: Need for Growth and Competitive Pressures
Starbucks as a whole is profitable, however according to recent UK news, Starbucks UK has not been profitable for over 10 years. Whether that is to avoid taxes is a different story. However, if Starbucks has been going through tax loopholes, their UK operations were borderline profitable to begin with. Internationally, Starbucks has not seen the desired growth it has experienced here in the US.
Until 2007, revenue growth was consistently above 20%, but has fallen between 9-10%. I expect margins to stay around this level now that Starbucks has to handle "hardware" inventory.
Downside #2: Cash Conversion Cycle
In the cash conversion cycle, you start off with cash, it becomes inventory and accounts payable, which then becomes sales and accounts receivables before converting into cash again. The entire cash conversion cycle is a measure of management effectiveness. The lower the better, and a great way to compare competitors.

Click to enlarge
From 2002 to 2007, the cash conversion cycle averaged 32.5 days, but from 2008 to TTM, the average cash conversion cycle has increased to 42.6. Out of the cash conversion cycle, inventory makes up the majority of the metric so the next step is to look at the inventory.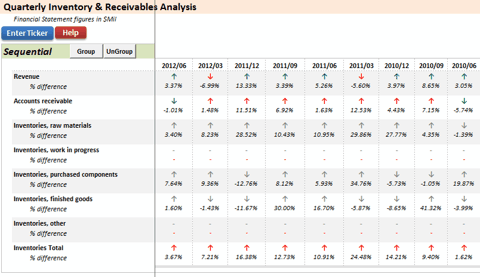 Click to enlarge
As you can see in the inventory trend, Starbucks is building up inventory to expand its Verismo product. You can also see that purchased components are growing at a good rate emphasizing the expected increase in sales.
What you have to watch for, however, is whether the purchased components start to outpace revenue growth. If so, watch out because Starbucks isn't selling their units as fast as they are planning to. If cash conversion cycle continues to increase as well as inventory, this is a good indicator that the stock will lag.
Downside #3: Too High Expectations
Most importantly, Starbucks will underperform if the market expectations are met.
Using reverse valuation methods, I can determine the market expected growth rate. By performing a reverse DCF valuation, with a 9% discount rate and FCF of $1b, Starbucks has to grow at a rate of 22% for the current stock price to be fairly valued. If this was the pre 2007 Starbucks, it just might be possible, but with the future expected margins and profitability, the DCF expectation is too high.
Looking a different angle, performing a reverse Ben Graham Formula using the analyst estimate EPS, the expected EPS growth is 14%. For the past 5 years, Starbucks has achieved a median of 15% earnings growth, but again, will this be possible to maintain? Maybe in the low teens, but 15% would be the limit going forward.
Looking at just the expectation, Starbucks is in the fair value to over valued range in its current situation.
If you believe in the potential of Verismo, Starbucks could be a slam dunk, but if you have hesitations, Starbucks could easily fail.
Disclosure: I have no positions in any stocks mentioned, and no plans to initiate any positions within the next 72 hours. I wrote this article myself, and it expresses my own opinions. I am not receiving compensation for it (other than from Seeking Alpha). I have no business relationship with any company whose stock is mentioned in this article.