Yesterday, we discussed Quantifying Value Investing: Introducing the F-Score. Equifax Inc. (NYSE:EFX) is one of those stocks with a high F-Score, and is a value stock worth exploring. The stock is trading around $49.60, close to its 52-week high of $51.36.
The Equifax stock is up 50% in the past year, and today trades with a P/E multiple of 17 times versus a forward multiple of 16 times, and a historical P/E multiple of 16.5 times. Looking at the metrics above, the stock seems fairly valued at the moment. The stock pays a dividend of 1.45%.
The chart below compares share performance of Equifax versus the S&P 500 over the past year:
Click to enlarge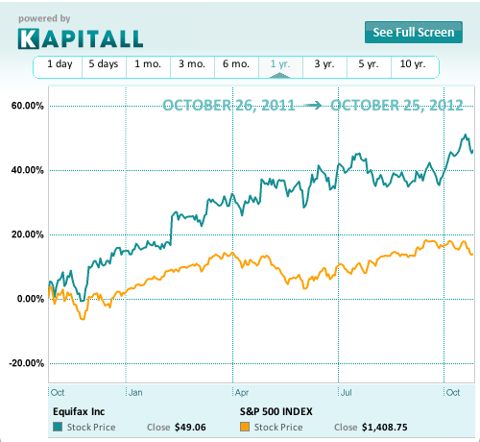 This week, the company reported third quarter EPS of $0.75 on revenues of $543.9 million, a growth of 11% year-over-year. The company is bullish about Q4 2012, and beyond. Management stated that revenues for Q4 2012 will be up 8-10%, and in the range of $550-$561 million.
Equifax hopes to benefit from new home sales, and an improvement in the mortgage market. Priority of the use of cash remains internal growth of the business, return to shareholders in the form of dividends, acquisitions, and de-levering the balance sheet.
Several regulatory challenges remain a focus for the company, and the industry. In Canada, a higher down payment will reduce the purchase of homes. In Ecuador, a law was passed which replaces Equifax with a state agency. Also, The Consumer Financial Protection Bureau (CFPB) will continue its investigation into credit bureaus, the results of which will be available in the short run.
Included below is the Consumer Sentiment index. The Equifax stock performance is very closely related to the data: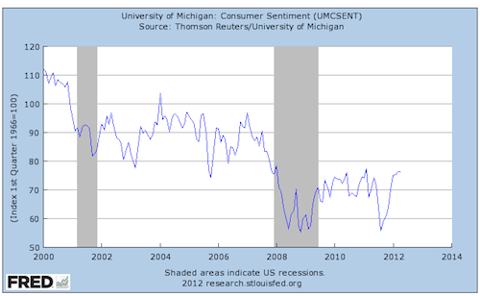 The company will hold an Investor Day on December 6th, 2012 in New York City
Clearly, Equifax has performed strongly with an improvement in consumer spending, the mortgage markets, and new home sales. That being said, there are various regulatory bumps on the road ahead due to which the Equifax stock seems to have limited upside.
Also, a point to keep in mind is that it is tough to forecast the long-term performance of the company, given that it is directly co-related to the health of the economy. The Equifax stock looks attractive at cheaper valuations. Investors should look for a better entry point.
Written by Kapitall's Sabina Bhatia. Tool provided by Kapitall.
Disclosure: I have no positions in any stocks mentioned, and no plans to initiate any positions within the next 72 hours.
Business relationship disclosure: Business relationship disclosure: Kapitall is a team of analysts. This article was written by Sabina Bhatia, one of our writers. We did not receive compensation for this article (other than from Seeking Alpha), and we have no business relationship with any company whose stock is mentioned in this article.