I first introduced Costamare (NYSE:CMRE) back in July, with a highlight of its strong contracted cash flows. I conducted a full interview with the company's CFO, Mr. Gregory Zikos (transcript here), who promoted the strong balance sheet, a robust new building program, and a hint at future dividend growth.
Last month I submitted a follow-up piece touting CMRE's yield and strong market returns since July. In the article, I stated:
"I believe if CMRE can attain a steady pricing of $16 or higher on the open market, an additional equity offering will be in the works… I believe a future offering will require a haircut of 10-12% "
Like clockwork, CMRE hit a high of $16.13, and 11 days later the offering was priced at $14.
Only one month has passed since I submitted the previous article, so all of the included information is still current. I suggest a read of the article to get a better grasp of the long-term contracted revenues and recent bargain-bin acquisitions. For those who want to save time, I recommended a price target of $16.62, which gives a yield of 6.5%. With corporate junk bonds yielding 6.56%, and now with a dividend target of 28c, I have a price target of $17.07.
This article will focus on the implications of the secondary offering, which has added $98M in cash to the balance sheet and approximately 7M shares in stock ($14 pricing). I plan to conduct a follow-up interview with Mr. Zikos in early November to discuss possible areas of investment.
Insider Ownership
The Konstantakopoulos family owned 70% of outstanding shares when I wrote my first coverage in July. I highlighted this as an investment concern due to the potential for rampant insider transactions. Historically, CMRE has had no issues with conflicts of interest, but with other rampant issues in the industry including container company Box Ships (NYSE:TEU) (expose here) and diversified DryShips (NASDAQ:DRYS), insider holdings can be a significant risk factor. Following the secondary offering, insider ownership will decline to 64%. It is interesting to note that the 'family' is buying 10% of the secondary. They are not using the offering as a ploy to reduce their holdings, and in total dollar terms, their investment has actually increased.
Dilution Issues
The impact of the dilution depends on your personal target for the intrinsic valuation of the company. My personal target was $1.13B ($16.62 X 67.8M shares). With the addition of $98M in cash and 7M shares, the unadjusted intrinsic price drops to $16.37, or a dilution of 1.5%. However, with increased liquidity that should result in a more stable dividend, the offering might actually represent an intrinsic appreciation.
Liquidity
According to the Q3-12 results and with the $93.5M cash addition factored in, CMRE has $358M in cash (approx. $4.80 per share) against current debt of $158.5M and long-term debt of $1.4B. Prior to the offering, CMRE was facing outlays of $73.2M for the dividend program coupled with debt amortization of $158.52M against expected operating cash flows of approximately $155M, while not a major concern considering the 9 new long-term chartered vessels coming online in 2013, the $98M in cash provides additional flexibility to make secondhand purchases and perhaps increase the dividend.
Dividend Security
Costamare has attracted many investors, myself included, due to the stability of long-term cashflows that promote a strong dividend payout. As seen below, CMRE can survive at least for another 4 years with strong contract coverage. Please note that the coverage is slightly misleading, as CMRE's longer-term contracts tend to be with larger vessels. The vessel contract coverage for 2015 and 2016 are 66% and 59% respectively-still strong #s, but not as rosy as the graph suggests.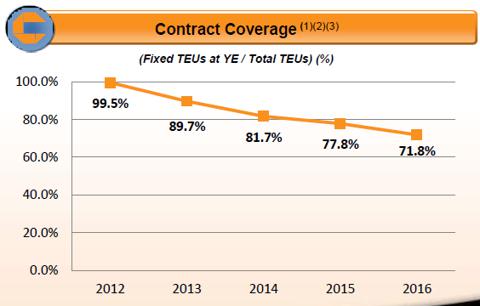 The largest barrier to dividend increases is the aggressive debt amortization schedule shown below:

Cash Balances
For the remainder of 2012, I predict OCF of $38M for a wash on the debt, but a decline of $21M dividend related. In 2013, I expect approx. $200M and a dividend increase to 28c ($84M). Interest expenses are close to 5%, so I predict slight savings here will more than pay for the 1c ($3M) hike. Nevertheless, CMRE will still burn $50M of cash in 2013. CMRE will enter 2014 with $290M in cash minus potential outlays from vessel expenditures. 2014 and 2015 should also average close to $200M in OCF, but the dividend will burn more cash (approx. $80M/yr). I predict future secondary stock offerings if the stock price stays strong ($15-$17) in order to keep the dividend strong, pay down debt, and pursue fleet growth.
Dangers
Costamare's largest risk, which is why I recommend a payout yield on-par with corporate junk bonds, is the concentration of revenues to a few key global shipping leaders. While all of CMRE's charterers have strong ratings, the failure of only one, especially Maersk, MSC, or COSCO could drastically cripple their cash flows. This concentration risk is highlighted by the chart below. The three main companies are the world's #1, #2, and #5 respectively. When the new vessels are delivered in 2013 and 2014, Maersk and COSCO exposure will decline.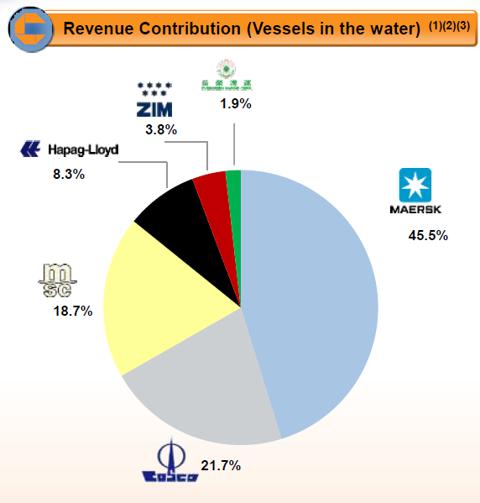 The secondary danger is a long-term flatline of the containership industry. I believe that the current dividend yield and long-term contracts compensate for this risk.
Investment Recommendation
Following the offering, I believe CMRE's dividend yield should correspond to high-yield bond yields of 6.56%, with one caveat. I believe CMRE can support a stable 28c quarterly dividend for the medium term, bringing my new price target to $17.07, an upside potential of 22%. Please note that if high-yield bond yields increase, my CMRE estimate will go down accordingly. Also, please note that CMRE might keep its dividend at 27c. While this will not change the underlying valuation, on a yield basis, this brings the target down to $16.46. I plan to hold CMRE in my IRA and only sell if $17 is passed without improving fundamentals in either CMRE or the containership market at-large.
Disclosure: I am long CMRE, DRYS, DCIX. I wrote this article myself, and it expresses my own opinions. I am not receiving compensation for it (other than from Seeking Alpha). I have no business relationship with any company whose stock is mentioned in this article.