Market Growth Commentary
Bucyrus International (NASDAQ:BUCY) makes heavy equipment for underground and surface mining of coal (its largest market), iron ore, oil sands and copper. It is a truly global company as it has manufacturing operations in Australia, China, Germany, Poland and the United States and maintains service and sales centers in Australia, Brazil, Canada, Chile, China, England, India, Mexico, Peru, Russia, South Africa and the United States. Being both an OEM and after-market service provider allows it to strengthen its customer relationships and maintain its competitive edge.
Industry Growth Analysis
In the Farm & Construction Machinery industry, BUCY is without peer. Last year, it grew both sales (101.4% vs. 19% industry average) and earnings (126.6% vs. 26.3% industry average) while boasting net profit margins of 8.9% vs. 5.3% industry average. One would expect such an aggressive growth vehicle to be aggressively managed but its debt to equity ratio is a conservative 0.58 vs. 1.94 industry average, which only confirms the company's ability to generate organic growth. Zacks Equity Research projects its 5 year EPS growth rate at 38% vs. 16% industry average. BUCY's reputation with Wall Street has been stellar too as it has beaten EPS estimates by 10% or more over the last 5 quarters and increased it guidance for the fiscal year.
Valuation Analysis
Despite all this, the stock got sucked into a capital vortex as money rotated out of commodities and their correlating industries and, as a result, dropped -30.28% in market value from its August 2008 high.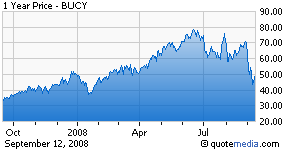 Currently, the stock is a real bargain trading at 19.82 P/E with a forward P/E of 11.82 and PEG ratio of 0.41. Assuming BUCY can achieve its estimated earnings of $3.16 without further contraction of its current P/E multiple, then its projected value is at 62-63 per share for a 27% upside potential. As the stock has outperformed its industry peers, it has rightly earned the privilege of trading at a premium multiple to its group.
Risk Analysis
1) Risks confronting investors are a protracted global slowdown and decline in consumption of commodities. While global recession is possible, a majority of the economic gains and living standards attained by emerging and developing markets will be retained and the developed economies of North America, Europe, and Asia will not be returning to the stone age any time soon either. Population growth will offset global weakness as demographic studies confirm that the world's population is expanding and utilization of natural resources will correlate closely to this measure. In addition to this, global infrastructure development will be the next catalyst for growth once the capital markets revert to some level of normalcy.
2) The other risk is further strengthening of the U. S. dollar. While the dollar has advanced over 10% since its July 2008 lows, it is still down -33.20% from its 2002 peak. The current banking crisis, rising unemployment, and consumer weakness will keep a ceiling on the dollar. Even if these issues were to be miraculously resolved overnight, a 50% upside retracement back to 2002 levels is highly unlikely. Let's face it. Things have changed and the world is flat. The dollar's lost value reflects a transference of wealth and given the nature of global competition, countries will not be sending any wealth of this magnitude back to us anytime soon.
BUCY is an intelligently managed company and it has strategically diversified its operations across the world to capitalize on demographic and globalization trends for sustainable long-term growth.
Disclosure: None