In a recent article on Facebook's (NASDAQ:FB) earnings release, where I pointed out its enormous growth potential, I got a pertinent comment:
Sankrant, I found your viewpoint interesting, but saw no comment about just how effective FB ads are? You say they have avoided intrusiveness (many disagree, and I wouldn't know as I found no good use for FB) which is akin to saying they are ignorable. Sure the signs look good as long as advertisers are willing to pay the current rates, but what if, like GM (which has troubles of its own...) others find they are not as cost effective as expected, and started to pull out?

What effect would that have on your "buy" price?
The effectiveness of Facebook ads has been a persistent question after its IPO. It looks like some investors may have missed the big news of the trend change in Facebook advertising.
A recent report from TBG Digital, which Business Insider calls "one of the largest buyers of ads in social media," shows that the big story is the increase of click-through rates (CTRs) on Facebook.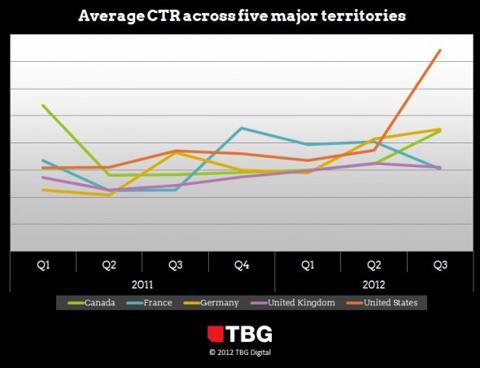 Click to enlargeAc
Source: TBG Digital
According to TBG Digital, CTR rates increased 11% in Q2 2012 and a whopping 81% in Q3 2012. The biggest driver - mobile & news feed ads - is something that Facebook is now also enabling directly with its "Promote" button on the post. Ads targeted to the news feed show a 1.213% CTR on the desktop and a whopping 2.429% on mobile. This compares to a CTR of only 0.074% in ads with no placement targeting.
How does this compare with CTRs in other online formats? This 2011 article pointed out Facebook's relatively low CTRs in comparison to regular Banner Ads.
According to Webtrends, the average click-through rate for Facebook ads in 2009 was 0.063% and 0.051% in 2010 - half as much as industry standard of 0.1%. The cost per click (CPC) was also $0.27 and $0.49 for those periods, respectively.
Well, with the addition of ads in the Facebook news feed and on mobile, the situation has completely reversed. Assuming that banner ads are still near the 0.1% number, Facebook click-through rates on the news feed are 12 times that of banners ads on the desktop and double that again on mobile news feeds.
Comparing with Google (NASDAQ:GOOG)
Just months ago, the report was that Google "totally blows away" Facebook on ad performance. It cited data from Webstream, showing Facebook with a click-through rate of 0.051% vs. 0.1% for the internet in general and 0.4% for Google. Well, this new data completely blows that away with news feed posts on the desktop garnering over 3 times the CTR for Google.
How does CTR matter?
How does this matter? What it means is that Facebook is addressing one key concern- it's effectiveness for advertisers. The higher the click-through rate the lower the advertisers get to pay for a click. Advertisers find the medium more effective because they pay a lower CPC (cost per click). Not surprisingly, the report shows that the CPC for advertisers dropped significantly for Facebook.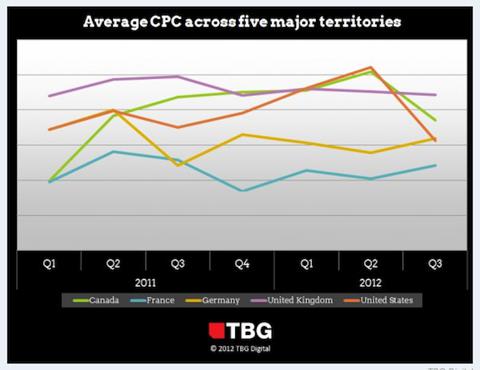 Click to enlarge
Source : TBG Digital
According to TBG, "Last quarter showed the U.S. and Canada's average cost-per-click rise above $1 for the first time. This quarter, the United States dropped by 40% and Canada fell by 27%."
What does a dropping CPC mean for Facebook investors? Is that good or bad? It depends. In this case, it is unquestionably good since the CTRs are increasing even faster. What that means is that though Facebook advertisers are getting more cost-effective advertising, the money Facebook is making per page served (CPM) is also increasing. Given that Facebook serves more page views than Google, a higher CPM rate could eventually lead to it overtaking Google in ad revenue.
According to Spruce Media, another Facebook marketing agency, CPM trends for Facebook are on a marked uptrend.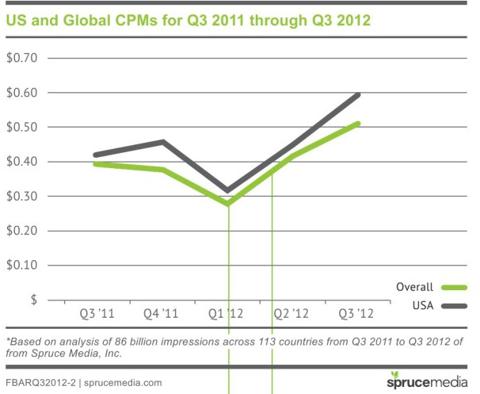 Click to enlarge
The two important points of inflexion happened with the advent of news feed ads in Q1 2012 and secondly with mobile ads in May of 2012. This is not the Facebook of the IPO when the efficacy of Facebook advertising was a huge concern.
Whether the CTR gains on the news posts and mobile are sustainable is the billion dollar question. These could simply be a result of the relative newness of these channels. On the other hand, given that Facebook accounts for 1 in every 5 page views on the internet, sustainable higher CTR rates could give it more than 20% of the estimated $80-$100 billion online ad market. That is a big number.
This is a metric that we will be watching closely over the next few quarters. In the meanwhile, it is quite clear that the measures that Facebook has been taking to address advertiser concerns are working. Investors will follow.
Disclosure: I am long FB, GOOG. I wrote this article myself, and it expresses my own opinions. I am not receiving compensation for it (other than from Seeking Alpha). I have no business relationship with any company whose stock is mentioned in this article.