After the market closed on October 24, 2012, Akamai Technologies, Inc. (NASDAQ:AKAM) reported "Third quarter revenue of $345 million, up 23 percent year over year, GAAP net income of $48 million, up 14 percent year over year; or $0.27 per diluted share, up 17 percent year over year, Normalized net income of $79 million, up 24 percent year over year; or $0.43 per diluted share, up 26 percent year over year." The news seemed to caught the market flat-footed, as the stock had been selling off from the October 8, 2012 high of $39.60 down to the closing price of $36.11 on October 24, 2012.
Last year, on October 24, 2011, we posted our recommendation of Akamai as being among the best candidates for consideration from our Nasdaq 100 Watch List. At the time, AKAM was trading at $23.85 and we said the following of the stock:
"…we believe it is worth considering Akamai from a Dow Theory perspective for any upside potential that might remain for the company. According to Dow Theory, so far the average price paid by investors, as opposed to speculators, is $36.45. This indicates the point at which an investor, over the last year, considers to be the "fair value". This implies that the stock, at maximum could gain nearly 52% in due time. However, taking into account Charles H. Dow's claim that in a bear markets, investors should only expect half of what would be considered "fair value" in a bull market, we think that in the next year Akamai could rise to the $30.15 level before faltering. We have acquired share of Akamai with the expectation that the stock will decline by at least 50%, at which point we will reconsider buying additional shares."
Dow Theory seems to have honed in on all of the technical support and resistance levels for Akamai's price. AKAM's price rose from $23.85 to $30.43 before faltering in early November 2011. This reaction was within 1% of where we thought that the stock would have experienced some resistance within a rising trend.
At the current time, according to Dow Theory, AKAM has upside targets of:
And downside targets of:
However, now that Akamai has resoundingly risen above the Dow Theory fair value level of $36.45, any additional rise of the stock is a gift. Because our tax-deferred investing (and qualified accounts) strategy employs Charles H. Dow's approach of "seeking fair profits," we are recommending that holders of Akamai consider selling the principal investment in the stock if purchased based on our October 2011 recommendation and pursue alternative investment opportunities in companies that are reasonably undervalued on a relative basis.
Click to enlarge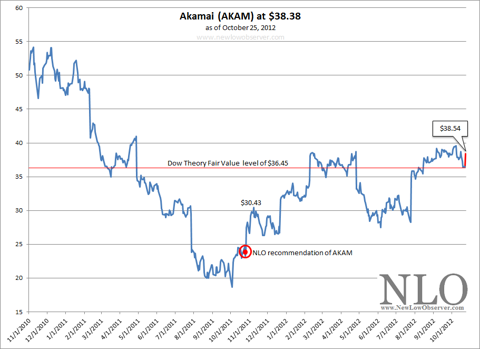 Those not interested in following through with our recommendation to sell the principal can feel comfortable knowing that Akamai is a reasonable holding with a 55%-plus margin of safety since our initial review of the stock.
Disclosure: I have no positions in any stocks mentioned, and no plans to initiate any positions within the next 72 hours. I wrote this article myself, and it expresses my own opinions. I am not receiving compensation for it. I have no business relationship with any company whose stock is mentioned in this article.