I suspect that you will see a lot more SEC Form 4 filings in October through the end of the year (EOY) by company CEOs and other corporate insiders.
Red Flag Form 4's and Investment Advice:
Form 4 insider sells can be a red flag! We want to always be on alert and look for the reasoning behind why insiders may be selling if you can? Ask these questions: Are the positions small or a majority of their holdings? Is there a material event about to happen? A near term earnings report? An FDA approval vote? Is there some "tell" from your judgment that may give you a signal to ride with their decision to also bail on some stock like we have seen recently with insiders of Apple (NASDAQ:AAPL), Facebook (NASDAQ:FB), and Monster Energy (NASDAQ:MNST).
Google (NASDAQ:GOOG) in my opinion is and has been a sell for the month of October now having fallen about 12% for the month so far. Why? The real red flag appeared with a series of Form 4 sells were filed by their CEO Larry Page. Some of you may have seen the CEO selling $15,700,000+ worth of his Google stock several times this month at around $755 per share before their earnings came due the following week. Then, after the earnings were released the stock has since settled at around $680? Was this a "tell'' with all the concerns over a pending earnings report, allegations of an FTC investigation, European investigation, and a patent infringement lawsuit by companies like Vringo (VRNG) saddling this company may be a signal to take some chips off the table for now? Maybe so, because we all know, Wall Street is unforgiving when it comes to fearful events! Events like this certainly bring up a serious red flag to me and to others. This, in my opinion states that the insider has lost confidence in the future growth opportunities or that they feel that their stock may have at least peaked in the near term, so they sell. See the chart for the price movement after the recent Form 4 filings by the CEO.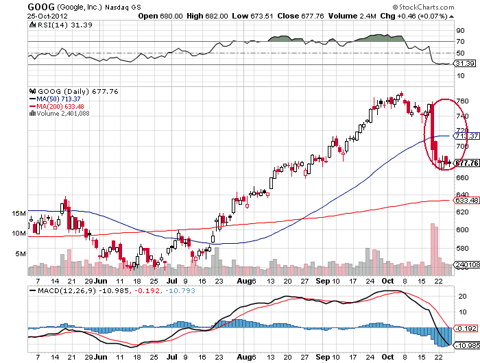 Click to enlarge
(Click to enlarge)
The really big concern happens when the insider sells the "majority" of his or her holdings due to maybe lawsuits pending or an outright stock collapse as we have seen in the past. Or, maybe there is a huge IPO lock-up about to expire, so insiders sell their shares when the lock-up opens, as has been the case all year long with Facebook stock .
The Facebook 10-Q report filed to SEC on July 31st predicted a major drop in the price as seen in the charts. During a lock-up expiration, substantial blocks of outstanding shares may be sold into the market when a "lock-up" period ends. Usually the price of Class A common stock declines as you will see form the following chart below. See the Facebook 10-Q for more:
Dates That Are Available for Sale Into Public Market:
08/16/2012 .....271 million shares
10/15/2012 to 11/13/2012 ....243 million shares
11/14/2012 .....1,197 million shares
12/14/2012 .....149 million shares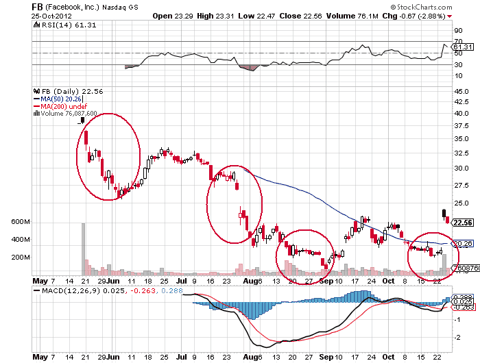 Click to enlarge
(Click to enlarge)
So Why Now Through The EOY?
I have personally spoken to a few CEOs of publicly traded companies and senior executives that classify as "insiders" who have been filing Form 4's recently and here is their response. The message is coming from some financial advisers who are telling wealthy clients that the remainder of 2012 amounts to a last-chance sale on federal tax rates. Taxes are set to rise in January in the U.S., pushing the top rate on dividends to 43.4 percent from 15 percent and the top rate on capital gains to 23.8 percent from 15 percent.
Under the presidency for George W. Bush, tax cuts were first enacted during his presidency and extended in 2010 are set to expire December 31. So, unless Congress acts, the tax increases along with automatic federal spending cuts will combine to form the so-called fiscal cliff that we are all hearing so much about. Therefore, the taxes on the top 1 percent of U.S. households would increase by an average $120,537 according to a study by the non-partisan Tax Policy Center.
Further, federal taxes on ordinary income will rise to as much as 39.6 percent from 35 percent, and long-term capital gains rates will increase to a maximum 20 percent from 15 percent. Also you could see an additional 3.8 percent tax bill for high-income earners as a result of the 2010 health-care law.
Many of us are seeing Form 4's being filed every week by insiders according to what is known to industry experts as a SEC Rule 10b5-1 stock trading plan, which is a regulation plan that was developed by the United States Securities and Exchange Commission (SEC) in 2000. Under this plan, the SEC states that Rule 10b5-1 was enacted in order to resolve an unsettled issue over the definition of insider trading, which is prohibited by SEC Rule 10b-5.
Please Be Advised Moving Into The End Of The Year:
Now on the reverse, just because an officer, director or insider institutes or starts a 10b5-1 plan does not mean that the insider feels that there is material reasoning to exit the stock. With just a few months left until the end of the year, insiders who may be waiting on a decision from Congress before making investment moves may run out of time, so they are filing now to sell some of their holdings. Lawmakers won't address tax-and-spending issues until a session after the November 6th election. I have seen on many instances whereby these insiders sell stock at levels and the stock continues to rise month after month. Their decision to start a plan of this sort does not mean that the company's growth plans are over. Insiders, like you sell for a variety of reasons. From a legal standpoint its actually safer for an insider to sell as their stock is climbing to thwart any accusations of company foul play or insider trading accusations. So, you will see insiders scale out over several time frames in a effort to legally take some of the profits out of their company holdings the right way. This is legal according to the SEC, so don't always be alarmed when you hear that a Form 4 has been filed by a company executive.
Some Background Info About A Form 4:
For those of you who are not familiar with the term SEC Form 4, it's a document (legal securities form) that must be filed with the Securities and Exchange Commission (SEC) whenever there is a material change in the holdings of company insiders. Insiders are any shareholders owning 10% or more of the company's outstanding stock, and are legally required to submit a Form 4 who may include: directors and officers of the company. Some of you may not be aware of the fact that this two-page document covers any buy-and-sell orders on the open market as well as the exercise of company stock options. A Form 4 is mandatory within two (2) business days starting from the end of the day that the material transaction took place.
Disclosure: I am short FB and long VRNG. I wrote this article myself, and it expresses my own opinions. I am not receiving compensation for it (other than from Seeking Alpha). I have no business relationship with any company whose stock is mentioned in this article.