Chinese search engine giant Baidu (NASDAQ:BIDU) is scheduled to report earnings on October 29, with expectations for a net of $1.29 per share on $1.0 billion in revenue.
If met, earnings will have grown by 53.6% over the same period last year and the price multiple for the share would be the lowest it has been since global markets bottomed in 2009. The company has beat expectations in every quarter over the last 12 so there is little doubt of a beat, only by how much.
The real story here is the price at which investors can snap up a tremendous growth story. For comparison, Google (NASDAQ:GOOG) is trading for about 21 times trailing earnings and is expected to grow by 23% per share net over the next four quarters. Baidu is expected to grow earnings by almost twice that and is only trading at 29.6 times trailing earnings. In fact, at this price, the shares have only been cheaper 4% of the time in the last three years.
Management is blowing out peers in the industry with an operating margin of 51.3%, higher than 84% of those in computer services, and a return on equity of 55.1%, which is greater than 94% of competitors in the industry. Even if management were to drop the ball, the rate of internet growth in China means the stock should have a much higher price multiple.
Internet usage in the country has increased from 22.5 million to 420 million in the decade to 2010, a compound annual rate of 34%. Don't expect growth to slow anytime soon; penetration is just 31.6%, far below the United States at 77%.
Google officially exited the market in 2010 owing to censorship and hacking issues, redirecting Chinese search queries to google.com.hk in Hong Kong to bypass Chinese regulators. As of second-quarter 2012, Baidu received 79% of Chinese search revenue with Google a distant second on 16%.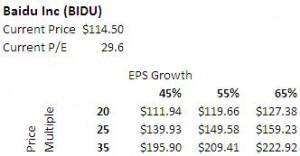 The matrix above shows possible one-year price targets given a trailing price multiple between 20 and 35 times and earnings growth between 45% and 65%. Both ranges are fairly conservative given the company's history but present an attractive call on the shares.