In our previous reports on Nokia Corporation (NYSE:NOK), we have been amused by the vociferous support the investment community has given this company, even though its performance has been pitiful and pathetic under its CEO Steven Elop. Elop has been at the helm of Nokia for two years now after leading Microsoft's (NASDAQ:MSFT) Business Software unit to its most mediocre three-year stretch. Nokia has consistently reached new lows under Elop's leadership ever since he shot off his screed about Symbian being a burning platform.
Based on Nokia's performance this year, we can see that Elop's leadership has resulted in Nokia burning cash on its burning platform. Nokia's free cash flow deficit has exceeded €1.25B YTD, which includes nearly €500M in Q3 2012 alone.
Click to enlarge
Nokia's stakeholders were expecting big things from Nokia and its new Lumia 900 smartphone earlier this year. The Lumia 900 was supposed to be Nokia and Microsoft's attempt to compete with Apple's (NASDAQ:AAPL) highly popular iPhone device. AT&T (NYSE:T) was also a stakeholder in the success of the Lumia 900 because Ralph de la Vega (AT&T Mobility's CEO) wanted to increase company operating profits by reducing its handset subsidy expense.
AT&T was also motivated to help promote the Lumia 900 Windows Phone because it lost its exclusivity on the iPhone to Verizon Communications (NYSE:VZ) early last year. We think that Sprint (NYSE:S) landing the rights to sell the iPhone in Q4 2011 added insult to injury, especially when AT&T dealt with the indignity of withdrawing its bid to acquire T-Mobile USA and pay T-Mobile a $4B breakup fee.
Unfortunately for Nokia's shareholders and management, sales of its Lumia 900 and 710 devices were lukewarm at best. Furthermore, we think that Nokia created negative goodwill with its potential customers when it announced that the Lumia 900 will be stuck on Windows Phone 7. We were surprised that Nokia managed to increase its sales of its low-end Mobile Phones on a linked quarter basis for the second straight quarter.
Nokia's low-end Mobile Phone devices saw a 4.2% increase in mobile phone sales on a linked quarter basis for Q3 2012, after registering a 4% increase on a linked-quarter basis for Q2 2012. Unfortunately, this product line saw a 19% decline in revenues on a year-over-year basis due to a 3% decline in average sales prices and a 15% decline in year-over-year volumes.
The above resulted in product line contribution income declining from ~€295M in Q3 2011 to €116M in Q3 2012 and represented a sharp 61% decline in year-over-year income.
Source: Nokia's Q3 2011 and Q3 2012 Earnings Releases
Nokia's Smart Device performance has gone from mediocre to outright terrible, but we can see that there was good news and bad news. The good news was that Nokia was able to increase its average selling price per Smart Device by an outstanding 18% and it reduced its operating expenses by 33% (both figures on a year-over-year basis).
Nokia should be pleased that Lumia Windows Phones represent nearly half of its Smart Devices unit volumes. Another piece of good news was that total Lumia device sales reached 4 million during the quarter, up from 2 million in Q1 2012.
Unfortunately, the bad news outweighed the good news. Total smartphone device volumes served as bad news by collapsing at a rate of 63% from prior-year levels and by 38% on a quarter-on-quarter basis. This followed Q2 2012 in which volumes declined by 38% year-over-year and 14% linked-quarter.
Also, only 300K Lumia devices were sold in North America, despite the heavy promotional activity and $50 price cut on its featured, flagship Lumia 900 device. Not even a €215M year-over-year decline in operating expenses was enough to prevent this product line's losses increasing by €550M year-over-year.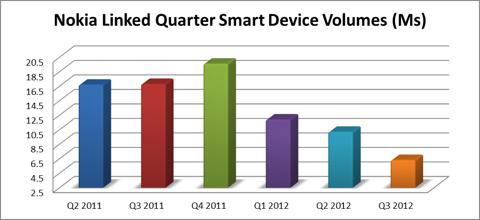 Source: Nokia quarterly press releases, Q2 2011-Q3 2012
Nokia's Smart Devices saw sharp year-over-year unit volume declines in its key markets of China and Europe. It also saw volume declines in the Asia-Pacific countries other than China and the Middle East/Africa region. Nokia's smart devices were able to avoid volume declines in the Americas though. During the quarter, Nokia sold 500 of its patents to Vringo (VRNG) for $22M and after the quarter ended, Nokia sold 90% of its Vertu luxury mobile phone business to EQT VI.
Nokia also announced the new Windows Phone 8 Lumia Devices. The Lumia 920 will be sold at AT&T exclusively for the first six months it is available for sale in the US. In Canada, Rogers Wireless is the exclusive home of the Lumia 920. Of course, the Lumia is not expected to be made available for sale until November 2, according to WPCentral.
In the meantime, Apple will have a six-week advantage with regards to sales availability. Fortunately for Nokia, AT&T has cut the 2-Year contract customer price of the Lumia 900 from $49.99 in July to $0.99 recently. We think it's still overpriced.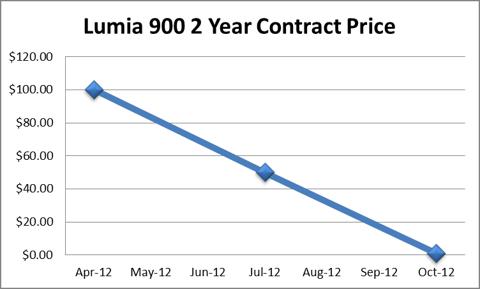 Source: AT&T Wireless
Nokia's Location and Commerce segment had mixed results. Despite seeing a slight decline in its gross margin, it still generated an 80.4% gross margin during the quarter. Year-over-year sales for this segment declined by 6% to €265M in Q3 2012, but segment profit jumped to €37M profit from €28M in the prior year.
The Location and Commerce segment was created in 2008 when Nokia acquired NAVTEQ for $8.1B (€5.7B). Nokia wrote-off €1.09B of this segment's goodwill in 2011 and has €3.274B in segment goodwill remaining. Nokia Nation is hoping that Nokia Location and Commerce is able to advantage of Apple's highly publicized mapping snafu in future quarters.
We would like to congratulate Nokia Siemens Networks for having a profitable quarter. If it can keep it up, next year will be Nokia Siemens Network's first profitable year since Nokia Networks merged with Siemens Communications.
Nokia Siemens Networks rebounded from an 8% year-over-year revenue decline in Q2 2012 to generate a 3% year-over-year revenue increase in Q3 2012. The segment saw a reported profit of €182M and an adjusted profit of €323M versus prior year levels. Nokia Siemens Networks swung to a profit on the strength of €303M in operating cost reductions, which were partially offset by €95M in restructuring charges.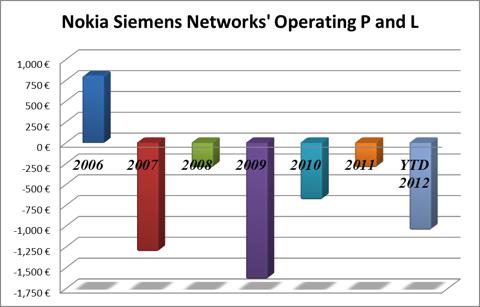 Source: Nokia Annual Reports: 2007-11 and Q3 2012 Results
We are amazed that despite outspending Apple by a 4-1 ratio in research and development over the past decade, Nokia and Apple have switched places in the technology industry. Nokia's mobile phone market share has steadily eroded over the last five years from 40.4% in 2007 to 21% in Q1 2012, even though the company represents 30% of the industry's research and development expenditures.
According to The Wall Street Journal, Nokia spent lavishly on researching mobile phone breakthroughs, but unfortunately was unwilling to invest in developing those breakthroughs into products. Considering the pedestrian performance of the Windows Phone 7 devices, we're not expecting much from the Windows Phone 8 devices when Nokia brings those devices to market.
In conclusion, we believe that Nokia will continue to struggle for the rest of the year, but we will re-evaluate our outlook then. We like to quote John Maynard Keynes's "When the facts change, we'll change our opinion" line. When the facts on the ground for Nokia change, we at Saibus Research will change our opinion. We think it is too early to change our opinion though.
During the last quarter, Nokia sold 6.3M smartphone devices. We believe that Apple's iPhone 5 sales volumes exceeded Nokia's total smartphone sales volumes even though Apple's iPhone 5 was only available for sale for nine days during the quarter. Verizon sold 650K iPhone 5 devices, while Nokia sold 300K Lumia Devices throughout North America.
We noticed that Nokia Siemens Networks finally broke its streak of red ink and that Nokia Location and Commerce continues to generate positive incremental free cash flows from business operations. However, when Nokia bulls tout Nokia Location & Commerce's €40M in quarterly free cash flows, we think that they are clearly grasping at straws, since its free cash flow return on invested capital is less than 3%, as Nokia paid €5.7B for NAVTEQ (NKA Nokia Location and Commerce).
If we want 3% after-tax return on our money, we'll buy a 30-year high-grade general obligation muni-bond. No wonder Nokia wrote off nearly 20% of its purchase price for NAVTEQ.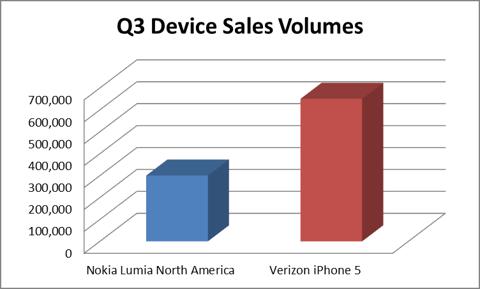 Source: Nokia's Q3 2012 Report and AppleInsider
Disclosure: I am long AAPL, S. I wrote this article myself, and it expresses my own opinions. I am not receiving compensation for it (other than from Seeking Alpha). I have no business relationship with any company whose stock is mentioned in this article.
Additional disclosure: This article was written by an analyst at Saibus Research. Saibus Research has not received compensation directly or indirectly for expressing the recommendation in this article. We have no business relationship with any company whose stock is mentioned in this article. Under no circumstances must this report be considered an offer to buy, sell, subscribe for or trade securities or other instruments