As a stock index that follows the common stock prices of 500 publicly traded American companies, the S&P 500 is often referred to as a benchmark measure of the market itself. The current average dividend yield of the S&P 500 now rests at a mere 2.00% as of October 25, 2012. For investors capable of obtaining a similar yield or greater, they are able to maintain an income stream that stands a head above the market as a whole. Yet in sourcing one's income component in companies that have historically shown consistent dividend growth, an income investor can face the promising prospect of compounding earnings growth.
The strength of a dividend is often measured by its historical endurance over the course of the company's lifetime. In the same sense, the strength of a company is often measured by its ability to consistently return value to its shareholders through distributions. It remains a progressive indication when companies annually raise their dividend rates as an expression of their financial well-being. Such companies reflect their commitment to their shareholders and often reflect a rare form of consistency so often lacking on the stock market. The following five companies have annually raised their dividend rates for over 30 years.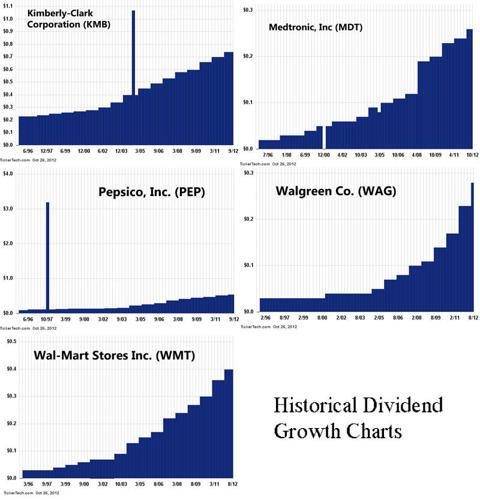 As a result of their steady business models and continual income growth, these companies have continued to reflect their overall stability through their respective stock prices. This can be illustrated in the chart below as seen in the relatively horizontal price movement. Such stability remains a positive attribute for investors looking to replace their income with limited risk to their invested principal. Combined With a historically growing dividend trend, these companies provide a stable source of replacement income.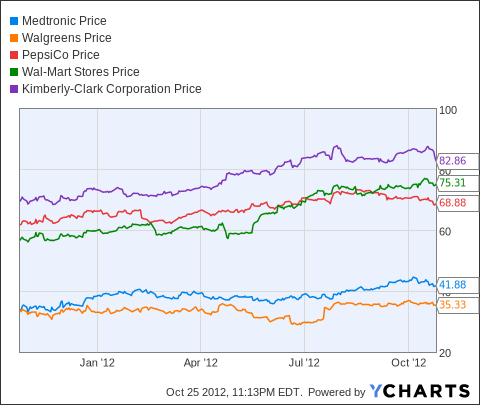 The overall picture of the dividend history remains an important figure to consider. The companies shown have increased their dividend rates over the years in demonstration of their safe yields. The ideal dividend portfolio offers a safe approach to the market in regards to the companies within its holdings. Preferably, these yields have also proven to grow over time. Considering the fairly priced multiples, overall aversion to volatility risk, and balanced play on the economy, the aforementioned portfolio appears to qualify as one such example of a safe income portfolio.
Disclosure: I have no positions in any stocks mentioned, and no plans to initiate any positions within the next 72 hours. I wrote this article myself, and it expresses my own opinions. I am not receiving compensation for it (other than from Seeking Alpha). I have no business relationship with any company whose stock is mentioned in this article.