Citigroup (NYSE:C) is back in the news today as details about Vikram Pandit's recent firing have come out. The company is not one I have covered much, if at all, over the years. I have limited my financial equity positions to JPMorgan Chase (NYSE:JPM), Wells Fargo (NYSE:WFC), and State Street (NYSE:STT) among the large banks over the last 12-18 months.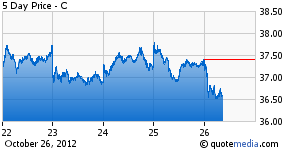 However, Citigroup is finally starting to see some positive catalysts to go with its cheap valuations. I decided to jump on this train and bought a small position on the dip this morning.
Here is a list of possible positive catalysts for Citigroup:
Swapping a hedge fund manager CEO who has a "challenged" relationship with regulators for a 30-year banking veteran on good terms with the Fed is a positive thing for the company -- it doesn't matter how you slice it.
With a new CEO in charge and recent solid results, I would expect the Fed to allow Citigroup to increase its dividend in early 2013.
Consensus earnings estimates for both FY 2012 and FY 2013 have risen nicely over the last month.
The housing recovery has started to look as if it's for real over the last few months. As one of the largest mortgage originators, this is a powerful tailwind for Citigroup.
A Romney victory (50/50 proposition) would be good for the banking sector overall as regulatory pressure should decrease. In addition, Federal Reserve actions should be lessened, which would be good for interest rate spreads and a positive for banks' margins.
Here are four additional reasons why Citigroup offers solid value at under $37 a share:
The stock sells for just 60% of book value, which is very attractive if an investor believes the housing recovery is real this time.
Citigroup is selling for less than eight times forward earnings, a significant discount to its five-year average (14.3).
The company has now beat earnings estimates for three quarters in a row. Revenue growth is set to resume in FY 2013, with analysts calling for a 10% increase in sales next year.
Credit Suisse has an "outperform" rating and a $48 price target on the shares after Pandit's ouster. I would expect more positive comments from analysts over the next month as the dust settles on this change in leadership.
Disclosure: I am long C, JPM, WFC. I wrote this article myself, and it expresses my own opinions. I am not receiving compensation for it (other than from Seeking Alpha). I have no business relationship with any company whose stock is mentioned in this article.