The S&P 500 Index (.SPX) didn't do much last week. It added less than 10 points. Nevertheless, with ongoing volatility within financial, technology, and energy sectors, investors in the options market seemed to find plenty of reasons to trade. Volume rose to its best levels in almost a month, with roughly 36 million puts and 37.5 million call options traded across the seven options exchanges. Some of the noteworthy trades included two large put spreads on Merrill Lynch (MER), bearish trading in Cemex (NYSE:CX), several days of bullish flow in Frontier Oil (NYSE:FTO), and a substantial bull call spread on the UltraShort Financial ETF (NYSEARCA:SKF).
Options Traders Brace for More Financial Fallout
Shares of Merrill Lynch (MER) have been battered on worries about the outlook for the investment bank given the ongoing uncertainty surrounding rival Lehman Brothers (LEH). In the options market, prices reflect the worries. Implied volatility, a measure of volatility perceptions currently reflected in Merrill option premiums, had surged to 265 percent by Friday, up from 80 percent the week before.
Meanwhile, very bearish trading hit Merrill options. The top trade in Merrill Lynch Friday morning was an order for 16,700 September 10 puts. The trade was part of a butterfly spread where the strategist sold these puts, bought 8,350 of the MER September 15 puts and 8,350 of the September 5 puts. The trade was entered for 80 cents (per fly) and has a potential payoff of $4.20 if MER closes at $10 per share at next week's expiration. The profit range is between $14.20 and $5.80 per share and indicates that this investor expects the slide in Merrill shares to continue next week.
The second biggest trade in MER was a block of 15,000 of the January 7.5s for $1.50. The trade was part of a substantial 1 x 2 ratio spread where the strategist bought 7,500 of the January 15 puts and sold twice as many of the January 7.5 puts. This trade was initiated for a debit $1.50 (per 1×2) and has a maximum payoff of $6.00 if MER falls to $7.50 by January options expiration.
Put Players Seize Cemex
Cemex (CX) options saw a bump in volume midweek. Wednesday, with CX down a dime to $20.32 share, 10,150 of the January 22.5 puts and 20,060 of the January 17.5 puts traded in midday trading. Most of the volume seemed to be part of a 1 x 2 ratio spread, where the strategist bought the 22.5s for $3.30 and sold twice as many of the 17.5s for 85 cents a contract. If so, the trade has a bearish profile, with a max profit potential if CX falls to $17.5 per share at January options expiration. The profit range (at expiration) is between $14.10 and $20.90, with substantial losses if the stock breaks down below $14.10.
Thursday, another 12,000 CX puts traded, compared to 2,000 call options. This time, however, the focus was on the short-term options. 10,600 of the September 17.5 puts traded, compared to open interest of 531. Ninety-eight percent of those contracts traded on the offer. It seemed that these options, which expire next week, were being bought. The timing was interesting because, Friday, shares of Cemex sank 6.9 percent after the cement maker issued an earnings warning.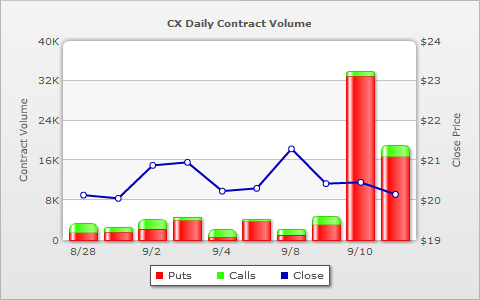 Figure 1: CX Put Call Volume Chart
Focused on Frontier
Frontier (FTO) saw several days of increasing call volume. Friday, for example, shares traded up $1.61 to $23.01 and volume in the options market rose to five times the normal. 32,000 FTO calls and 5,725 puts traded on the day. Thursday, 18,000 FTO calls and 1,700 puts traded on the day.  It isn't clear what is driving the interest in calls on the oil refiner over the past two sessions, but FTO has been on the move since takeover chatter inflated the share price on September 3rd.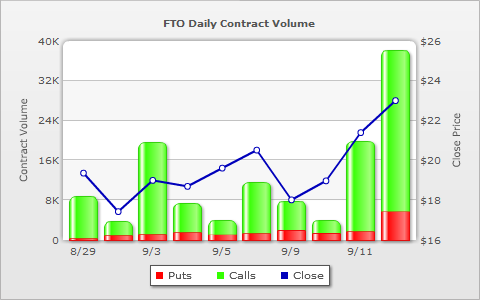 Figure 2: FTO Put and Call Volume
Betting Against the Banks
Calls on the UltraShort Financials ProShares (SKF) saw action Thursday on bullish spread trading. SKF is an exchange-traded fund designed to move opposite to the Dow Jones Financials Index, but twice as fast. It has performed well during this most recent period of financial turmoil, up 9.6 percent since Monday. At least one strategist seems to be looking for the move to continue. Thursday, with SKF trading at $115.75 a share, 4,979 of the SKF October 130 calls traded offerside for $10.90 a contract. Meanwhile, the same number of 170s traded bidside for $3.90. The action hints at possible bullish spread trading. If so, the strategist paid a net debit of $7.00 per spread and stands to make $33.00 if the meltdown in the financials continues and SKF rallies to $170 per share or more by October options expiration.




Figure 3: SKF Bull Call Spread