A running joke in biofuels circles is that cellulosic ethanol has been five years away from commercialization for the last 30 years. Yesterday BP (NYSE:BP) subsidiary BP Biofuels Highlands announced that it is ending its plans to build a commercial-scale cellulosic ethanol via enzymatic hydrolysis facility in Highlands City, Florida. The 36 million gallon per year [MGY] project was originally intended to begin operations in 2013 at a cost of $400 million, and was unique in that the plans also included construction of a 20,000 acre dedicated energy grass farm surrounding the facility. The company further stated that it will no longer be pursuing cellulosic ethanol production in the U.S., suggesting that its planning efforts for a 72 MGY cellulosic ethanol facility in the U.S. Gulf Coast region have also ceased. The capital saved by this move will instead be directed to "other more attractive projects," according to BP's VP of Communications Geoff Morrell. This reasoning will come as little surprise to seasoned industry observers given the dismal performance of shares in advanced biofuel companies since 2011 (see chart).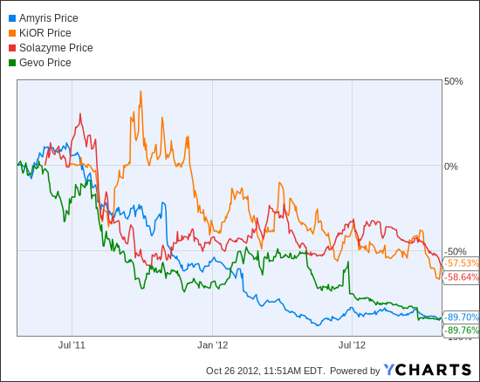 This news is unlikely to substantially affect BP's shareholders; even assuming an ethanol value of $3/gal, the Highlands City facility's annual revenue of $108 million would have represented only a tiny fraction of the company's total 2011 annual revenue of $376 billion. Nor does it spell the end of the pathway's short-term commercialization efforts, as Abengoa (OTCPK:ABGOY), DuPont (NYSE:DD), and DSM (OTCQX:RDSMY) all intend to begin producing cellulosic ethanol via enzymatic hydrolysis at U.S. facilities with capacities in excess of 20 MGY by 2013 (links here, here, and here, respectively). That said, it has the hallmarks of the two major challenges facing the cellulosic ethanol industry at present. The first is the tremendous amount of uncertainty surrounding the future of the cellulosic biofuels mandate under the RFS2. The industry has completely failed to produce even a small amount of the mandated volumes of cellulosic biofuel production since 2009, causing it to come under pressure from Republicans in Congress. Researchers at one large U.S. refiner told me over the summer that they rarely bother accounting for cellulosic biofuel RINs in their future economic scenarios due to this uncertainty.
The longer-term challenge represented by BP's recent announcement is the high feedstock costs associated with the use of dedicated energy crops, such as those the Highlands City facility would have used. A number of advanced biofuels producers (including BP) have begun expanding into Brazil, where lignocellulose in the form of cane bagasse is regularly collected as part of sugarcane harvesting, resulting in a much more accessible cellulosic feedstock for facilities located in cane-producing regions. The high cost of cellulosic feedstock in the U.S. will make it very difficult for cellulosic ethanol producers to be profitable [pdf] (let alone break even) without a substantial subsidy via RFS2 RINs. Taken together, high feedstock costs and the political uncertainty surrounding the RFS2's cellulosic biofuels mandate represent a significant short-term challenge to the cellulosic ethanol industry's commercialization efforts. I wouldn't be at all surprised if one or more additional companies pulls out of the industry in coming months, given the current operating environment.
Disclosure: I have no positions in any stocks mentioned, and no plans to initiate any positions within the next 72 hours. I wrote this article myself, and it expresses my own opinions. I am not receiving compensation for it (other than from Seeking Alpha). I have no business relationship with any company whose stock is mentioned in this article.