When Nokia's (NYSE:NOK) share price was quickly plunging from $7 to less than $2, many analysts were very quick and noisy about downgrading the company and label it as "dead." The analysts were racing with each other to be the first one to downgrade Nokia. After all, these analysts would rate a company as "sell" under very rare conditions (for example many analysts thought Chipotle (NYSE:CMG) was a buy at $440 and Netflix (NASDAQ:NFLX) was a buy at prices above $200), and as a result, they were overly excited about having an opportunity to rate Nokia as a "sell."
Now, many analysts are upgrading Nokia, but they are doing it rather quietly. Perhaps they are ashamed about writing this company off too quickly while giving so many chances to so many other companies. Currently the average rating on Nokia is "hold." Until last month, the average rating was sitting between "underperform" and "sell". Now only 8 out of the 23 analysts covering the company see it as a sell, whereas 12 see it as "hold" and 1 see it as "buy". This is a positive trend and this is the first time in the last 2 years that the analysts are turning positive towards Nokia. The figure below is from Nasdaq's website which I linked above.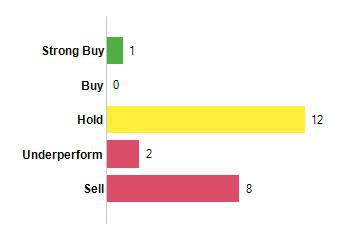 The price targets for Nokia have a wide range. The numbers range from $1.5 (implying a downside of 43% compared to today's price) to $4.40 (implying an upside of 67% compared to today's price). The average price target is $3.00 which is 14% above today's price. Just last month, the average target price on Nokia was $2.30 with the range of estimates being between $1.00 and $3.50.
As for earnings, they expect the company to earn between -13 cents per share and +3 cents per share in the next quarter. The average estimate for the next quarter is -5 cents per share, which used to be -17 cents per share last month. The analysts expect the company to reach the breakeven point in the third quarter of 2013 and become profitable by the fourth quarter. They expect the company to lose only 2 cents per share in the year of 2013 and followed by earning 16 cents per share in 2014. The more optimistic analysts expect the company to post a profit between 1 and 33 cents per share in 2013. I have been watching the analyst estimates on Nokia almost on daily basis and this is the first time in more than a year that I see analysts being so positive about Nokia. Even though the analysts think that it will take a while before the company returns to profitability, a great majority of them don't expect the company to "keep burning cash until it declares bankruptcy" anymore.
The figure below is taken from Nasdaq's website and it shows the analyst reactions to Nokia in the last 4 weeks. For the 4th quarter, 9 analysts increased their estimates, whereas 4 of them decreased their estimates in the last 4 weeks. For the fiscal year of 2012, 14 analysts increased their estimates, whereas 4 analysts decreased their estimates.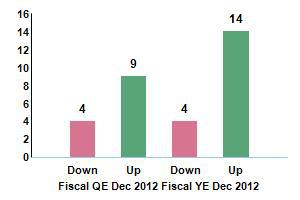 On the other side, you don't see many stories on websites and newspapers about this sudden change of heart by the analysts. When they were downgrading Nokia, it was all over the news but now the upgrades happen so quietly.
Quietly or not, the analysts who once thought that Nokia was a sinking ship are reconsidering their position. This is good for the investors of the company. I will say the same things I've been saying for nearly a year, that you should keep some Nokia shares in your portfolio as long as it doesn't make a large percentage of your portfolio. While Nokia is in the middle of a great turnaround story, it is still not risk free. I am all for diversifying a portfolio as much as possible in order to protect it from a major downside. In addition, I sell covered calls on most of my positions to protect my portfolio further. Then again, I am a very conservative investor who is long-only.
I will continue to keep a small long position in Nokia for the time being.
Disclosure: I am long NOK. I wrote this article myself, and it expresses my own opinions. I am not receiving compensation for it (other than from Seeking Alpha). I have no business relationship with any company whose stock is mentioned in this article.