In a period where top-line growth is little to be seen, IMAX Corporation (NYSE:IMAX) managed to grow its third quarter revenues by 19.5 percent from $67.5M to $80.7M and its earnings per share by 76.9 percent from $0.13 per share in 2011 to $0.23 in 2012.
This performance should satisfy shareholders as many S&P 500 companies failed to grow revenues in the third quarter, making their future earnings growth uncertain.
In the quarter, IMAX systems revenue reflected growth in installation of 14 new theatres, compared to 11 theatres in the third quarter of 2011. At the same time gross margins expanded by 147 basis points, while operating margins expanded by 668 basis points.
The robust margin expansion can be attributed to growth in operating income, but also (and equally important) to a little increase in Selling and Admin and Research and Development expenses. This illustrates management's ability to create shareholder value through the expansion of revenues and the control of costs.
Q3 Revenue Composition and Comparison: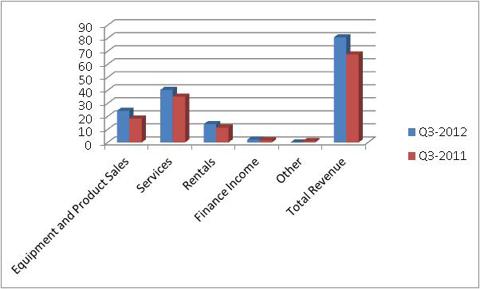 The company ended the quarter with 287 theaters operating under joint revenue sharing arrangements, compared to 218 theaters at the end of the third quarter last year, again illustrating management's strong ability to grow the business.
Management sounded clear and secure on the conference call that the company will meet its 2012 guidance of installing about 110 new theatre systems, which implies approximately 46 new systems will be installed in the fourth quarter of this year. This means investors can expect more strong revenue growth in fourth quarter.
Investors can also remain confident that the company's growth will be maintained as management also provided a positive outlook of 110-125 new systems to be installed in 2013.
Lastly, investors should understand that the company is currently trading at a rich earnings multiple due to its earnings growth and understand that therefore, the company is more susceptible to sharp price corrections if the company disappoints the market on any given metric.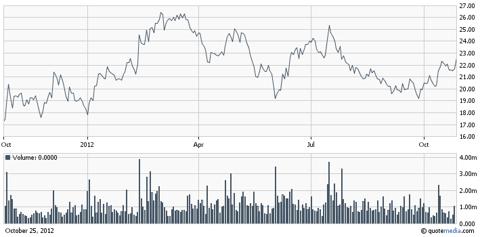 Disclosure: I have no positions in any stocks mentioned, and no plans to initiate any positions within the next 72 hours. I wrote this article myself, and it expresses my own opinions. I am not receiving compensation for it (other than from Seeking Alpha). I have no business relationship with any company whose stock is mentioned in this article.