Sirius XM (NASDAQ:SIRI) will be reporting its Q3 earnings on October 30, 2012. This could be the most important earnings call that this company has had in quite some time. It is not the quarter itself that is important, but rather the status of several matters going forward. In addition, this will be the last Sirius XM earnings call presided over by outgoing CEO Mel Karmazin.
Last week I wrote that this confernce call is about everything but earnings and that still rings true. In fact, with the more recent news about the Karmazin departure, it is now more true than ever.
The key components that the street wants to see is some clarity about the Liberty Media (NASDAQ:LMCA) stake and plans, guidance for 2013 and now some clarity on the CEO search which is headed up by Liberty Media's Greg Maffei.
While those are the important factors of the call there are some things about earnings that remain important and deserve your attention. The first thing to note is that the street is expecting Sirius XM to report an EPS of 2 cents. This matches last year's Q3 performance and at first blush may seem like growth at the company has stalled. This is not at all the case. There were debt pay-offs and refinancing activities in the quarter that will hit the EPS with some one time charges. While I expect the company to report the 2 cents, I also anticipate that they will qualify the report and state that absent the one time charges and credits the company would have reported 3 cents. My model below outlines what I expect to see: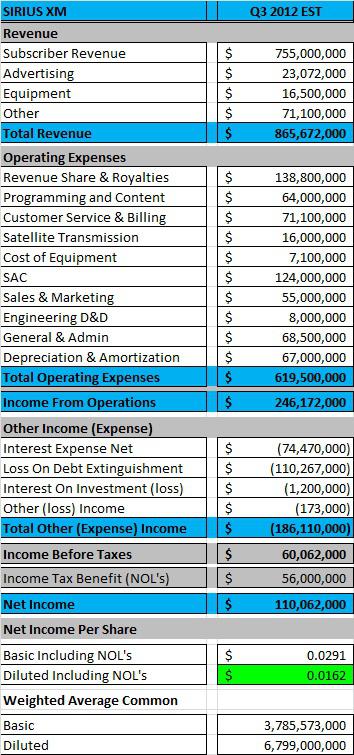 As you can see, there is a substantial $110 million number associated with extinguishment of debt. The company paid off some notes and refinanced others. That activity will be accounted for in this quarter. In addition, the activity will impact cash.
The other noteworthy item is the accounting for about $565 million in NOL's. This leaves another $56 million that will be accounted for in Q4. After Q4 they will no longer have NOL's to report on the financials. It is important to note that beginning in Q1 of 2013, the company will show the taxes that would be due, but not actually have to pay them. This will make the EPS lower than it actually is. Essentially, in terms of the EPS, we saw the EPS benefit of the NOL's in Q2, Q3, and Q4 of 2012 and going forward will see the downside of that equation.
The important thing to note about Q3 earnings is that as long as the company hits 2 cents and all other metrics such as churn and ARPU are in line, the call will focus on bigger picture items.
Stay tuned because this call will be interesting!
Disclosure: I am long SIRI, LMCA. I wrote this article myself, and it expresses my own opinions. I am not receiving compensation for it (other than from Seeking Alpha). I have no business relationship with any company whose stock is mentioned in this article.