Once In A 100-Year Storm For The Northeast
The storm we began forecasting for the Northeast U.S. three days ago is now being nicknamed by the Media as "Franken-Storm", as it occurs just prior to Halloween. Mischief night, also known as Devil's night or hell's night, has been an annual event in England since the 1600's and in the U.S. the past 100 years. It is an annual tradition, in which children play pranks on neighbors, just prior to Halloween. Hurricane Sandy will be the ultimate prankster bringing historic winds, floods and beach erosion to the Northeast and Mid-Atlantic States, Sunday evening through Tuesday. This may affect up to 50 million people with hundreds of thousands without power early next week.
Right now, I expect a direct strike between New York City and southern New Jersey by Monday night, but there will be tropical storm force winds felt all the way from D.C. to southern New England.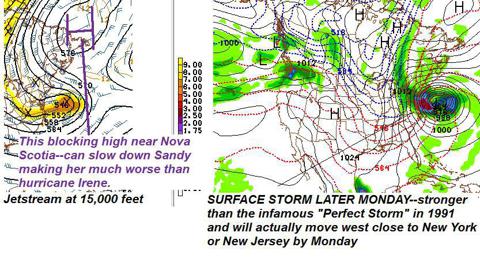 Source:NCEP/NOAA
What makes this storm so unusual, (which may go down as the worst Northeast hurricane in 100 years), is the fact that the central pressure will be lower (stronger) than the infamous Perfect Storm from Halloween, 1991. This storm will move inland and also tap colder air aloft from the Midwest -- something that hurricanes rarely ever do. In other words, it will be a hybrid of a hurricane and Nor'easter.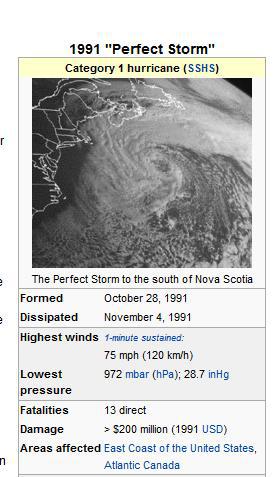 Sandy will be a hybrid of a hurricane and Nor'easter, as two storms merge like the Perfect Storm. In my opinion, it will bring a lot more damage than the Perfect Storm, perhaps in the billions of $$ to the Northeast U.S.
Source: Wikipedia
Gasoline and Heating Oil Prices
The result of Sandy will also be some snows over parts of Virginia, Pennsylvania and Ohio. This reality that winter is coming, combined with cold weather headed for Europe next week with snows, is helping heating oil prices and the ETF (NYSEARCA:UHN). Gasoline prices and the ETF (NYSEARCA:UGA), have had a modest 1-2% rise the last 2 days on this storm. There was a nice trade buying gasoline futures ahead of this storm two days ago when I first saw this, but as of this writing profit taking has set in for gasoline prices. So this may be a buy on rumor, sell on fact scenario. Why? There are ideas that if millions of people stop driving later this weekend and early next week, this might choke off gasoline demand. Also, daily gasoline demand recently fell to a 7 year low. Hence, you have conflicting signs for heating oil and gasoline prices. For heating oil prices, without major sustained early cold November weather the rally in heating oil today may just be a short term reaction.
If, however Sandy moves closer to New York Harbor, it is possible that damage to refiners would be greater than normal and tankers will not be able to move in product for several days. Hence, crack spreads between gasoline and heating oil versus crude may continue to rally in the near future.
Hurricane Stock Plays, CME Hurricane Futures/Options and Why Natural Gas Prices are Faltering
Looking back at the most damaging hurricanes ever, a few stocks that seemed to rally were Campbell's Soup (NYSE:CPB) and various home building stocks. People often stock up on soup prior to big storms. Companies like Nucor (NYSE:NUE) rally as this company provides steel for rebuilding. Sherwin-Williams (NYSE:SHW) a large producer of paint also seems to benefit. Home Depot (NYSE:HD) may be a good longer term buy, in part due to the recovering housing market, not just the hurricane.
In terms of natural gas futures and the ETF (NYSEARCA:UNG), while we have painted a potentially bullish longer term outlook, hurricanes like Sandy could actually have a bearish short term impact on natural gas prices. This is because of the potential huge loss in electricity demand that will be felt along the east coast next week. Also, Sandy will act to hug the coast and bring in warm Atlantic moisture and not any big cold wave for now. However, longer term, I expect natural gas prices to double over the next few years. We need a cold winter, for that to happen sooner, than later.
Finally, longer term, one can participate ahead of hurricanes by trading the CME Hurricane Index Futures/Options Contracts. You can find out more information here: www.cmegroup.com/trading/weather/files/W...
Disclosure: I have no positions in any stocks mentioned, and no plans to initiate any positions within the next 72 hours. I wrote this article myself, and it expresses my own opinions. I am not receiving compensation for it (other than from Seeking Alpha). I have no business relationship with any company whose stock is mentioned in this article.