A few months ago I published an article stating that Google (NASDAQ:GOOG) would break out of its two and a half year trading range. For a few weeks I was correct and shares broke above the resistance level at $650 and just barely reached $775 a share. As I was about to pat myself on the back for a well recommended investment, the company reported Q3 earnings which disappointed the street. Shares have struggled to find a bottom since then and currently trade in the high $600 range.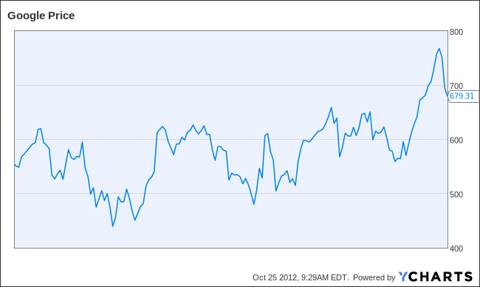 Click to enlarge
I believe my initial argument still holds true, shares of GOOG still remain attractive based upon multiple historical price models. Below are updated models which include the company's most recent quarterly results. It is worth noting that my research is done using GAAP results. Google reports both GAAP and non-GAAP results on their quarterly press releases, so be aware if you compare my data with other sources.
Price-to-Earnings
One of the reasons Google has been such a volatile stock is due to management's lack of clarity and consistency. A perfect example of this is the following comment which management reiterated again in the recent press release: "We expect to continue to make significant capital expenditures." The market loves stable earnings, Google has repeatedly said they plan to make investments that will grow the company into the future and will not strive to meet analyst quarterly expectations. You can see massive gaps in the stock price following earning announcements both upward and downward as investors continue to be shocked by earnings announcements. That being said, Google continues to grow EPS at rather robust rates. As the chart below shows, shares trade at 21.5x TTM earnings versus a five year average of 27x earnings.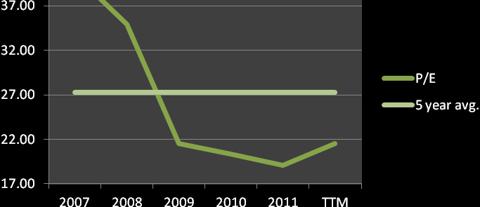 Click to enlarge
Source: Google 10-K's and 10-Q's
Price-to-Sales
Revenue has grown from $16.6 billion in 2007 to just over $47.5 billion in the trailing twelve months. In 2007 shares of Google cost 10.27x revenue, today shares trade at 4.8x. The five year average price-to-sales ratio is 6.76x. You can see in chart below we are trading well below the historical average.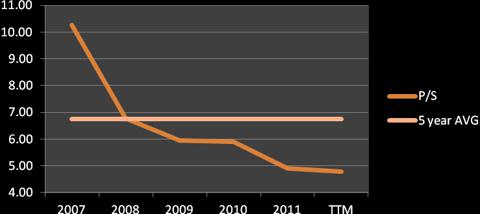 Click to enlarge
Source: Google 10-K's and 10-Q's
Price-to-Operating Cash Flow
Google continues to impress investors with its cash flow generating ability. In 2007 the company produced $5.8 billion in operating cash flow, over the trailing twelve months they have generated $15.87 billion. Even with growing capex spending, this growth has led to a swelling of Google's cash, cash equivalents and short term investments portion of the balance sheet, reaching just under $46 billion as of the last quarter. The five year average price-to-operating cash flow ratio is 18.36x. As depicted in the chart below, shares currently trade slightly north of 14.3x.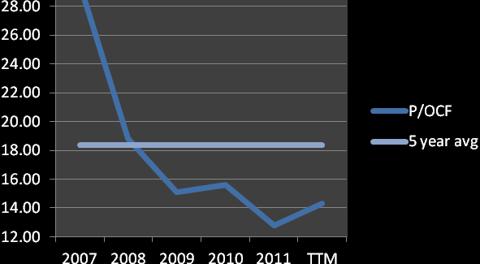 Click to enlarge
Source: Google 10-K's and 10-Q's
Google was able to generate $3.13 billion in free cash flow during the third quarter. Not bad considering the company spent $872 million on "production related equipment and facilities related purchases."
Price-to-Book Value
True value investors will certainly be intrigued by price-to-book value ratio. In 2007 investors were paying 7.51x book value per share, as of the TTM you can purchase shares of Google for under 3.34x. Over that same period shareholders equity has grown from $22.7 billion to $68 billion. The growth was fairly stable with equity growing at 24.26% (2008), 27.5% (2009), 28.43% (2010), and 25.74% (2011).

Click to enlarge
Source: Google 10-K's and 10-Q's
Enterprise Value-to-EBITDA
Prior to 2010 Google had no debt outstanding and financial statements were fairly straightforward. With the issuance of debt in May 2010 (3 year notes at 1.25%, 5 year notes at 2.125%, and 10 year notes at 3.625%) and growing amounts of depreciation/amortization expense, the bottom line earnings number is somewhat distorted. Additionally the recent acquisition of Motorola Mobility has led to a large increase in intangible assets. These intangible assets are amortized each quarter and Google has purposely reported earnings from "Google" and "Motorola" to display these increased expenses. Looking at EBITDA gives us a clear picture of how the core business is performing. TTM EBITDA currently stands at $15.34 billion, up from $6.05 billion in 2007. The five year average EV-to-EBITDA multiple is 15.57x, as you can see in the table below we are still trading below this level. (Note: My Enterprise Value calculation factors in non-cancellable future lease payments)
| | | | | | | |
| --- | --- | --- | --- | --- | --- | --- |
| | 2007 | 2008 | 2009 | 2010 | 2011 | TTM |
| EV/EBITDA | 26.18x | 16.57x | 12.05x | 12.23x | 10.85x | 12.44x |
Source: Google 10-K's and 10-Q's
Conclusion
Before you get bearish on Google after one bad quarter, consider what happened during the past three months. Q3 was one of the most uncertain quarters for corporations and consumers in the past few years. I think the "lack of action" from corporate management during the quarter played a large part in Google reporting lower than expected earnings. In my opinion we may see an additional push in both revenue and earnings when this backlog of corporate spending finally comes into play.
Although the less profitable mobile search is beginning to take business away from Google's core search business, the company is still commands the largest presence of any competitor. comScore's recent search engine ranking still places Google at the top of the market with 66.7% of all searches. Microsoft (NASDAQ:MSFT) and Yahoo (NASDAQ:YHOO) command just 15.9% and 12.2% respectively.
Although Google has made no hint at paying a dividend or repurchasing shares, I wouldn't be surprised to hear either over the next few years. Competitor Apple (NASDAQ:AAPL) recently announced a quarterly dividend payment in addition to a share repurchase program to stop the dilution of stock options. Below is the diluted share count for Google which continues to grow each year. I expect the company may use some portion of its $45.7 billion in cash and short term investments to begin returning capital to shareholders.
| | | |
| --- | --- | --- |
| | Diluted Shares | Increase |
| Q3 2012 | 333,314,000 | 1.86% |
| 31-Dec-11 | 327,214,000 | 1.23% |
| 31-Dec-10 | 323,251,000 | 1.20% |
| 31-Dec-09 | 319,416,000 | 0.60% |
| 31-Dec-08 | 317,514,000 | 0.41% |
| 31-Dec-07 | 316,210,000 | |
| | | |
Source: Google 10-K's and 10-Q's
I think the pull back in shares of Google offer long term investors a very attractive entry point. The fundamentals of this company have not changed, one bad quarter should not change your outlook on a company. In my opinion, short term or technical traders may be rewarded as well considering that the previous top we broke (high $600 range) has now become a level of support.
Note: All data reported and graphed is pulled directly from Google's SEC filings (10K's and 10Q's) then ran through proprietary valuation models. The stock price used was from 10/24/12.
Disclosure: I am long AAPL. I wrote this article myself, and it expresses my own opinions. I am not receiving compensation for it (other than from Seeking Alpha). I have no business relationship with any company whose stock is mentioned in this article.