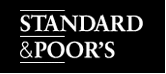 Continued housing market weakness and the uncertain long-term future of Fannie Mae (FNM) and Freddie Mac (FRE) is putting yet more pressure on the beleaguered mortgage and title insurance industries.
A new report from Standard & Poor's graphically illustrates the declining fortunes of title insurers. Unlike most other insurers who receive regular premiums over the life of the policy, title insurers generally receive one payment and reserve against estimated future losses at that time. If those losses are higher than the title insurers anticipated, their profitability will erode, S& P says.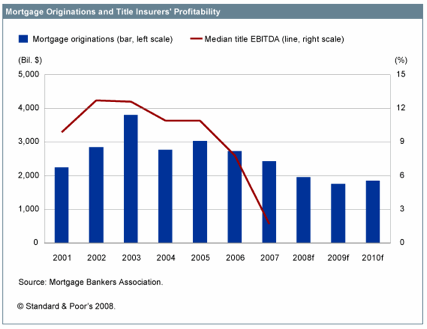 "Moreover, the overall decline in sales volume is making the problem worse. With fewer mortgage originations, there are simply fewer title searches to conduct). The insurer can mitigate some of this effect if it has some market share in commercial title insurance, but no rated title insurer derives more than a tenth of its revenues from this source. Of the four major rated title insurers, all carry negative outlooks. The strongest among them, Fidelity National Title Insurance Co., (NYSE:FNF) has a financial strength rating of 'A', while we recently cut our rating on the weakest, LandAmerica Financial Group Inc., to 'BBB+' from 'A-'."
Mortgage insurers also face an uncertain future with the loans they insure for Fannie and Freddie, who count heavily on the mortgage insurers' ability to satisfy claims on defaulted mortgages, S&P says.
If the GSEs' ability to purchase loans in the future is reduced because of ongoing losses, not only would it crimp a given mortgage insurer's revenue, but it would also reduce mortgage volume and home-buying activity.