In last week's article, we covered an energy dividend stock which still looks undervalued on a Price/Earnings Growth, "PEG" basis. It seems that there are other energy-related dividend stocks which also fit this mold. In addition to undervalued earnings growth, this week's stock also has high options yields.
Ensco plc, (NYSE:ESV), based in the UK and Texas, provides offshore drilling services to the petroleum industry across six continents, via its 9 drillships, 13 dynamically-positioned semisubmersibles, 7 moored semisubmersibles and 47 premium jackups. In addition, Ensco provides drilling management for three customer-owned deepwater rigs.
ESV has certainly been feeling the love from investors since early summer, rising over 39% from its $42.21 late June low: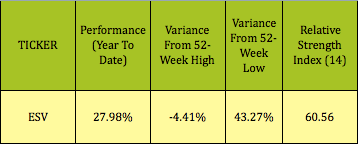 Earnings Growth: Although it has risen dramatically, ESV's share price still hasn't caught up to its earnings growth. After a tumble in 2011, ESV is poised to grow its earnings by over 70% in 2012 and over 35% in 2013, which gives it very low PEG values for 2012 and 2013:

ESV's most recent quarterly sales and earnings growth and its long-term EPS growth forecasts are also robust: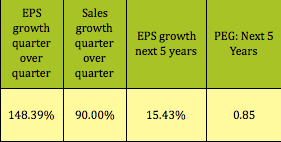 You could also make a case for ESV being undervalued for Price/Book and Price/Sales, vs. its industry: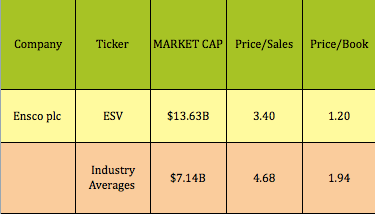 Dividends: ESV raised its quarterly dividend dramatically in June of 2010, from $.025 to $.35 and then upped its quarterly payout again in March 2012, to $.375.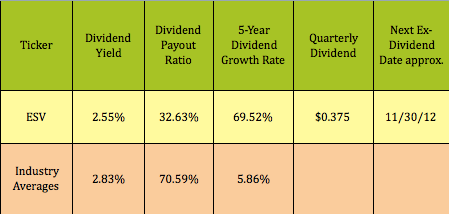 Covered Call Options: Due to its big recent price gains ESVs dividend yield is a bit below its industry average. However, you can juice this yield considerably, via selling covered calls.
In this strategy, you'd buy the ESV shares first, BEFORE selling any call options. (Each option contract corresponds to 100 shares of the underlying stock, so multiply the income figures below by 100 to calculate income and gains for every call option sold.)
This December 2012 $60.00 call pays well over 4 times ESV's next quarterly dividend, paying $1.80 vs. $.375.
There are 3 possible outcomes for this trade:
1. Assigned before ex-dividend date: The minimum income you'd earn is $3.03, the $1.80 call premium + $1.23 price gain, (the difference between the share price of $58.77 and the $60.00 strike price.)
2. Assigned after ex-dividend date: You'd earn $3.405, which is the maximum you could earn on this trade. ($3.03 + $.375 dividend)
3. Static/Not assigned: You'd earn $2.175, from the $1.80 call premium, and the $.375 dividend. You'd still own the ESV shares after option expiration.
(You can find more info on this and over 30 other high yield trades in our free Covered Call Table.)

Cash Secured Puts: Maybe buying a stock which is up nearly 28% for the year gives you the willies. You can still profit, and have a lower break-even, via selling cash secured puts.
By selling one put option contract, you're agreeing to potentially buy 100 shares the underlying stock at the put strike price, which is $57.50 in the trade below. Your broker will reserve enough funds in your account to buy the 100 shares, ($5750.00 in this trade).
As with selling call options, you'll get paid the option premium within 3 days of selling a put, often even the same day. ($220.00 per put in this trade.) If the stock goes below the $57.50 strike price, generally at or near expiration, you'll be assigned/sold 100 shares per put sold. If it doesn't, your $5750.00 will be released.
This trade's $57.50 put option pays nearly 6 times ESV's quarterly dividend. Note: Put sellers don't receive dividends.
(You can find more info on this and over 30 other high yield trades in our free Cash Secured Puts Table.)

Financials: ESV shows superior Management Efficiency and Operating Margin ratios, in additon to having lower debt than its peers: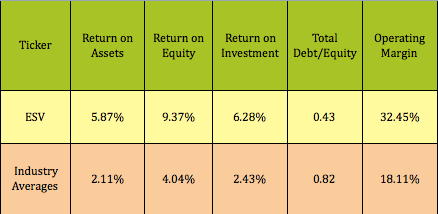 Disclosure: Author held no ESV shares at the time of this writing.
Disclaimer: This article is written for informational purposes only and isn't intended as investment advice.
Disclosure: I have no positions in any stocks mentioned, and no plans to initiate any positions within the next 72 hours. I wrote this article myself, and it expresses my own opinions. I am not receiving compensation for it (other than from Seeking Alpha). I have no business relationship with any company whose stock is mentioned in this article.