Over the past month or so, I have written a series of articles comparing two or more candidates within the same sector to determine their viability as long-term investments. Readers seem to like this idea, particularly my comparisons of AT&T (NYSE:T) and Verizon (NYSE:VZ) (click here) and my Big Pharma comparison (click here). Continuing with this theme, I want to compare another two companies that are very similar to assess which may be more appropriate for retirement investing. Today's candidates are CVS Caremark (NYSE:CVS) and Walgreen (WAG).
During the 20-year period between 1992 and 2012, Walgreen's share price has climbed from $5.01 to $35.21, which is more than a 10.8% annualized gain in share price. Over the same time period, CVS's share price has risen from $13.13 to $45.98, a more modest 6.8% growth rate. Although Walgreen's performance was significantly higher, either stock should definitely help you keep up with inflation, which is a major concern about retirement portfolios as retirees live longer and longer. If you retire at 65, it is more likely than ever that you will live into your 90s, and you can be certain that U.S. dollars will not have the same purchasing power 20-30 years later.
Walgreen 20-Year Chart
Click to enlarge images.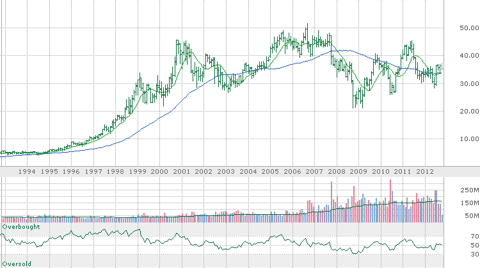 CVS 20-Year Chart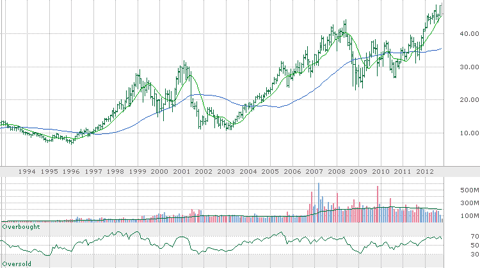 The combination of share price gains with adequate yield is the goal of most retirement portfolios, so let's examine these companies' track record in this area.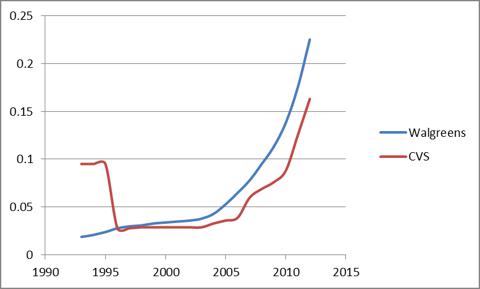 Walgreen outperformed CVS in this category as well, raising its dividend each and every year of this 20-year comparison by an average of 14.2% per year, a great "cost of living adjustment" for its retired shareholders. CVS was much more erratic with its dividend increases. For the first three years of the comparison, the dividend was significantly above that of Walgreen's. However, it was drastically cut in 1996, and remained constant, with no increases until 2004. Since 2004, the company has increased the dividend every year by an average of 22% per year. It would be phenomenal for shareholders if this rate continued. However, the eight-year period of stagnant dividends following a major cut is a cause for concern.
From the gains in share price and dividend increases, it is pretty obvious that Walgreen would win a 20-year backtest. But let's see just how much better an investor would have done. We are going to assume a hypothetical investment of $10,000 in each company made 20 years ago. We will also assume that all dividends are reinvested in new shares, as they always should be.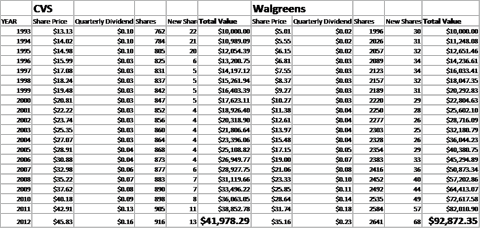 This result was very surprising, considering how similar most investors consider these companies to be. An investment in Walgreen 20 years ago is worth 2.2 times a similar investment in CVS. Now, I fully realize that past performance in no way is a guarantee of future results. However, I believe strongly in the thesis that companies that have strong records of creating shareholder value and increasing yields in the past tend to continue to do so in the future.
Either of these companies is a fine investment. A CVS investor would have turned $10,000 into almost $42,000, which is nothing to be upset about. Walgreen has simply done a much better job of creating value for its investors, and is therefore the winner of this comparison.
Disclosure: I have no positions in any stocks mentioned, and no plans to initiate any positions within the next 72 hours. I wrote this article myself, and it expresses my own opinions. I am not receiving compensation for it (other than from Seeking Alpha). I have no business relationship with any company whose stock is mentioned in this article.