If you look at the Henry Hub natural gas prices, you notice they've moved from below $2 to $3.34 since April. While still solidly in a long term downtrend, the improvement comes as welcome news to low cost producers such as Range Resources (NYSE:RRC).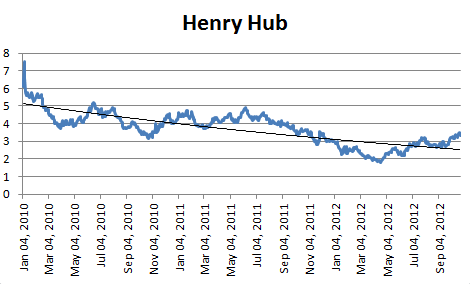 Production growth plus lower expenses equals profit upside for investors.
Range's production in Q3 came in 47% higher than a year ago, at 790 million cubic feet equivalent per day. This marked 10% growth from the prior quarter and sets the company up for 35% full year production growth.
At the same time production is growing, the shift away from natural gas drilling and lessons learned from actively developing in its resource rich Marcellus acreage helped cash direct operating cost fall from $0.58 per mcfe to $0.40 per mcfe, down 30%. Overall, the company's field level expenses have fallen 12% year-to-date from 2011.
A tight fist on G&A expenses is also helping margins. Cash G&A fell $0.07 to $0.46 per Mcfe in the past year. And refinancing to lower rates cut interest expense $0.08 to $0.61 per Mcfe over the past year.
Overall, the cash margin for Q3 clocked in at $2.56 per Mcfe, up from $2.34 in Q2.
Future production growth in the Marcellus offers plenty of opportunity.
The company owns 335k net acres in the wet portion of the Marcellus Shale and it's keenly focused on boosting production there to further bump up its realized effective prices.
To make sure there are willing buyers for this new development, the company has inked deals to supply propane and ethane from the region.
Its involvement with the Mariner East NGL pipeline will allow Range to transport 40k boe of processed liquids from MarkWest Houston Pennsylvania to Sunoco's Markus Hook terminal near Philadelphia. It also gives the company access to a portion of 1 million barrels of propane storage.
This facility will service Range's 15 year ethane agreement with Eneos, a global specialty chemical and oil products company, who has contracted for up to 20k boe of Range's ethane beginning in the first half of 2015.
The company also participates in Mariner West, which should start up in the middle of next year and ramp to 15k bbl of ethane per day. This ethane will be bought by Novo Chemical for use in Canada.
It's participation in the ATEX project, which will move ethane to the Gulf Coast beginning in 2014, will absorb another 20k barrels per day too.
Overall, those three deals represent roughly 1.8 Bcf per day and suggest a doubling of Range's wet production -at the low end - from Marcellus by mid to late 2016.
Further, those deals are expected to boost effective prices by $0.40 per mcf once underway. That's pretty compelling, given the company wet realized prices are already about double dry gas realized prices.
All in, Range has 570k net acres just in liquids rich Southwest Marcellus, 235k of which is dry gas. Over time, the company believes production from its Marcellus acreage could increase to 2 to 3 Bcfe per day.
Additional resource growth is out there too.
Additionally, its Marcellus acreage gives it exposure to both the Upper Devonian and Utica Shales, giving it significant leverage to develop those resources over time.
The company's dry gas activity is also set to slow, providing cost benefits as assets are shifted to the more lucrative wet acreage, not only in Marcellus but in the Mississippian in North Oklahoma and Southern Kansas. Range expects it will cut dry Marcellus rigs from 4 to 5 to 1 next year, helping reduce its capital spending while still allowing for 20-25% production growth company wide.
In the Mississippian, the company plans to significantly ramp activity on its 156k net acres. Currently, Range recently completed its second well, both of which exceed 1000 boe per day. As a result, Range expects to move from 5 to 15 rigs there from 2013 through 2015.
The company has also been smart about unloading non-core assets, raising $1.8 billion through asset sales since 2004. In Q3, the company announced another $170 million worth of non-core sales, which further helps its balance sheet.
The combination of production upside against lower costs suggests investors may be well rewarded through the seasonally strong winter months. Range has helped insulate risk through its hedging program and enters Q4 with roughly 3/4 of 2013 production and roughly half of its 2014 production hedged.
Given the stock has finished Q4 higher in 9 of the past 10 years, producing a median return of 12.17%, now may be a good time to put Range into portfolios. This strength is reflected in the following chart, which shows Range's average monthly returns in Q4 versus the S&P 500 ETF (NYSEARCA:SPY).
Source: Seasonal Investor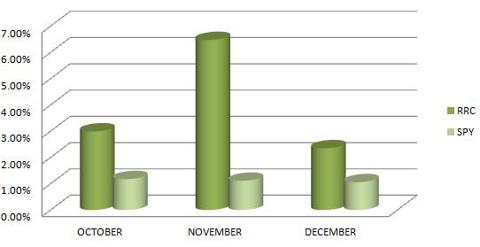 Disclosure: I have no positions in any stocks mentioned, but may initiate a long position in RRC over the next 72 hours. I wrote this article myself, and it expresses my own opinions. I am not receiving compensation for it (other than from Seeking Alpha). I have no business relationship with any company whose stock is mentioned in this article.