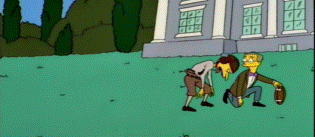 It seems to this observer that perhaps not much is going to happen with markets until after the election. There are just too many headwinds of uncertainty surrounding everything. Of course, there is always the unknown news event that can throw things in one direction or another, but that kind of stuff is always with us. The "tell" now is with corporations, which are not spending based on uncertainty surrounding the election, tax policies, the fiscal cliff, the eurozone, and so forth. Until these issues become clear, we're in stall mode.
Overseas, news was dominated by the Bank of Japan launching another round of stimulus on fears that it won't be able to sell its next bond issue unless it buys it itself. Frankly, Japan has more problems with a debt bubble than is currently in the news. Korean stocks fell on a decline in exports, which isn't a surprise. Chinese stocks fell to a five week low on poor earnings. Spain's unemployment rate soared to 25% vs. 24%, which is stunning even as a stealth bank bailout is underway. The troika determined that a Greek bailout was still illusive, combined with the country's demand for €30 billion more was needed. (The amounts needed there will always be growing, it seems, as conditions fall by the wayside.) In France, S&P cut ratings for both BNP Paribas and SocGen. And, even in Canada, Moody's put six banks on watch for downgrades, including Bank of Montreal. Later in the day, Swiss icon UBS announced it would lay off 10K employees.
Meanwhile back in the U.S., GDP data was reported at 2% vs. 1.8% expected, with nearly one-third of the gain from government spending. Consumer Sentiment, highly weighted by stock prices, was at 82.6 vs. 83.1. I have more "confidence" in the Conference Board data.
The big earnings news from Apple (NASDAQ:AAPL) was panned as the stock declined, while Amazon (NASDAQ:AMZN) rose despite the large miss on earnings, revenues and guidance. As to the latter, an analyst at Needham stated the "poor report presented the opportunity for a large upside surprise on the next report," which is how WS can spin bad news. With the PE at 280 (no typo), that's the kind of thinking that institutional robots use to invest based on analysts' recommendations.
The dollar (NYSEARCA:UUP) was flat, as was gold (NYSEARCA:GLD). Commodity markets (NYSEARCA:DBC) and (NYSEARCA:USO) were also relatively unchanged. Bonds (NYSEARCA:TLT) and (NYSEARCA:IEF) were higher in price as the sawtooth trading range pattern continues over most maturities.
Stocks were uninspired overall -- lacking certainty on issues noted above, and mostly declining earnings -- closing flat on the day. It's really a wait and see game for now.
Volume was once again light, as most investors find little incentive to get further involved now. Breadth per the WSJ was mostly negative.
(click image to enlarge)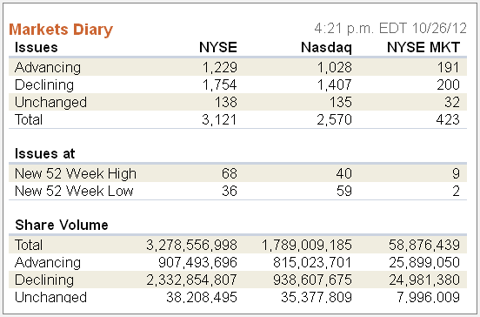 Click to enlarge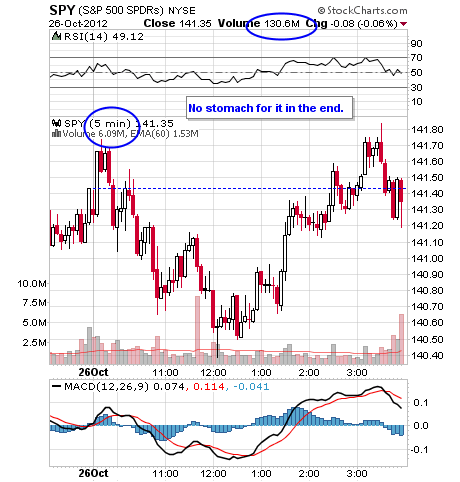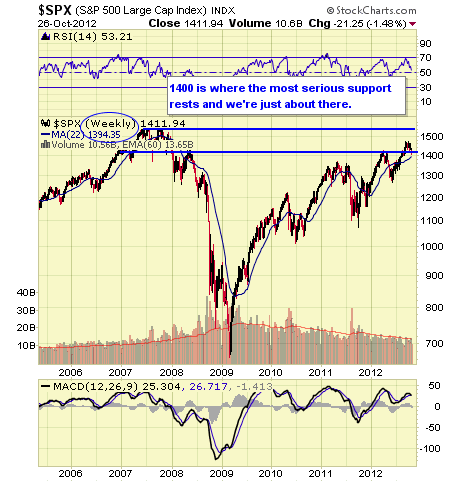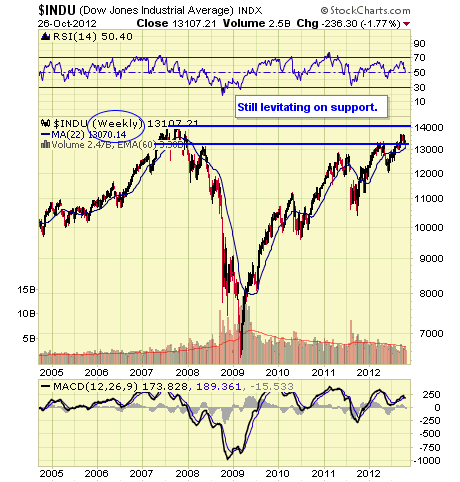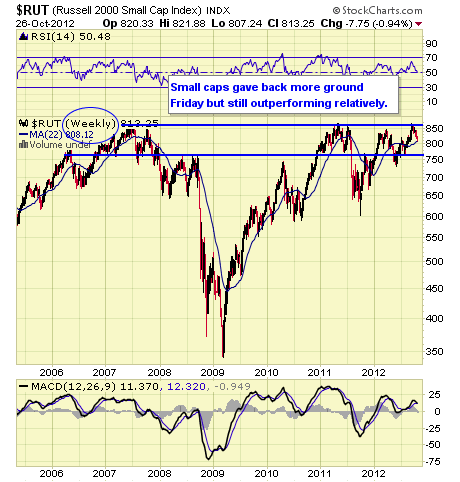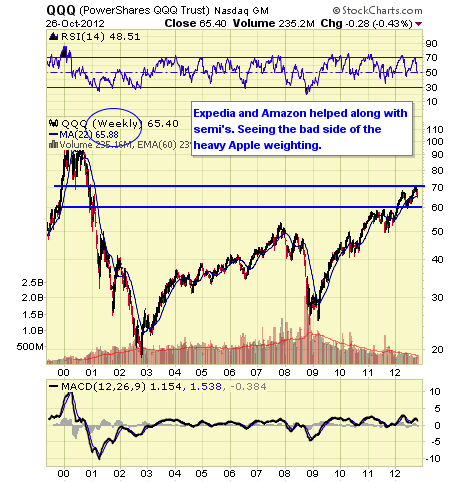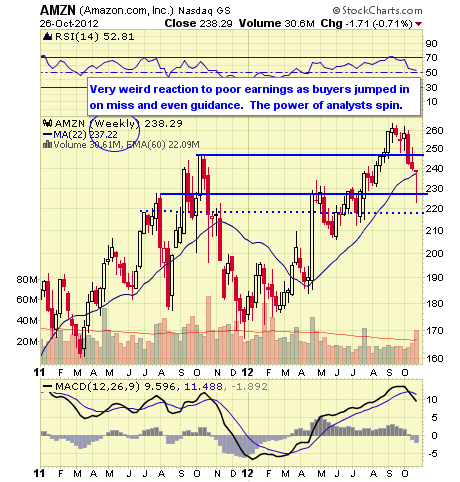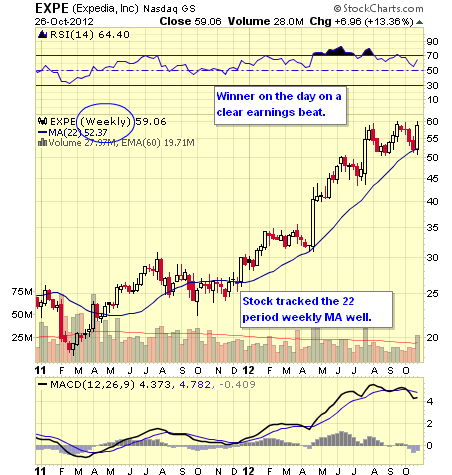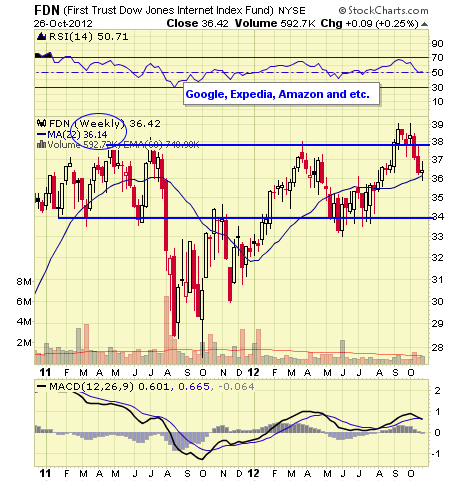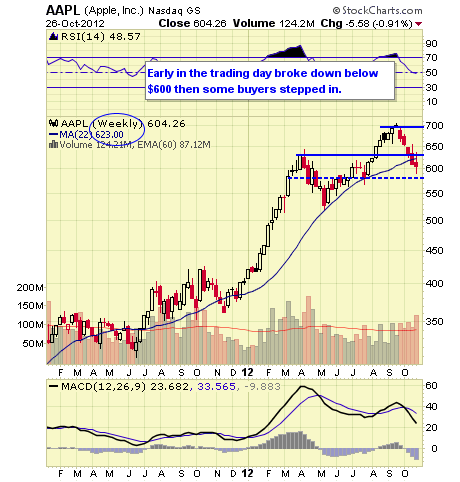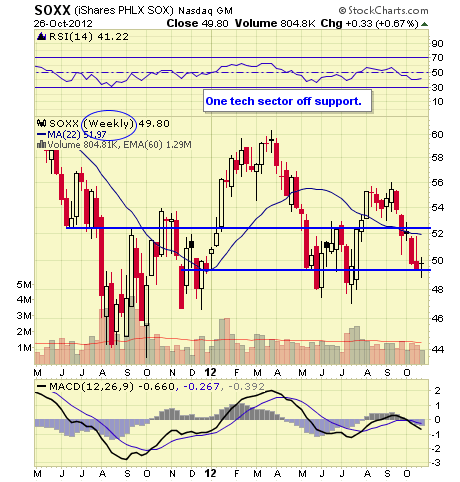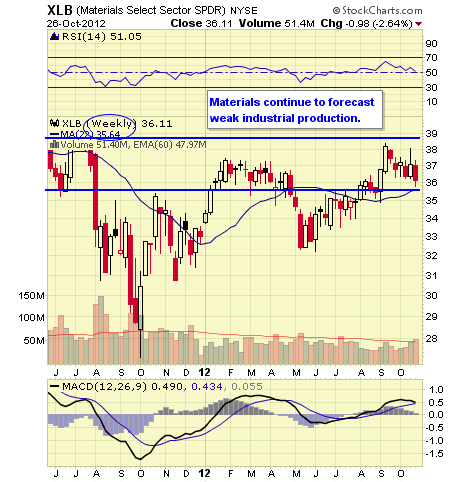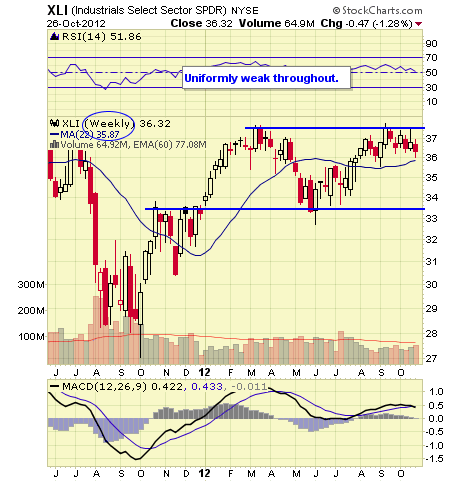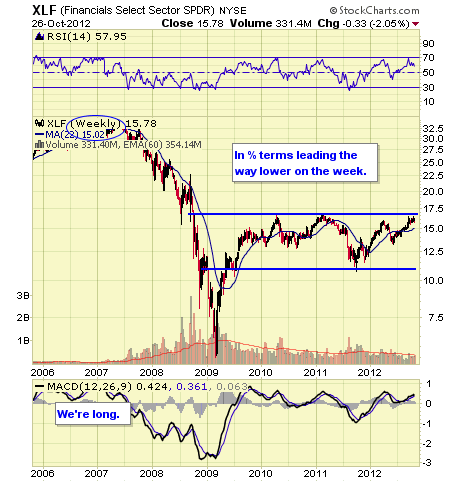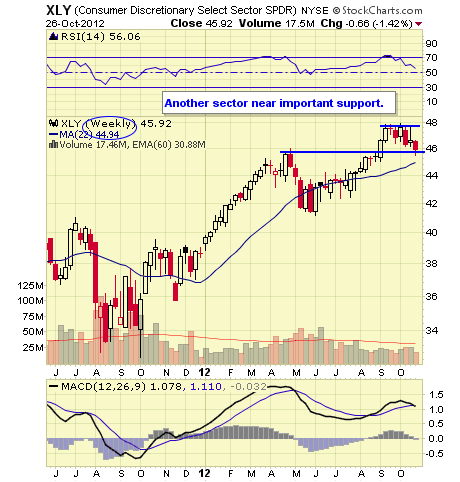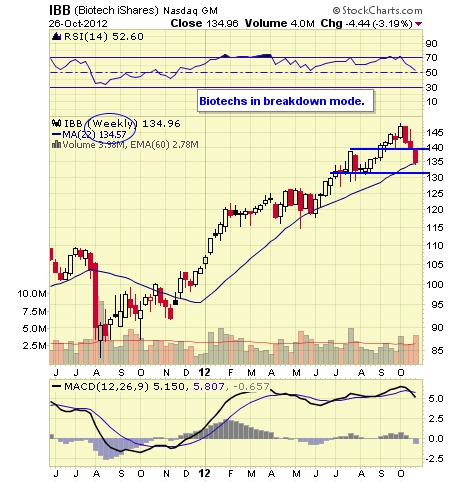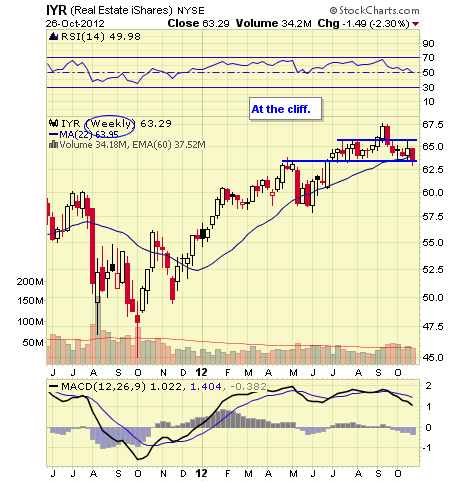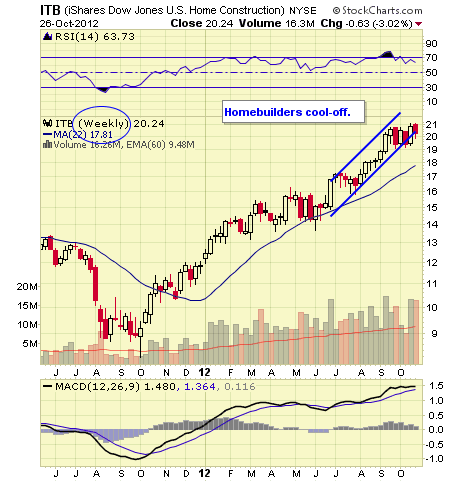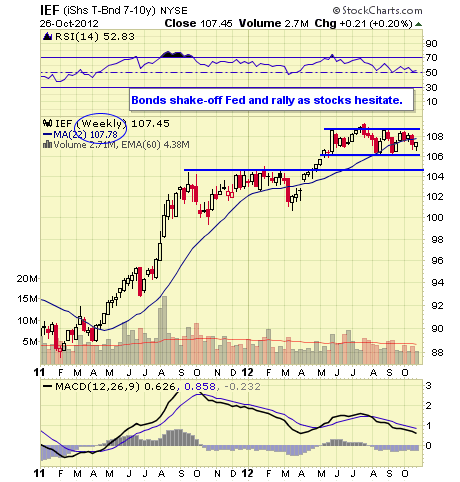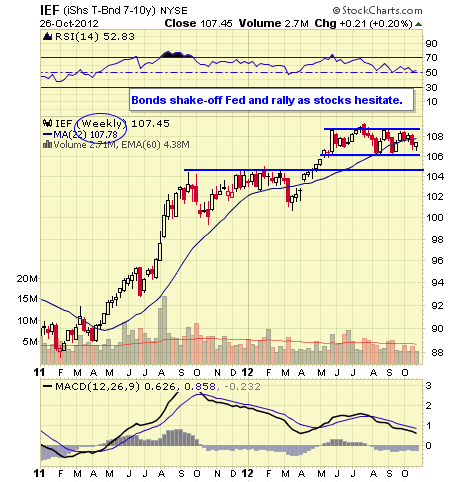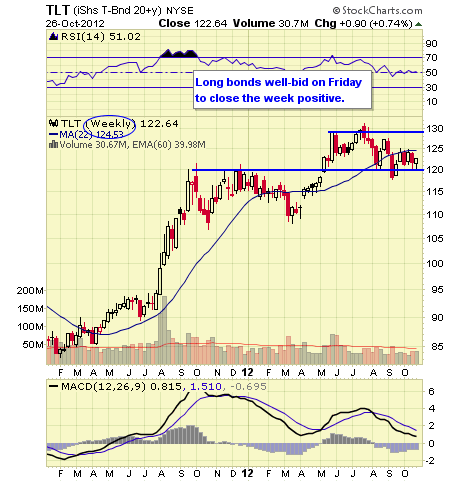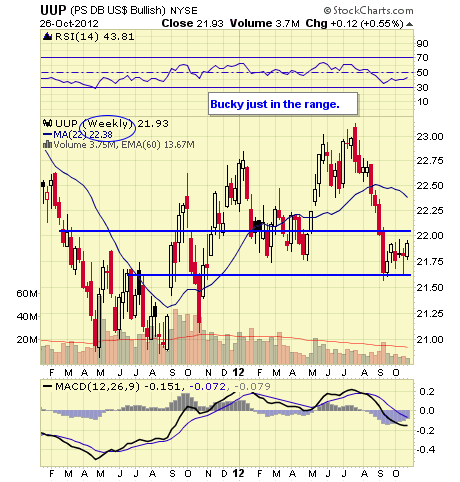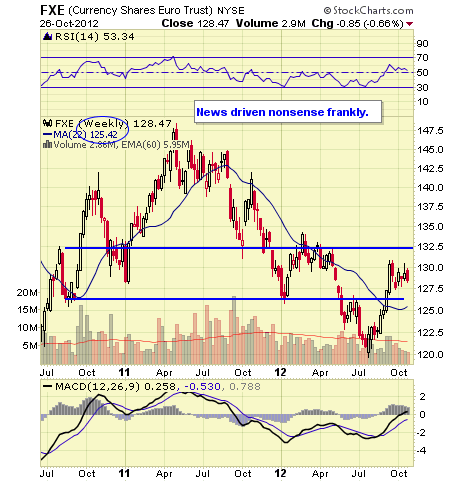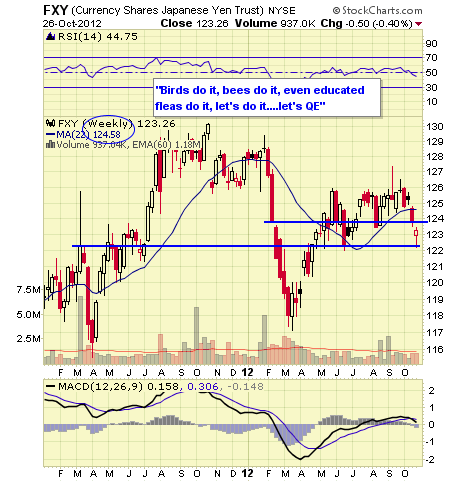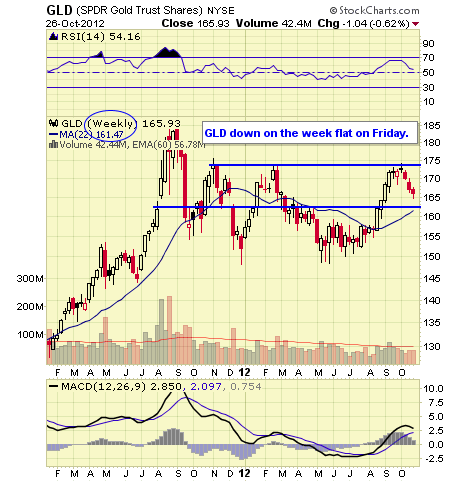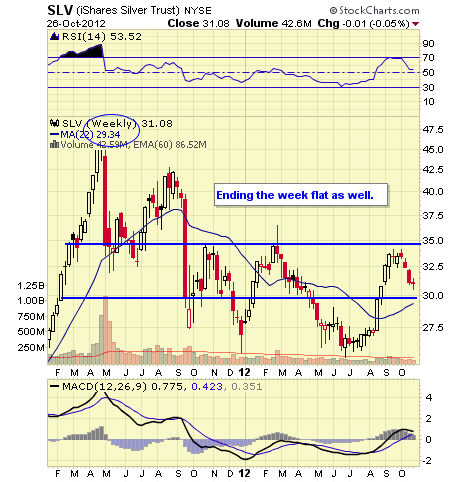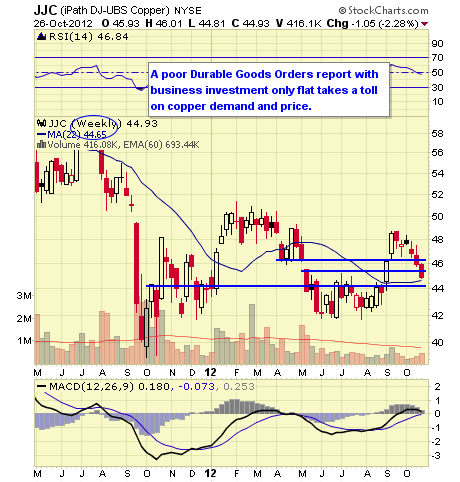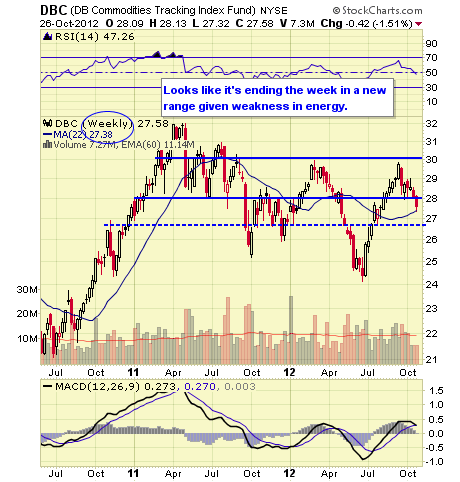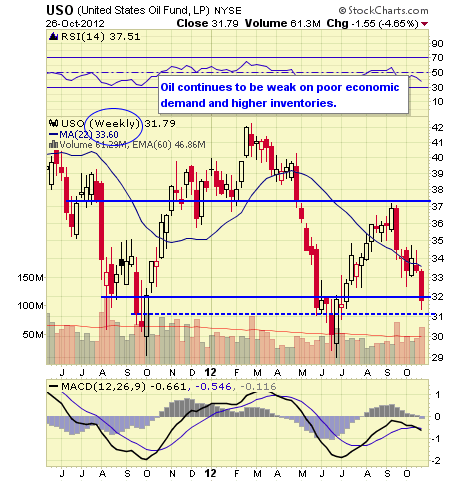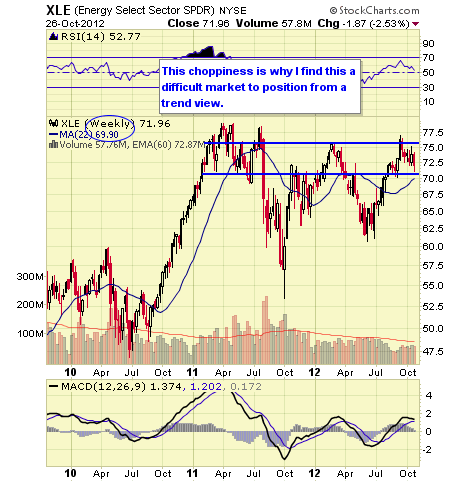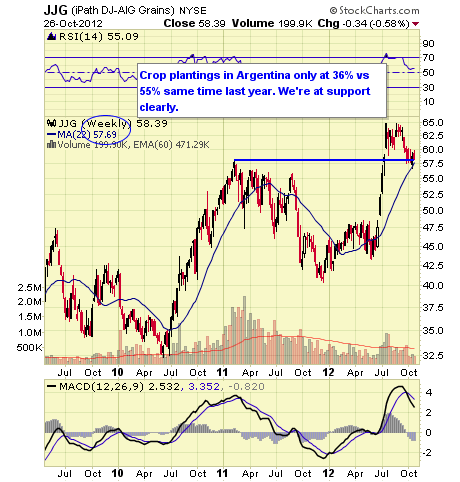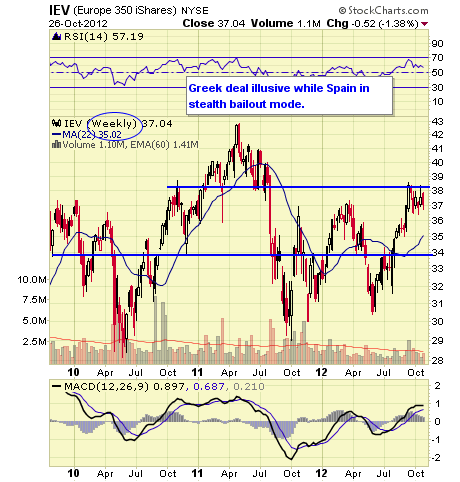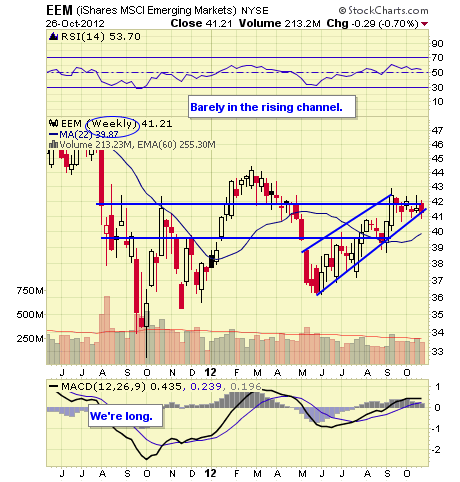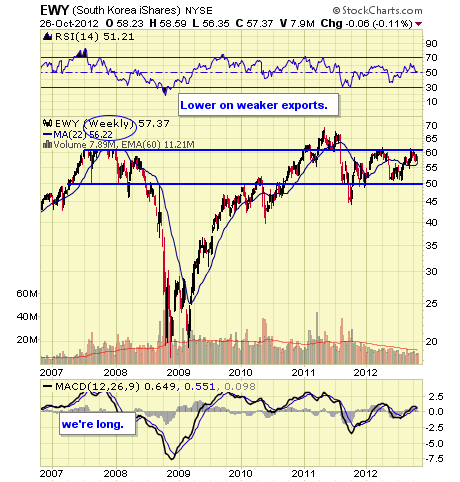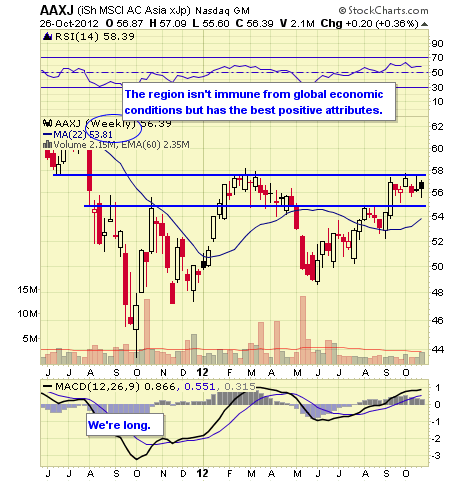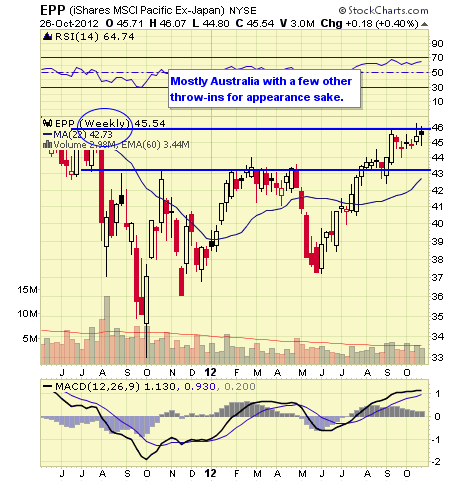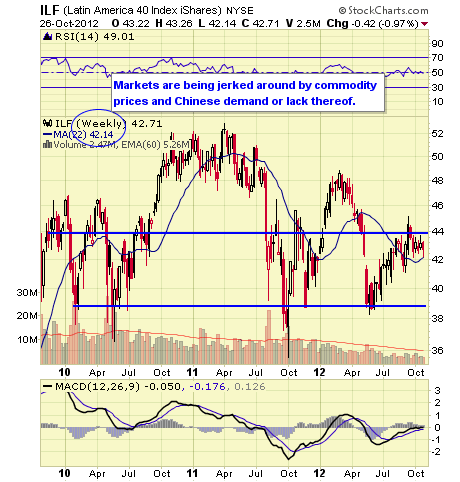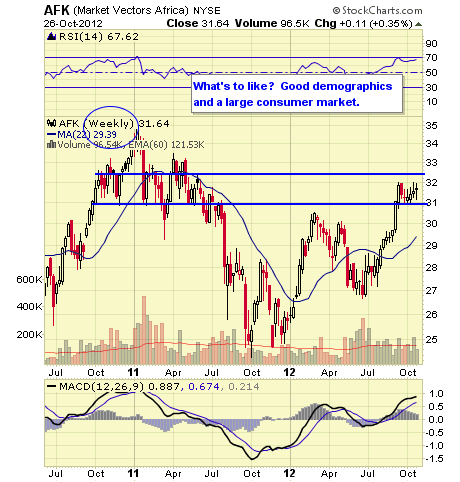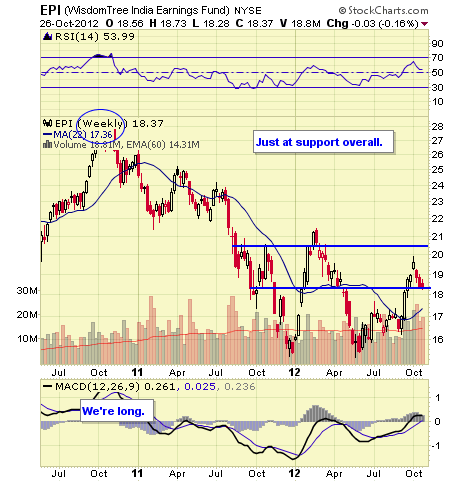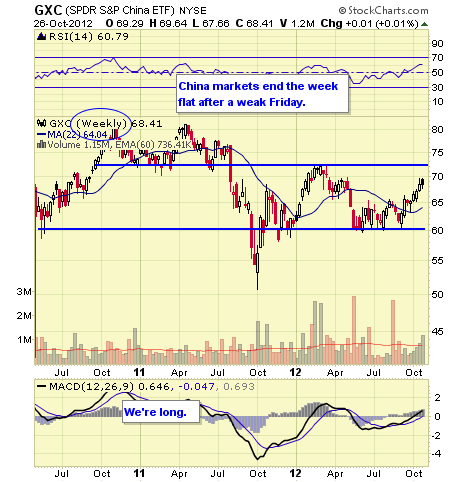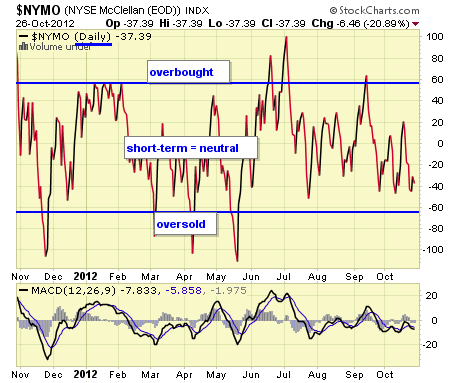 The NYMO is a market breadth indicator that is based on the difference between the number of advancing and declining issues on the NYSE. When readings are +60/-60, markets are extended short term.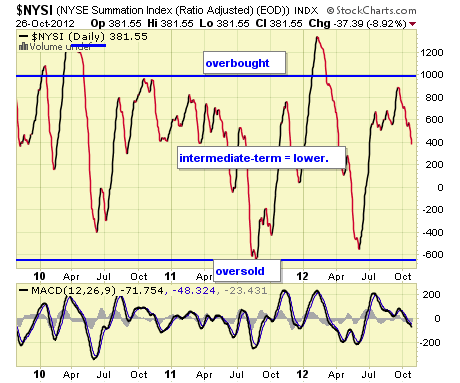 The McClellan Summation Index is a long-term version of the McClellan Oscillator. It is a market breadth indicator, and interpretation is similar to that of the McClellan Oscillator, except that it is more suited to major trends. I believe readings of +1000/-1000 reveal markets as much extended.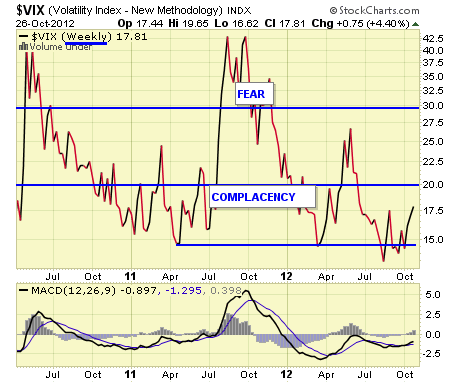 The VIX is a widely used measure of market risk, and is often referred to as the "investor fear gauge." Our own interpretation is highlighted in the chart above. The VIX measures the level of put option activity over a 30-day period. Greater buying of put options (protection) causes the index to rise.
Concluding Remarks
It was a poor week overall for markets amid earnings disappointments, but not without plenty of spin.
For conspiracy buffs, next week will feature the Friday before the election employment report. There could be some serious arguing about what manipulation, if any, will be at play. Also, earnings news will continue apace.
Let's see what happens.
Disclaimer: The ETF Digest maintains an active ETF trading portfolio and a wide selection of ETFs away from portfolios in an independent listing. Current "trading" positions in active portfolios, if any, are embedded within charts: Lazy & Hedged Lazy Portfolios maintain the follow positions: VT, MGV, BND, BSV, VGT, VWO, VNO, IAU, DJCI, DJP, VMBS, VIG, ILF, EWA, IEV, EWC, EWJ, EWG, & EWU.
The charts and comments are only the author's view of market activity and are not recommendations to buy or sell any security. Market sectors and related ETFs are selected based on his opinion as to their importance in providing the viewer a comprehensive summary of market conditions for the featured period. Chart annotations are not predictive of any future market action rather, they only demonstrate the author's opinion as to a range of possibilities going forward.
Disclosure: I have no positions in any stocks mentioned, and no plans to initiate any positions within the next 72 hours. I wrote this article myself, and it expresses my own opinions. I am not receiving compensation for it. I have no business relationship with any company whose stock is mentioned in this article.