Whiting Petroleum (NYSE:WLL) announced Q3 2012 earnings on October 24. You can view the company's release here.
Production was 82,615 BOE/D, up 17% over Q3 2011.
Net income was $0.73/share, down 23% over Q3 2011
I originally invested in WLL because of their large Bakken acreage combined with their leading well production metrics. In that respect, the company is performing as expected and production is increasing nicely. However, the stock has not followed suit. Not enough of the new production revenue is falling to the bottom line as net income. This is because costs and expenses are rising right along with growing production. So let's take a look at the expense side of the company to see if we can figure out what is happening.
Scrolling down the earnings report to the consolidated statements of income, I will compare the Q3 2012 "Costs and Expenses" with the year earlier period. The following chart summarizes the differences (in thousands):
| | | | | |
| --- | --- | --- | --- | --- |
| Costs & Expenses | Q3 2012 | Q3 2011 | Change | % Change |
| Lease operating | 93,859 | 77,630 | 16,229 | 21% |
| Production taxes | 43,519 | 34,510 | 9,009 | 26% |
| Depreciation, depletion, and amortization | 179,587 | 122,890 | 56,697 | 46% |
| Exploration and impairment | 23,882 | 18,918 | 4,964 | 26% |
| General & Admin | 25,034 | 23,144 | 1,890 | 8% |
| Interest Exp | 18,734 | 16,130 | 2,604 | 16% |
| Change in Production Participation Plan liability | 6,217 | 853 | 5,364 | 629% |
| Commodity derivative (GAIN) or loss, net | 6,421 | (138,892) | 145,313 | -105% |
| TOTAL COST & EXPENSES | 397,253 | 155,183 | 242,070 | 156% |
We can see that total costs and expenses rose 156% in Q3 2012 versus the year ago period. The largest change was in the commodity derivative line item where a $6.421 million loss in the quarter was compared against a large $138.892 million gain in the previous year. This was expected and should not be a long-term negative. However, there are two other line items that are somewhat worrisome in comparison to the quarter's 17% gain in production over the Q3 2011. "Depreciation, depletion, and amortization" costs and expenses were up 46% to $179.7 million. Even more concerning is the "Change in Production Participation Plan Liability" line item, which was up a whopping 629% to $6.2 million. I have emailed the company to provide some additional explanation of this item. If and when I get a response, I relay it in the comment section of this article.
So that is an explanation of why the big jump in production didn't filter through to the bottom line. The good news is Whiting is performing exceptionally well in terms of producing oil. The North Dakota Industrial Commission reports WLL continues to lead all Bakken operators in 12 month average production rates (for Bakken and Three Forks wells drilled since 2009). This is shown on slide 6 of the conference call presentation, which you can find here.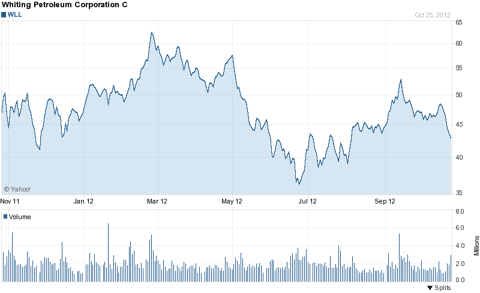 Click to enlarge
Another bright spot is new production from the Pronghorn, Lewis and Clark, and Hidden Bench prospects. Contrary to some analysts concerns, average 30, 60 and 90-day production rates from these newer fields are exceeding comparable production rates from Sanish wells. This is shown on slide 7. And of course the company continues to benefit from its very oily production mix (86%) during these times of low natural gas prices.
Oil and gas gathering plants and infrastructure is proceeding well. The inlet gas rate at the Robinson Lake Plant increased 10% to 69 MMCF/day. The Belfield Gas Plant inlet gas rate reached a record 15 MMCF/day in July. The Belfield Oil Terminal is scheduled to begin service in late November. Volumes on the Belfield oil gathering and pipeline system increased by 50% to 7,000 barrels/day in Q3. Also, construction of the Watford City Operations Center is scheduled to complete in November 2012. The center will handle operations for Hidden Bench, Tarpon, Missouri Breaks, and Starbuck.
In the Redtail prospect of the Niobrara shale, WLL recently completed Wildhorse 04-0414H in the "B" zone and the well is flowing at 1,170 BOE/day. Whiting has 77,608 net acres in this play.
Technically, Whiting is performing very well. However, for the stock price to appreciate along with WLL's growing production, more of the revenue needs to fall through to the bottom line.
Disclosure: I am long WLL. I wrote this article myself, and it expresses my own opinions. I am not receiving compensation for it (other than from Seeking Alpha). I have no business relationship with any company whose stock is mentioned in this article.