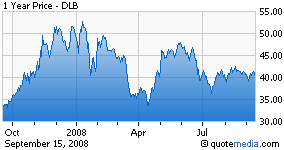 In a 13G filing with the SEC filed on Monday, Lone Pine Capital has disclosed a 6.8% stake in Dolby Laboratories (NYSE:DLB). This is a brand new position, as it was nowhere to be found in its most recent 13F filing where the company disclosed its portfolio holdings as of June 30, 2008. Moreover, if you missed it, you can check out the rest of Lone Pine's holdings from that most recent 13F which I analyzed in full here.

Lone Pine is an $8 billion fund that has returned over 25% annually ever since its inception in 1997. Why is Mandel worth following you might ask? Well, he served as a consumer/retail analyst for Tiger Management back in the day for legendary investor Julian Robertson. Robertson's protégés/right-hand men have been nicknamed the "Tiger Cubs" and many have started their own funds. Therefore, not only has Mandel learned from one of the best, but he has also put up some very solid returns himself.
Mandel is well versed in the ways of finding undervalued companies and his funds typically like to sniff out solid companies with good management that are trading below their intrinsic value. Just this past year one of his funds was up 34% before fees, while another was up 32% before fees. His track record speaks for itself. In addition, he learned from one of the greats in Julian Robertson.
However, as I wrote about here, Lone Pine has had a rough 2008, where its Lone Cedar Fund was -5.38% year to date (as of the middle of July '08).

You can view the full 13G filing over at the SEC.
Disclosure: None