Investors have enjoyed a tremendous ride with unbelievably consistent returns in big tobacco stocks. Thirty years back, if you had invested $100 in Altria Group (NYSE:MO), previously named Philip Morris Companies, you would have fetched substantial dividends over these years and the stocks would have been worth more than $5,000 today. Altria and other big tobacco companies like Reynolds American (NYSE:RAI), Lorillard (NYSE:LO) and Philip Morris International (NYSE:PM) continue to lure investors due to their far higher dividend yield as compared to other stable blue chip stocks. Domestic tobacco companies including Altria Group, Lorillard and Reynolds American all provide above 5% dividend yield, while Philip Morris International's dividend yield stands at 3.90% which is highly impressive in a world of low interest rates. However, these tobacco stocks seem to have lost their momentum over the last few months. The following graph summarizes the stock price movement of these companies over the last 2 months.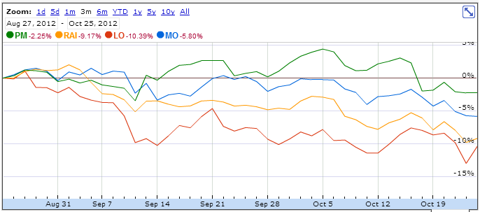 Given the declining tobacco consumption trends in U.S. and tightening of regulations in countries like Australia, tobacco stocks have taken a beating. Although I remain optimistic about Philip Morris due to a huge runway for growth in Asian markets, I'm a little skeptical about domestic tobacco companies as their earnings are dependent upon cost cuttings and price hikes and may not be sustainable. Domestic tobacco companies have traditionally enjoyed good pricing power, but they do not seem to have the same pricing power now as promotions by the market leader Altria Group are driving Reynolds American and Lorillard to get defensive. Big tobacco stocks have followed more or less a similar pattern over the last few years, but I don't think they will continue to follow a similar path. Thus, I think it becomes extremely important to carefully choose your pick going forward. Let's analyze some key metrics of these companies.
| | | | | |
| --- | --- | --- | --- | --- |
| Company | Reynolds American | Lorillard | Altria | Philip Morris |
| Forward P/E | 13.30 | 12.34 | 13.49 | 15.10 |
| PEG Ratio | 2.26 | 1.45 | 2.26 | 1.67 |
| Return on Invested Capital | 18.4% | 104% | 24.2% | 65% |
| Operating Margin | 33.84% | 44.52% | 42.23% | 43.86% |
Based on these matrices, Lorillard looks highly attractive while Reynolds American seems overpriced. Reynolds American is trading in-line with Altria and at a premium to Lorillard despite having the lowest operating margins, lowest return on invested capital (ROIC) and the least expected growth rate. Thus, it looks overvalued on a PEG basis. Moreover, Reynolds American is continuously losing market share; its market share has fallen by 1pp or more in each of the last 4 quarters, and its last positive year over year share gain was in 1Q10. In the recent quarter, Pall Mall gained some market share but it was not enough to offset market share lost by Camel brand and other brands. Reynolds' price/mix comparisons also get more difficult in 4Q12, while Altria's comparisons will ease.
Although the promotional environment moderated somewhat during the quarter, 4Q appears likely to see further promotional aggressiveness. Reynolds American will support targeted geographic promos and the launch of Pall Mall Black/White (both menthol), but could see direct pressure on Camel Crush given the launch of the Marlboro NXT (menthol capsule line extension).
Lorillard on the other hand is coping well under the same scenario. The company reported a modest revenue growth of 0.2% in the recent quarter which is impressive given that the tobacco industry as a whole saw a 2.7% decline in sales. Lorillard is positioned well going forward as it has the best operating margins and can afford to compete with Altria if the pricing war continues.
The Bottom Line
After a strong performance in the last few years, the shares of tobacco companies are underperforming the broader markets over the last few months due to declining sales volume. While Altria Group is gaining market share by issuing promotions that lower the price for some of its products, Reynolds American has suffered the most. I suggest investors to avoid Reynolds American despite the recent pullback as the company is continuously losing market share and looks overpriced with respect to its peer. However, I see a good buying opportunity in Lorillard. The shares of Lorillard have seen a 10% correction over the last 3 months and look attractively priced with respect to the company's growth prospects. Lorillard's highly impressive ROIC of 104% is another indicator that your investment will be utilized efficiently. Thus, I recommend buying it.
Disclosure: I have no positions in any stocks mentioned, and no plans to initiate any positions within the next 72 hours. I wrote this article myself, and it expresses my own opinions. I am not receiving compensation for it (other than from Seeking Alpha). I have no business relationship with any company whose stock is mentioned in this article.