Nvidia Corporation (NASDAQ:NVDA), a fabless semiconductor company that specializes in graphics processors, just announced that it would be reporting earnings for FQ3 2013 on November 8. Given that the earnings date has been confirmed, it is now the appropriate time to preview the current quarter and explain some of the perplexing price action.
Last Quarter: A Recap
In FQ2 2013, the company saw EPS of $0.19, beating consensus estimate of $0.14. Further, revenues came in at $1.04B in the quarter (up 2% y/y) and beat consensus estimates by $30M. The stock jumped briefly into the $15 range on these results before slowly coming back down to $12.05 as of last close - precipitiously close to its 52-week low of $11.63.
GPU sales saw a 15% increase Q/Q (while competitor Advanced Micro Devices, Inc. (NYSE:AMD) saw a -5% Q/Q). Professional solutions were down 8% Q/Q, and consumer products sales (Tegra SoC for smartphones and tablets) were up 35% Q/Q.
Expectations
The most interesting part of last quarter's results was the guidance. Analysts had modeled a $1.09B guide for FQ3, but were treated to a $1.15B - $1.25B forecast for the current quarter. The 33 analysts covering the stock are modeling $1.19B in revenues for the current quarter, just slightly below the midpoint of the guidance, and $0.30 EPS.
Potential Positive Drivers For 2H 2012
For FQ3 and FQ4, the following factors may be positive drivers:
Supply Constraints Easing: At the recent ThinkEquity conference, the company noted that supply constraints on the 28nm wafers from Taiwan Semiconductor (NYSE:TSM) were easing. Since the company has been supply constrained on its 28nm GPUs rather than demand-limited, this should be a key driver for Q/Q and Y/Y growth in the GPU segment.
Notebook Share Gains: Even in a flat notebook PC TAM, it is likely that Nvidia continued to take share in the notebook space. At the recent Citi Technology Conference held on September 6, Rob Csongor, VP of IR emphasized that the company's "Kepler" GPUs have been seeing very "strong share gains". The design win in the highest end Apple (NASDAQ:AAPL) MacBook Pro 15" model is an example of share gains (AMD previously powered the high-end MacBook Pro computers).
Click to enlarge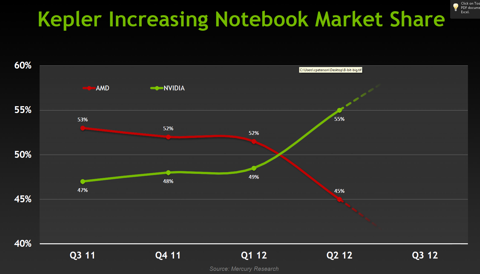 Click to enlarge
Desktop Share Gains
More subtly, it is likely that Nvidia will gain share in the desktop graphics space in the current quarter. This is due to the release of the lower end 28nm "Kepler" based products into the channel. In 1H 2012, competitor AMD was the only company with a full stack of 28nm products in the discrete graphics space. This gave AMD a performance/$ and performance/watt advantage over Nvidia. However, with the completion of the "Kepler" 28nm lineup at all relevant price points, it is likely that the notebook share gains will be paralleled on the desktop.
"Romley" Ramp Driving Professional Solutions
In the last quarter, "Professional Solutions" saw an 8% sequential decrease, which the company attributed to the delayed ramp of Intel's (NASDAQ:INTC) "Romley" (Xeon E5) workstation machines. This platform has had plenty of time to ramp, so it is likely that Nvidia benefited from that as its "Quadro" lines of professional graphics solutions are very often found in high end workstations aimed at a variety of uses.
"Tesla" Refresh Also Adds To Professional Solutions
While the company's "Quadro" line of products are graphics cards aimed at professional applications that generally require explicit graphics acceleration, the firm also offers high performance compute accelerators under the "Tesla" brand. The company recently refreshed its lineup with its K10 and K20 accelerators built upon the 28nm "Kepler" GPU technology. These are similar to the "Quadro" products - high margin, high ASP, lower volume parts that leverage the R&D equity used for the consumer graphics chips.
"Tegra" Has Numerous Design Wins
Nvidia's "Tegra" system-on-chip for smartphones and tablets has been racking up a number of high profile design wins including the recently released (and selling out) Microsoft (NASDAQ:MSFT) "Surface", the Google (NASDAQ:GOOG) Nexus 7, and the Lenovo Yoga 11.
Potential Negative Drivers
There are also some negative drivers that could affect performance in FQ3 and FQ4:
China Sales Slumped
According to Intel's most recent earnings call, sales in China were weaker than expected. In the most recent 10-K, it is noted that 24% of the company's FY2012 revenues came from China. While Intel's sales do not necessarily represent the sale of discrete graphics cards nor does it affect Nvidia's sales of its "Tegra 3" based smartphones and tablets in the region, it is something to watch on a Q/Q basis and could potentially be a headwind.
Macro Weakness Could Affect GPU Sales
While sales of discrete GPU sales in the channel do not necessarily correlate with sales of new PCs by the OEMs, there is still a non-trivial risk that the macroeconomic issues that have affected PC sales could also have hurt discrete GPU sales. While game publishers are putting out new, cutting edge titles that will likely spark an upgrade cycle, some very cash-strapped gamers (in particular, college students) may put their spending on hold and ride it out with their older graphics cards until the macro environment improves.
Competitive Pressures On Mobile SoC Side
While Tegra 3 is a good product, the ARM (NASDAQ:ARMH) SoC space has a number of strong competitors, including Samsung (OTC:SSNLF) and Qualcomm (NASDAQ:QCOM). With major competitors (one of whom actually owns its own fabs) in the space, there could be significant margin pressure. It is encouraging that Nvidia has scored a number of high profile wins, but in the smartphone space it is far from the leader, according to Forward Concepts (although it is in the top 10):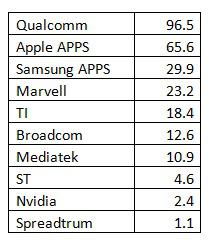 Pressure From Intel's Xeon Phi
While Nvidia has traditionally had very little competition in the high performance compute accelerator space ("Tesla"), Intel has announced - and will be shipping - its own "Xeon Phi" by the end of the year for systems to be deployed in 1H 2013. This could lead to some margin compression should Intel's solution actually see widespread adoption.
Disclosure: I am long NVDA, INTC, AMD. I wrote this article myself, and it expresses my own opinions. I am not receiving compensation for it (other than from Seeking Alpha). I have no business relationship with any company whose stock is mentioned in this article.