As United Parcel Service (NYSE:UPS) enters its peak season, I wanted to see how the company looks as a long-term investment. The company just reported earnings for Q3 2012. UPS matched its estimated EPS of $1.06 for the quarter. However, earnings growth fell 55% over the same quarter last year. The good news is that this drop was attributed to a lower tax rate in 2011 according to the company's CFO, Kurt Kuehn. Total UPS daily volume increased 2.9%. The average daily export volume increased 1.2%, while the domestic average daily volume declined 2.7%.
UPS's business is contingent upon the state of the overall global economy. With that in mind, CEO D. Scott Davis stated that general economists have lowered their expectations for the remainder of 2012. The concern is the lack of a clear direction on the future of tax and spending policy which has slowed business investment. Mr. Davis said that this will impact the business to business small package market.
The company is supporting the Fix the Debt organization whose goal is to have a bipartisan debt reduction plan drafted when Congress returns in January. Solutions need to be made to reduce the deficit and eliminate the threat of the fiscal cliff to put the U.S. in better shape for sustained economic growth. This will be good for the economy and for UPS.
UPS has a strategy of investing to grow. It is working on completing its acquisition of TNT Express, which the company expects to complete early next year. Upon completion, this acquisition will expand UPS's presence in Europe, China, South America, Asia-Pacific and the Middle East. TNT operates road and air transportation networks in these regions. As of the end of 2011, TNT operated 30,000 road vehicles, 46 aircraft, and over 2,300 depots in 200 countries.
Unique solutions such as UPS My Choice provide nearly 2 million current households with delivery alerts by email or SMS the day before packages are delivered. This has eliminated many non-deliveries when signatures are required and the homeowner is absent.
UPS looks fairly valued with a forward PE ratio of 14.21 and a PEG of 1.65. Although I prefer to buy stocks when they are undervalued, this fair valuation would not deter an initial investment provided that other factors look solid.
The company pays an attractive dividend of 3.1%. UPS has increased or maintained its dividend every year for four decades. It's a good sign that the company was able to maintain its dividend during and after the financial crisis of 2008.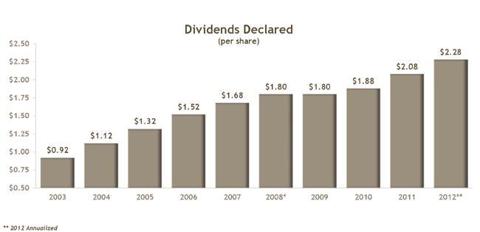 UPS expects earnings per share for the year to be in the range of $4.55 to $4.65. The company is expected to grow earnings annually at 9.69% for the next five years. The combination of dividends and earnings growth should provide investors with an approximate total annual yield of 12.8%. This should be enough to at least meet the performance of the market.
UPS is a company that is similar in valuation, dividend yield, and earnings growth as McDonald's (NYSE:MCD), which is why I'll keep it on my watch list. Although the shakiness of the current economy has given these companies some headwinds, I have bullish views for them for the long-term (5 years or more). UPS should thrive as the U.S. and global economies improve.
Disclosure: I am long MCD. I wrote this article myself, and it expresses my own opinions. I am not receiving compensation for it (other than from Seeking Alpha). I have no business relationship with any company whose stock is mentioned in this article.