Long-term investors should be aware of the following two trends: The increasing drug shortage, as reported by FDA, and the massive upsurge of the aging baby boomers in the next decade. "From 2005 to 2011 the number of drug shortages in the U.S. rose from 61 to 251, according to the Food and Drug Administration. Until federal regulators can bolster the supply chain without compromising quality, we can't be assured of reliable access to safe medicines," as reported from Bloomberg View. If this problem intensifies, nobody wins other than the pharmaceutical manufacturers that have the ability to quickly increase supply at a low cost.
Another important trend for investors to pay attention is the massive aging of baby boomers: "The massive aging of baby boomers that began around 2005, as the first baby boomer cohort crossed the age of 60. This trend is expected to last until 2024, when the last cohort crosses the age of 65. The portion of the world's population that is over 60 is expected to reach 30% by 2025, compared to 20% in 2000," as written by Panos Mourdoukoutas from Forbes. All these lead to a great investing opportunity for one company, Teva Pharmaceutical Industries (NASDAQ:TEVA), one of the best in its industry with solid fundamentals.
Teva Pharmaceutical Industries is the world's largest generic pharmaceutical manufacturer with operations in 60 countries. TEVA develops, produces and markets generic drugs in all treatment categories. TEVA also develops and sells branded pharmaceuticals, including Copaxone, one of the world's leading multiple sclerosis drugs. While TEVA is facing increased competition in the near-term on its highly profitable drugs, Copaxone and Provigil, TEVA's global low-cost operations, expansion to emerging markets, strong generic manufacturing capabilities, and drug pipeline should enable the company to grow profitably and continuously in the long-term while benefiting nicely with the aging baby boomer trend.
Fundamentals Overview
Below, we will take a look at TEVA's key stats to see where it stands as compared to its peers in the industry of drug manufacturers, including companies such as Watson Pharmaceuticals Inc. (WPI) and Novartis AG ADR (NYSE:NVS).
| | | |
| --- | --- | --- |
| Key Stats | Teva Pharmaceutical Industries | Industry Average |
| Price/Earning ttm | 11.4 | 25.2 |
| Price/Book | 1.6 | 2.8 |
| Price/Sales ttm | 1.8 | 2.5 |
| Revenue Growth (3 Yr Avg) | 18.2 | 13.7 |
| EPS Growth (3 Yr Avg) | 58.2 | 22.7 |
| Operating Margin % ttm | 17.8 | 12.7 |
| Net Margin % ttm | 15.6 | 10.1 |
| ROE ttm | 13.5 | 11.4 |
| Debt/Equity | 0.6 | 3.1 |
Source: MorningStar
While TEVA's revenue and EPS growth of 18.2 and 58.2 all outpace the industry averages of 13.7 and 22.7 and operating margin and net margin all produce the stronger numbers than the averages, we believe TEVA is currently under-valued with P/E and P/B of 11.4 and 1.6, as compared to the averages of 25.2 and 2.8. Moreover, TEVA's debt/equity of 0.6, as compared to the average of 3.1, gives us comfortable support to believe that TEVA had positioned itself well for any upcoming economic uncertainty.
Technical Review
On Thursday, TEVA closed at $40.74 with a 0.27% gain, where the volume of 2.60M is 14.2% less than the 30 day average of 3.03M. The 52-week price range for TEVA is $36.88 to $46.65. Since Oct. 18, the MACD (12, 26, 9) indicator had been showing a bullish sign for TEVA. However, the price continued to drop and only started to turn around since Oct. 23, as seen from the chart below. TEVA is currently trading below its 200-day MV of $41.68 and had been slowly climbing up from its 50-day MV of $40.35. From the momentum perspective, RSI (14) is currently close to neutral at 53.32. The current pivot support points are $39.88 (S1) and $38.34 (S2). Based on the current chart, TEVA should trade in the range of $38 to $42 in the near-term.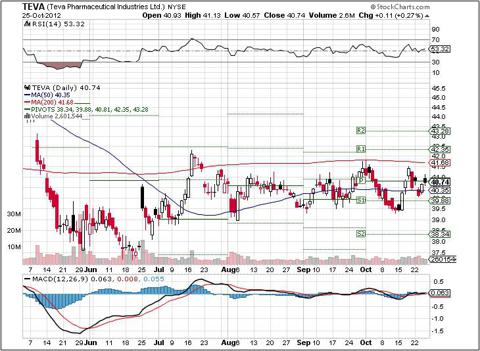 Click to enlargeSource: StockCharts.com
Options Play
With the increasing demand, we are optimistic about the long-term outlook for TEVA. In the short-term, TEVA might be trading in the range from $38 to $42. Below, we will review a credit put vertical spread options play for investors and traders who share the same long-term bullish view for TEVA.
Short

1x Jan 19, 2013 Put at the strike price of $37.5 for the credit of $0.62

Buy

1x Jan 19, 2013 Put at the strike price of $35 for the cost of $0.28
The maximum profit potential is $0.34 and the maximum risk and margin requirement is $2.16 (maximum $2.5 loss - $0.34 credit received). The potential return on margin is 15.74% for the 3 month investing period. If TEVA does not hold above $37.5 on Jan. 19, 2013, the acquisition cost for TEVA will be $37.16, which gives us 8.79% edge over the current price of $40.74.
Note: All the prices are based on Oct. 25's closing and all calculations are before fees and expenses.
Disclosure: I have no positions in any stocks mentioned, but may initiate a long position in TEVA over the next 72 hours. I wrote this article myself, and it expresses my own opinions. I am not receiving compensation for it (other than from Seeking Alpha). I have no business relationship with any company whose stock is mentioned in this article.