Third quarter results for Zynga (NASDAQ:ZNGA) were not bad, but they were not great either. Q3 revenues of $317 million were positive to the tune of 3% year-over-year and nine months year-to-date revenues of $970 million were higher by 17% year-over-year.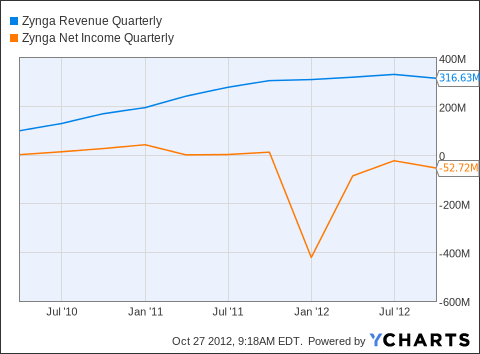 ZNGA Revenue Quarterly data by YCharts
If anything else, Q3 results are telling us that people are getting tired of playing farm this and farm that. Those that are willing to fork up money to play farm this and farm that are a becoming fewer and fewer.
Bookings, which in reality are deferred revenue (even if the company states they are not), were down 11% for Q3 year-over-year. And while bookings were indeed up by 4% for the 9 months year-over-year, the Q3 year-over-year booking numbers are something to worry about.
Also, whenever any company announces a "cost reduction plan", then you know something is going on that is not really bullish. As per the company's recent release:
Cost Reduction Plan

Yesterday Zynga announced a cost reduction plan expected to generate pre-tax savings in the fourth quarter in the range of $15 to $20 million, excluding an estimated $8 to $12 million pre-tax restructuring charge in the same period. As part of the plan, Zynga expects to complete a reduction in force of approximately 150 employees or approximately 5% of its current workforce, and implement additional cost reduction measures, including steps to rationalize its product pipeline, reduce marketing and technology expenditures and consolidate certain facilities.
While to company is not making any money, the overall situation as far as the balance sheet is concerned is OK. The company has about $1.6 billion in cash on its books and thus has time to prove itself over the next several quarters.
The market however is quite disappointed (and rightly so), because there is nothing exciting happening, except for the fact that the company's pipeline of games is proving a non-event.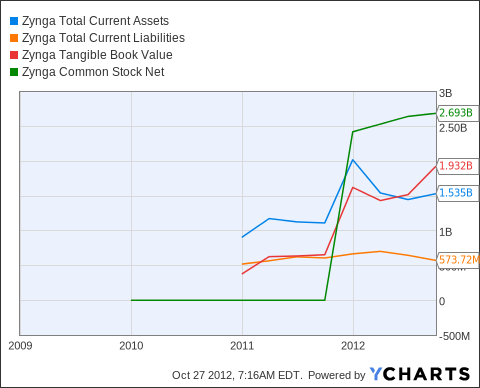 ZNGA Total Current Assets data by YCharts
But on a book value metric, total equity and tangible book value has stayed pretty steady. So overall, even though the company is not really progressing in any direction, its overall balance sheet remains intact and at least for now, and I don't see any red flags.
However there is one thing that might prove a positive catalyst and might propel the stock to higher levels. As per the company's announcement, the company will buy back its own shares:
Share Repurchase Program

Zynga today announced that its Board of Directors has authorized a share repurchase program. Under the program, Zynga is authorized to repurchase up to $200 million of its outstanding Class A common stock. The timing and amount of any share repurchases will be determined based on market conditions, share price and other factors.
For the most part, buying back shares in order to prop up your stock or even to stabilize it will not work, unless the market thinks that your stock is indeed a good bargain. If for example your stock is valued at 30 times earnings and you have a Price/Book value of 5, believe me, the market will throw at you all the stock your balance sheet can handle.
However, that's not the case with Zynga. In reality, the company is buying back its shares at current book value. So it's not paying a premium of any kind, which is a good thing.
Now I don't know if management decided on this share repurchase program to support the stock or if it wants to leverage future profits for current stockholders. Whatever the reason is, I view it as a near term positive catalyst for the stock.
Granted, that the market does not take anything for granted and the company will have to prove itself in more ways than one in the coming quarters, but as far as the stock repurchase program is concerned, it's the first correct thing Zynga's management has done for some time now.
Disclosure: I have no positions in any stocks mentioned, and no plans to initiate any positions within the next 72 hours. I wrote this article myself, and it expresses my own opinions. I am not receiving compensation for it (other than from Seeking Alpha). I have no business relationship with any company whose stock is mentioned in this article.