On the weekend of the launch of Windows 8, it seemed only fitting to conduct an analysis on one of the largest shippers of Windows PCs in the world, Dell. (NASDAQ:DELL). However, it's ironic (and helpful to this bull case) that most of Dell's value in the future will not come from PCs at all.
My investment thesis for Dell is very similar to my thesis for HP (NYSE:HPQ), which I outlined in a previous article that stirred up a lot of lively debate. So, instead of rewriting the same article and merely changing the name, I aim to simply hit on a few unique highlights that illustrate how Dell is a strong buy at these prices.
Dell's share price has fallen over 37% YTD and has - just within the last couple of days - officially hit 52-week lows amidst concerns about the impending death of the PC, price wars amongst PC rivals, the expected release of Windows 8, and, of course, macro-fear (a bearish story wouldn't be complete without it). The macroeconomic picture is really nothing Dell or any other company can control, so I will ignore it for the time being (like any self-respecting bottom-up analyst would) and say that the world economy will stay tough for the near term before it gets better (unless, of course, it gets better in the near term before it gets tougher, or vice versa).
The other three concerns listed above are either overreactions, temporary, correctable, immaterial to Dell's core business, or a mixture of all four. The release of Windows 8 is behind us, and any pick-up in purchasing (albeit small) will start now. Even though this will happen, the market will completely ignore this and remain enamored with the myth that the PC is dead. Meanwhile, DELL (the stock) may go lower even as Dell (the company) will be harvesting the cash flows from the continuance of its PC business and funneling those cash flows into the higher margin enterprise business that I'll talk about later.
While there is concern about the health of the PC business, the belief that PCs are dead is simply wrong. Yes, there will be cannibalization of PCs by tablets and smartphones, and some consumers who don't need the horsepower of a PC will opt instead for tablets, but this does not simply mean the PC will die. I will readily admit that I love my iPad, but I did all the research, number-crunching, spreadsheet modeling, and typing for this article on my trusty laptop. Call me a dinosaur.
Price wars can get ugly, and this is a problem for Dell. Nobody wins a price war, and Dell has failed to innovate its way out of commoditization. However, the main point of this article is that none of the above warrant a 40% decline in Dell's stock price.
Dell: ex-PC Business
A simple way to look at Dell is to say that, since PCs amount to about 50% of Dell's total revenues (but a lower % of earnings because PCs are a lower margin business than Dell's other segments), a YTD 40% decline in stock price essentially means the market has virtually taken Dell's PC business out of the picture and discounted it down to zero, leaving a fair stock price behind for Dell's remaining business segments. This would mean that any future profit squeezed from its PC business is gravy. But for those folks who need more analysis, read on.
Dell reports its financials in 4 main business segments: Large Enterprise (major corporations), Public (schools, governments, etc.), Small and Medium Business, and Consumer. Take a look at its last three years of financial results below.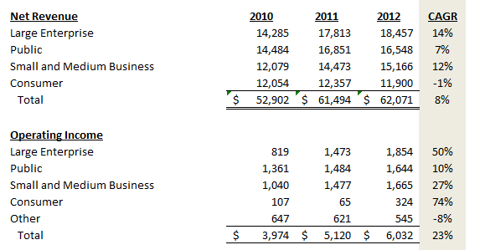 To make things clean, let's assume that when Dell's PC business falls, it takes down the Small and Medium Business and Consumer business segments in their entireties, so that they no longer exist. We'll ignore the fact that the Consumer segment saw YoY operating income growth of 399% last year. We'll also ignore the fact that in addition to PCs, Dell sells services and IT solutions to the Small and Medium Business segment. And finally, we'll ignore that there is also a Mobility component within the Consumer segment which is growing. For conservative purposes, let's ignore all this and assume the segments just die completely. What's left is its Large Enterprise and Public segments, which, for the last 2 years, have grown operating income at CAGRs of 50% and 10%, respectively.
As I mentioned before, I won't write the same article I did about HP, which means I won't strip Dell's PC business out of the enterprise and attempt to value the other parts separately. It also means that I won't mention that Dell's PC business is the slowest growing and lowest margin business for Dell. By not doing this, I would therefore omit my judgments that Dell is worth about $14 per share in a worst-case scenario that sees its PC business shot out of the sky (this would be a 35% upside to Dell's recent stock price of around $9.24). Since I'm doing none of that, I would also fail to post the below picture of this scenario played out over the next three years: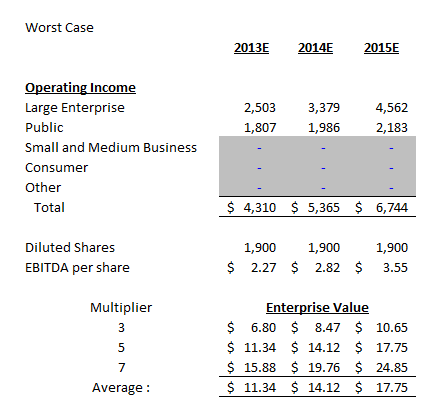 This scenario assumes operating income from Large Enterprise and Public segments grow at a rate less than their respective 3-yr CAGRs, and operating income from the other three segments is non-existent. It also assumes that Dell's recent strategic acquisitions will fail to succeed or become accretive to earnings. It also assumes a pessimistic 1.9 billion shares outstanding, which means some dilution occurs, since today's shares outstanding are about 1.7 billion and decreasing. Dell has been very shareholder friendly with buybacks and has pledged 20-35% of free cash flow to shareholders through some form of capital return, so I seriously doubt shares will be that diluted, but it's a worst case scenario. As you can see, Dell's enterprise value in this drastic scenario is still above today's market price, and that is not counting its $1.99 in net cash per share, which brings the above range to anywhere from $13 to $20 per share for total intrinsic value (without three of its operating segments).
Since Dell doesn't report operating income coming from PCs only, I had to break it out in the above segments (for which it does reports operating income) and assume that the bottom three segments are nothing but PC sales. This is a little erroneous, of course, but axing three segments that make up 42% of Dell's business in 2012 is such a conservative move, you could even call it draconian. See below for proportions of total business for each reporting segment.

Dell's Growth Story
According to its most recent 10-k, Dell began a transformation a few years ago that involved steering away from PCs and focused instead on being a leading end-to-end IT and enterprise solutions provider. Here is a direct quote taken from the Business Strategy section:
"Dell built its reputation as a leading technology provider through listening to customers and developing solutions that meet customer needs. A few years ago, we initiated a broad transformation of the company to become an end-to-end technology solutions company.

We are expanding our enterprise solutions, which include servers, networking, and storage offerings. In services, we are adding more capabilities to provide end-to-end technology solutions to our customers, including managed security services focused on threat intelligence and security consulting. We are also focused on growing our end-user computing business, which includes desktop and mobility offerings. Software is a critical part of enterprise solutions and end-user computing, and we are expanding our capabilities in this business. Since the beginning of Fiscal 2011, we have acquired more than ten companies whose offerings and intellectual property enhance our solutions business. We will continue to focus our organic and inorganic investments on opportunities that we believe will enhance our solutions capabilities.

We are committed to this transformation as we have experienced its benefits. We seek to balance revenue growth with an appropriate level of profitability. In addition, we will continue to manage our businesses to grow operating income and cash flows over the long-term. We believe our strategy will benefit our customers, drive greater efficiency and productivity, and create value for our shareholders."
That doesn't sound like a mere hardware business to me.
Indeed, in Dell's most recent earnings conference call, CFO Brian Gladden made sure to reiterate this transition in the second sentence of the address. Notably, barely a breath was wasted on talk of PCs. It's clear that Dell is serious about making this shift.
As a means to this end, Dell has been gobbling up companies that are leaders in their respective industries in order to add to its software, IT services, and enterprise portfolios; most recently:
Quest Software (whose revenues are upwards of $1 billion)
Wyse Technology (an international leader in enterprise devices)
Make Technologies
Clerity Solutions
SonicWALL, Inc.
The Perot Systems acquisition in 2009 for nearly $4 billion is also notable. For optics' sake, take a look at a number of its noteworthy acquisitions over the past decade and notice the markets these companies are/were in: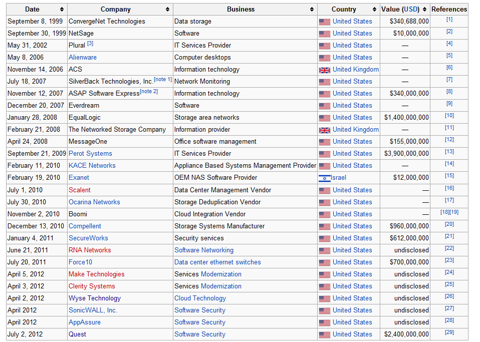 Source: chart taken from Wikipedia, but information taken from various sources, including Thomson Financial, eWeek, CNET, Bloomberg and others. See complete webpage here.
However, the market just doesn't seem to see this, or they don't know what it means for the future of Dell. And therein lies the growth story: Dell is transforming itself into a complete end-to-end technology services company. And it has been doing it for years, right under the noses of the market professionals who have either ignored this or are too scared to jump in on the thesis.
I think DELL is a stronger buy than HP, and this is why:
DELL has a higher return on capital than HPQ.
DELL has a cleaner balance sheet.
DELL achieved record-breaking cash flows last year.
HPQ is a gargantuan company and will take longer to turn around than DELL, which is smaller and has simply been quietly executing its plan for years.
DELL has its founder at the helm. While some may argue this doesn't matter, you can't discount the fact that Michael Dell has come back to right the ship and take care of his own "baby." Additionally, he bought a large stake last year and owns 18.84% of the total company, so he's in the same boat as the second-class citizens (otherwise known as "minority shareholders.")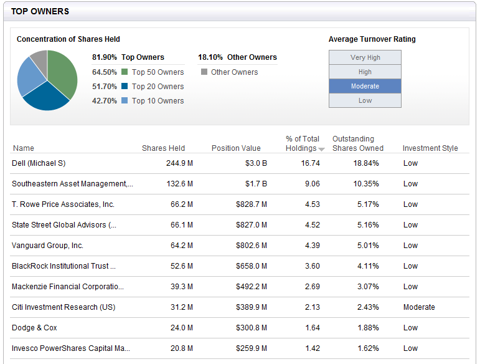 Chart taken from E-trade.
A More Realistic Valuation
A more realistic valuation should incorporate the fact that as much as the PC is hated right now, it will survive, and DELL will still sell the lion's share of them over the next few years. Granted, it won't be with the growth the PC has experienced over the past decade. This valuation would also incorporate Dell's successful transformation discussed above. In order to illustrate my point that the market is completely overreacting to Dell's performance, I constructed a DCF analysis and forecasted free cash flow out for 10 years assuming Dell can keep up with the prior decade of FCF growth of 4.6%. I want to make at least 12% on the investment, so 12% will be my hurdle rate. Adding in Dell's net cash, I come to a total intrinsic value of around $37 billion. With Dell's current market cap of $16 billion, that implies an upside of 131% at today's price. That leaves a lot of room for error. Theoretically, Dell can lose 8% per year in free cash flow and the investor at today's levels still makes money. Below is a picture of the vast margin of safety we have between Dell's perceived intrinsic value and today's share price.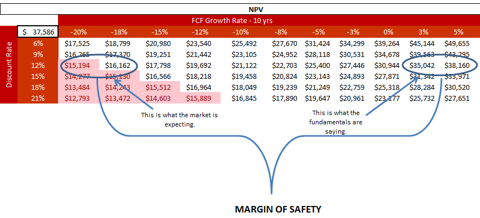 Reverse-engineering these numbers, we can figure out what type of 10-year fundamental performance the market expects out of Dell by pricing it at $16 billion today. What the market is basically expecting out of Dell is an annual 18-20% decrease in free cash flows. The job set before you, as an investor, is to simply ask yourself, "Is this realistic?"
On the valuation front, Dell is officially in deep value territory. Tweedy Browne's indispensable research paper entitled, "What Has Worked in Investing," repeatedly quotes from studies done across several decades and teaches us that the lowest-priced decile of P/E stocks outperforms the market, on average. Dell, at a P/E ratio of 5.5, is in that category now. Add in record cash flows and superior returns on capital, and you've got a "cheap" (low priced in relation to fundamentals), and "good" (earns higher rates of return on invested capital than its competitors) business.
Deep value
Shareholder friendly
CEO whose interests are aligned with shareholders
Harvesting cash flows from mature businesses while venturing successfully into higher-margin markets
Recent record-breaking cash flows
Stock price at a 52-week low
Everybody hates the stock
All of the above points to a strong buy for me.
Disclosure: I am long DELL, HPQ. I wrote this article myself, and it expresses my own opinions. I am not receiving compensation for it (other than from Seeking Alpha). I have no business relationship with any company whose stock is mentioned in this article.