Another quarter, another record in gold sales for Sandstorm Gold (NYSEMKT:SAND). Gold sales were $15.1 million for the 3 months ending September 30th, up from $14.96 million from the equivalent period June 30th. Although gold ounces sold were down slightly at 9,066 versus 9,259, the average price per ounce realized was up to $1,666 from $1,615.
SAND's price and volume were flat with the news (click to enlarge images):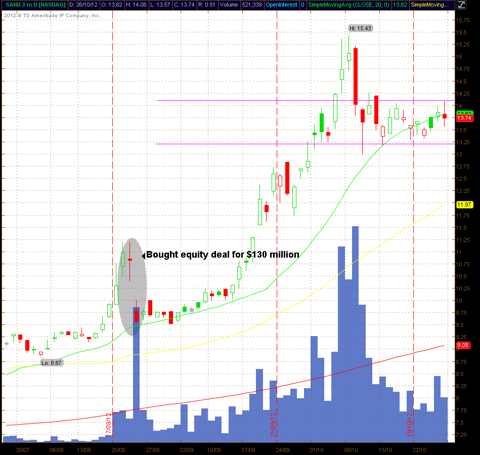 Click to enlarge
Cash Flow from Operations
The flat price action can partly be attributed to the down tick in cash flow from operations: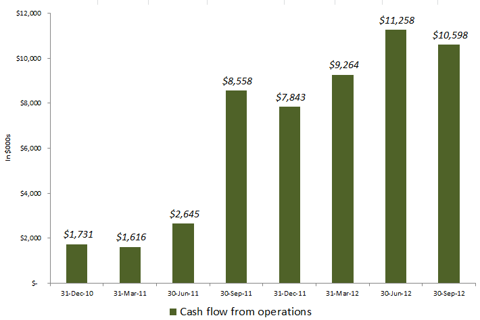 Click to enlarge
Putting this in perspective, cash flows are up 24% compared to a year earlier and the growth has been nothing short of spectacular. CEO Nolan Watson said it best in the earnings call:
When I look at things and think that 3.5 years ago, we were a $4 million market cap shell company and I see what this team has been able to do over the last 3.5 years, I get pretty excited as to what I think this team can do over the next 10 years.
That being said, one of the greatest attributes of the market is the discipline it imposes on management teams. Although there are drawbacks of the quarterly focus of Wall Street, one of its strengths is that it gives no one a free ride. The question on the trading floor always is, what have you done for me lately?
Even with their spectacular performance since inception, why the lower cash flows this quarter?
The Origin of the Cash Flows
There are 10 gold steams within SAND, 5 of which are active. I'll focus on the active mines, those being:
Aurizona - Luna Gold Corp (OTCPK:LGCUF)
Bachelor Lake - Metanor Resources (OTCPK:MEAOF)
Black Fox - Brigus Gold Corp (BRD)
Ming - Rambler Metals and Mining (OTC:RBMTF)
Santa Elena - Silvercrest Mines (STVZF.PK)
Each of these streams are publicly traded companies. All trade either on the Toronto Stock Exchange or the Canadian Venture Exchange. The Toronto Stock Exchange is the main stock exchange in Canada, the Canadian Venture Exchange is for smaller cap companies.
SAND's niche is providing capital to smaller cap mining companies. I've broken out the 5 active company profiles below:

Click to enlarge
Other than Brigus, these are all thinly traded names with market caps below $300 million. The stock performance of the group year to date has been mixed, with Ming, Santa Elena and Aurizona's mines outperforming gold and Bachelor Lake and Black Fox lagging gold: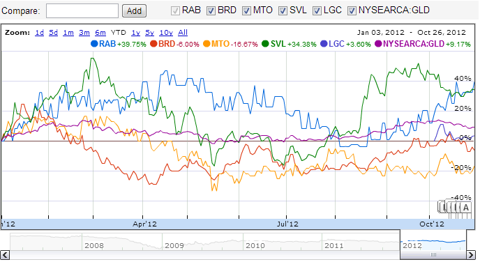 Click to enlarge
Interestingly, when you add SAND to this chart [CVE:SSL], it has outperformed its 5 main streams considerably: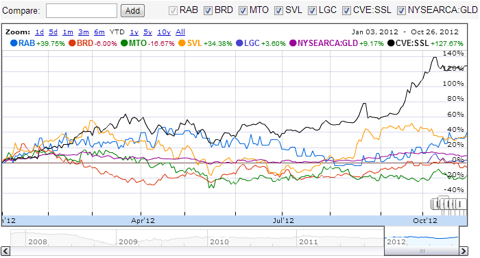 Click to enlarge
These streams make variant contributions to SAND's cash flows: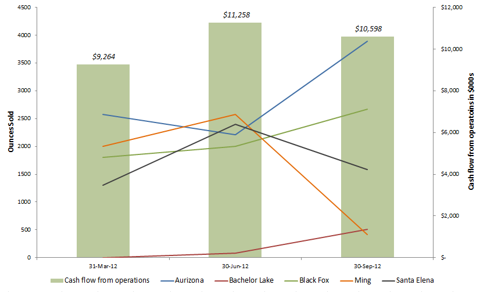 Click to enlarge
The gold ounces sold by SAND by each mine are on the left vertical axis which corresponds to the colored lines, the right vertical axis is the cash flow from operations which corresponds to the bars. There is a divergence in contribution from these mines quarter to quarter, which is to be expected, but the drop off in Ming mine was large enough to eliminate gains made at 3 of the 5 mines.
Ming Mine is owned by Rambler Metals and Mining (OTC:RBMTF). Below is their stock chart: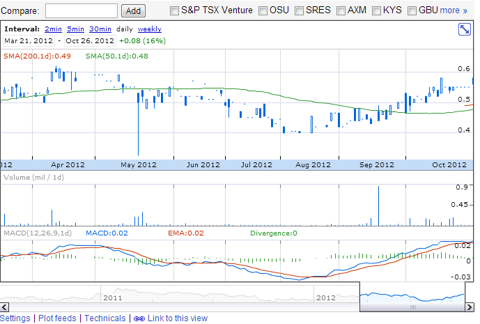 Click to enlarge
There were no company specific events for RBMTF.PK over that time frame, as the stock price has been climbing over the quarter. SAND's deal with RBMTF.PK is to receive 25% of the first 175,000 ounces of gold and 12% of the life of mine gold produced thereafter; therefore the steam is far from exhausted. The answer to the diminished production from Ming Mine has actually been in earning calls all year, and the production last quarter was a positive surprise.
As per Nolan Watson during Q2 earning call:
They (Ming) have currently transferred the mining focus from 1806 gold zone to the 1807 zone, which is higher in copper grade and lower in gold grade.
David Awram, the Executive Vice President, went on to speak about a site visit during the same call:
The 1806 zone still has lots of open faces that they can access, but this really is a copper mine at this point. What they will be doing from this point on is mine it from both the lower Footwall zone and the 1807 zone. And the 1807 zone they are not having any trouble finding good ore and good faces to mine off of. They have done an excellent job.
In RBMTF.PK's presentation on Ming Mine, there were still 134,077 contained gold ounces as per there last quarter: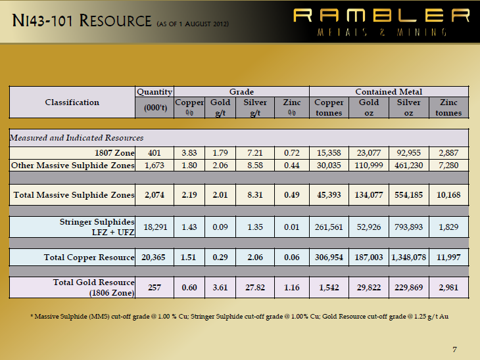 Click to enlarge
Although there was a drop in gold ounces and in total cash flows for SAND, it was entirely expected and explainable. As RBMTF.PK continues to develop the mine, SAND will continue to generate cash flows from the property. The slight drop in cash flows in the quarter is not a cause for concern.
Why SAND Is Still a Buy
I hate to be an unabashed cheerleader for SAND. I subscribe to the Soros view that an investor ought to seek out opinions of those they disagree with. I've scoured the financial statements, earnings calls, invited members of SAND's management to speak in boardrooms, met with Denver Harris of investor relations and even asked around the University of British Columbia where the management of SAND and I both attended University, and I'm slightly disappointed to say that I haven't found any operational reasons to sell the stock. This is a first class team that continues to deliver results.
There is concern from a value perspective. As per my last article on SAND, they have hit the big time, appearing on Jim Cramer's Mad Money and being promoted by pundits such as Peter Schiff. I had a friend email me when he saw SAND on Mad Money:

Click to enlarge
There are a number of ways to price SAND. On a price to earnings ratio, SAND looks extremely overvalued at 58 times earnings. But I agree with SAND's management that this isn't the best way to value the stock. What matters are cash flows. That is what will ultimately determine if a business fails or succeeds. A way of measuring this is using an Enterprise Value to Cash Flow metric (EV/CF).
The two components:
Enterprise Value = Market Capitalization + Debt- Cash and Cash Equivalents
Cash Flow = Cash Flow
The enterprise value is similar to what a buyer of the company would pay. They'd have to buy all the outstanding shares of the company, take on the debt and they'd get the cash. This is a close approximation to the elusive intrinsic value of a business.
By taking cash flows as a ratio of this, it provides a means to compare how much cash a company generates versus their intrinsic value. On this metric, SAND appears to be reasonably priced: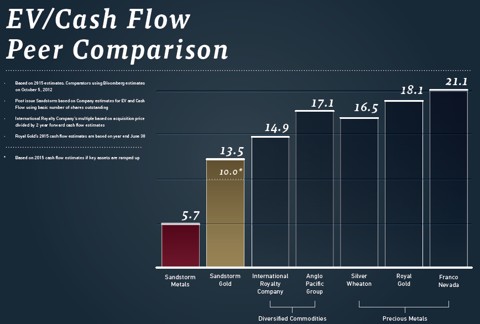 Click to enlarge
And Sandstorm Metals and Energy is priced even better, as commentator Graham Jervis would attest to.
If valuing a company only entailed assessing quantifiable cash flows, we could pass investing off to computers and free up human capital for other endeavors. This isn't the case, and whether you want to put it in terms of economic moats or growth potential, the money is made in assessing a company's future potential. This is where SAND delivers the most value.
This past earnings call was informative with regards to the deal making process at SAND. SAND has a number of ex-investment bankers on staff doing detailed analysis on hundreds of deals over the course of the year. Say what you want about investment bankers, if there's one thing they excel at, it's crunching massive amounts of data (pun intended). As per Nolan Watson in Q3's Earning Call:
There is always acquisitions, I mean our pipeline right now has probably 40 things in it and there is always acquisitions that we're working on that will fall through and other ones will fall up on the table and what we try to do is get our deals in continuing to turn about 40 things, 30 to 40 things depending on how full the pipeline is, and you hope that the best deal will pop out and that's kind of how we manage the corporate development side.
David Awram expanded on this during the same call:
We have six senior corporate development people that are kind of basically almost in the investment bankers types which are looking through and doing serious analysis on at least 300 deals per year.
With $100 million in cash on hand, $15 million being generated each quarter, SAND's demonstrable success in raising funds in the equity markets and 6 investment bankers searching through over 1800 deals, there is going to be action at SAND.
Nolan agrees, foreseeing an announcement as early as Q1 in 2013:
There is enough things in the pipeline that I am confident that here in the New Year probably Q1 or Q2 we should have more deals to announce.
As more deals are struck, the additional cash flows will be a catalyst for further stock appreciation. In addition, there are 5 mines that SAND already has deals with that will begin streaming gold over the coming year. If gold prices remain elevated, SAND's future is bright.
This, the price of gold, is the largest risk to SAND. Contrary to many other owners of SAND, I'm not a "gold bug". I find the whole process ridiculous; we dig up this bright yellow metal just to bury it again. We can't eat it, we can't drink it, it's difficult to build with and heavy to move around. The amount of labor and capital devoted to this process could be used more efficiently, raising the standard of living and enhancing the human experience. This line of thought has been echoed throughout time, starting with economists John Locke and David Hume, and more recently by Warren Buffett.
Gold is a useful tool in keeping government fiscal and monetary policy in check. If they could do this on their own, it wouldn't serve much of a purpose. It's essentially an expensive measuring stick; when the money supply rises, gold rises, and vice versa. In our current state of affairs, the central bank's of the world are printing massive amounts of money buying government bonds to compensate for disastrous fiscal policy. With more money relative to gold, it takes more money to buy gold, hence the rise in gold's value.
The question is how this monetizing of debt will affect gold prices over the long term. How much of the current money printing is priced in? This is a contentious topic, with many hedge fund managers calling for $4,000 gold prices such as John Paulson, while others call it a bubble such as George Soros. I'm not convinced on who is right; I see merits in both positions.
Whose take I do agree with is Ray Dalio, the founder of the hedge fund Bridgewater Associates. In a recent interview, he discussed how the average investor ought to have his assets diversified because you don't know what tomorrow will look like. This diversification ought to be a mix of gold, commodities, equity, bonds and real estate. Although I wouldn't go near bonds at the moment, I see the merit in having a gold position in a portfolio in the event governments aren't able to get their fiscal house in order and monetary policy continues to be expansionary.
The best way to include gold in your portfolio is to own SAND. I'd go as far as saying if you own gold, sell it and buy SAND. By doing so, you're exposing your portfolio to the upside in gold prices, the exploration upside in the mines and the upside in the future deals. The management team is first class and the stock is currently at a fair valuation based on cash flows. With deals expected to be announced early next year, and the elected leaders of the world continuing to demonstrate their incompetence, now is an excellent time to add SAND to your portfolio.
Disclosure: I am long SAND. I wrote this article myself, and it expresses my own opinions. I am not receiving compensation for it (other than from Seeking Alpha). I have no business relationship with any company whose stock is mentioned in this article.