Paper and containerboard producer International Paper (NYSE:IP) reported solid third quarter results Thursday morning. Sales increased 6% year-over-year to $7 billion, a tad short of consensus estimates. Earnings, adjusted for one-time impacts, fell 7% year-over-year to $0.75 per share.
Industrial packaging performed well, falling just 7% year-over-year after divesting three containerboard mills. The segment benefited from lower input costs and decreased maintenance outages, though these were partially offset by lower sales volumes. Industrial packaging is also benefiting from better than expected synergies from the firm's Temple Island acquisition, which could be $100 million greater than initially predicted.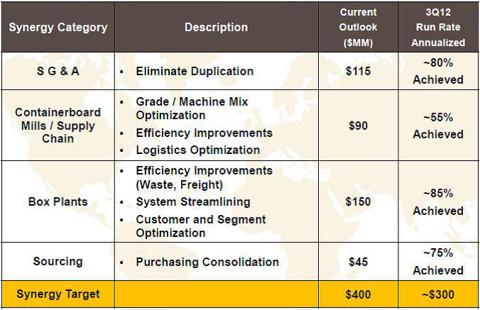 Click to enlarge
Image Source: International Paper Earnings Presentation
Printing Papers performance was also strong, with earnings growing 90% year-over-year to $206 million. Export volumes surged 68%, more than offsetting a domestic decline of 3%. Global volume is up 5% year-to-date, as secular declines seem to be slightly exaggerated. Per capita freesheet paper consumption in Brazil and China is still less than 25% of consumption in the US, and while we think the proliferation of digital media should lower this figure overall, we suspect both nations still have room for growth.
Consumer Packaging results were weak, with earnings falling 35% year-over-year to $67 million, on the heels of revenue falling 20% to $765 million. Volume slipped in Asia and Europe, but it appears weak pricing and volumes in North America were the primary culprit.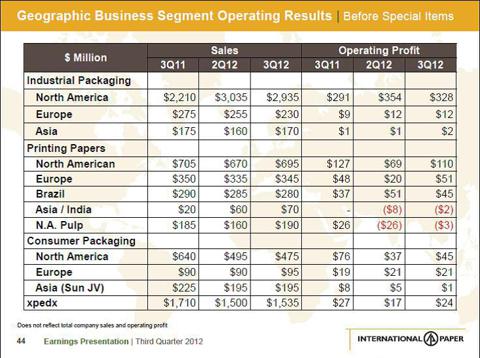 Click to enlarge
Image Source: International Paper Earnings Presentation
International Paper continues to make positive strides in cleaning up its balance sheet thanks to solid free cash flow generation, which was flat year-over-year, but still totaled $567 million. The firm has reduced debt by $800 million year-to-date, but the firm is still responsible for $10.5 billion in balance sheet debt and a $2.7 billion pension shortfall. Though the company remains focused on growth, we expect to see this number brought down over the next few years so the company can lower heavy interest payments.
Overall, we thought the quarter was solid, especially given the considerable global macroeconomic headwinds and lack of momentum in the US business. However, we continue to believe shares are fairly valued, and its lack of dividend growth potential (largely due to its debt service obligations) keeps us from adding the name to our Dividend Growth portfolio. Click here to learn why we think International Paper's dividend growth will slow in coming periods.
Disclosure: I have no positions in any stocks mentioned, and no plans to initiate any positions within the next 72 hours. I wrote this article myself, and it expresses my own opinions. I am not receiving compensation for it (other than from Seeking Alpha). I have no business relationship with any company whose stock is mentioned in this article.