So far Tuesday morning, central banks around the world have injected more than $200B in the financial system. Here are the figures: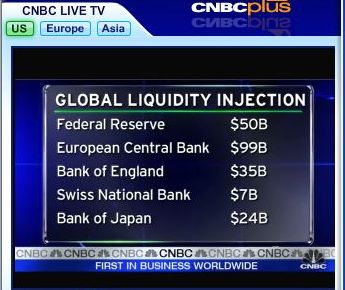 And here are some facts about Monday's price action:
USD/JPY - Biggest one day drop in 9 years
S&P500 - Biggest one day percentage drop since 9/11
30 Yr Treasuries fall to lowest level in 45 years
Fed Funds - Largest range since August 2007
Federal Reserve Liquidity Injection - Biggest since 9/11
Are we in unprecedented times? Yes.
The markets are pricing in a 100% chance of 2 rate cuts by December: