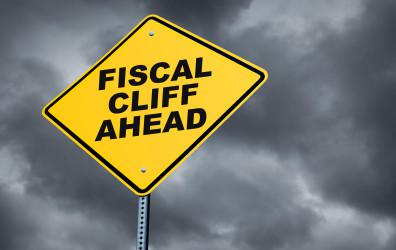 I have to be honest. I have absolutely no idea what is meant by the "fiscal cliff." What I do know is that it seems to create lots of worry and conversation.
Sometimes it's good being very simple in mind and thought. I would rather maintain a state of not really having any clue as to what all of the fear and discussion is about and simply go about my way.

Anyone who believes that the unknown is more frightening should stay away from the stock market, where the known rarely results in what is expected and the real unknown sends everyone into a frenzy of fear.
What I do know is that everyone now seems to be taking a pessimistic look at just about everything, using this quarter's earnings reports to validate that pessimism. So much for the market discounting the future by 6 months. Instead, it was Alcoa (NYSE:AA) and IBM (NYSE:IBM) that offered all of the proof that people needed to confirm that the sky was falling. Too bad they didn't know that half a year ago.
This past week was another great example of why, if you are invested, it really pays to protect your holdings with options. It also was another great week to demonstrate that whatever theses you may have regarding anything at all, it's all just worthless.
At that time that everyone was belittling the summer rally, including me, the market just went higher. Here we are a few months later and those that did the belittling are now saying "I told you so," as they ignore the concept of cyclicality. Now the prevailing sentiment is one of pessimism and the market is certainly playing along and reinforcing that fear.
For whatever it's worth, the cliff that we fell down this week as the market fared poorly just landed us back to where we were on Labor Day.
Labor Day 2012, that is.
While the rise of some 500 points in the Dow Jones may have made some shares too expensive on a near-term basis, the fall of 500 points is like getting an incredible "do over" opportunity to perhaps pick up the shares that got away.
As always, the selections for this week fall into Traditional, Momentum and Double Dip Dividend categories (see details). But this week, I'm also adding a new category, PEE (Premiums Enabled by Earnings). To learn more about PEE, read "Turning Hatred Into Profits." This week, there is also a bit more blurring of the lines as dividends and earnings reports converge for some positions.
Among the traditional stocks this week are old favorites Caterpillar (NYSE:CAT), Intel (NASDAQ:INTC) and Wells Fargo (NYSE:WFC). Lately, Caterpillar seems to be moving the market as much as anything else and its moves, when there has been news have been large and decided. Other than responding to occasional warnings from Cummins Engine (NYSE:CMI), Caterpillar has traded in a very tight range for quite a while and always offers an appealing option premium for a near-the-money option. At the moment, its price is in its near-term mid-way point and I have no reluctance to add to existing shares.
Where I do have some reluctance is adding to my existing holdings of Intel, which has actually traded fairly well the past two weeks while the technology sector has been embattled. The problem is that Intel wasn't trading terribly well after I initially purchased shares. At some point the sector will recover and the fact that Intel goes ex-dividend on November 5, 2012 may tip me toward picking up more shares.
As long as we're talking about beleaguered sectors, the Finance sector has had a rough week or two. Included in that group is Wells Fargo, which despite a nod from Warren Buffett and announcing further buy backs, couldn't get much respect last week. Over the past few months, I've been very happy owning shares at $34.
For me, a sign that the market is taking on an optimistic tone is when I have an easier time identifying "Momentum" stocks than I do "Traditional" selections. This week, there's no shortage of candidates, starting with Cliffs Natural REsources (NYSE:CLF). Following disappointing earnings it has fallen about 15%, returning to its Labor Day levels, when I was a happy owner of shares. The fact that it also goes ex-dividend during the November 2012 option cycle is appealing, but approaching a 7% yield does have to make you nervous. When it was at its previous lows, just a few months ago, one Talking Head opined that the dividend was safe, but that can change in an instant.
Another stock that I currently hold and do so with frustration is Starbucks (NASDAQ:SBUX). Despite the fact that I purchased a new lot of shares last week and had it assigned at $45. I may be willing to chase these shares at a higher level in an attempt to continue to underwrite paper losses on an earlier lot at $50. Starbucks complicates matters a little bit by reporting earnings on October 30, 2012 and then goes ex-dividend at some point in the November cycle.
Las Vegas Sands (NYSE:LVS) is another perennial selection. It appears to have changed its earnings release date twice over the past two weeks. That's not a very good sign, but its fellow sector cousins have thus far done well during the current earning's season, but just in case, selling a deep in the money call, following "PEE Principles" may soften any downward surprises.
Following its 7% gain on a day after reporting earnings on a day that the Dow Jones fell 200 points earlier this week, Coach (NYSE:COH) has given up some of those gains and is again approaching a reasonable entry point for purchase. Coach shares go in and out of my portfolio so frequently that they should have their own fashionable accessories.
J.C. Penney (NYSE:JCP) has had so much bad news thrown its way, yet somehow it keeps plugging away. In the past few months I've owned shares outright and have sold puts at those points when everyone was assailing management and its prospects. The cries have subsided and shares have had some reasonable stability at this level. Although earnings aren't reported until November 7, 2012, if I do purchase shares, I want to have an escape plan in mind, just in case the calm is illusory.
Alcoa got earning's season off on the wrong foot, but it happens to be going ex-dividend this week. I'm usually very price sensitive on Alcoa in that I will only purchase shares if it is priced above and very close to a strike level. Owning shares at a mid way point between strikes makes it very difficult to derive meaningful option premiums and shares can move too quickly and adversely sometimes to allow those kind of meager premiums to offer much relief from the drops. I always approach Alcoa with trepidation and most always allow the opportunity to pass.
Finally, Baidu (NASDAQ:BIDU) reports earnings following Monday's close. It certainly is capable of large moves, but it may be a perfect candidate for selling deep in the money calls. WIth its 52 week low at about $100, the November 2, 2012 $105 strike level may be an appropriate place to think about a quick and easy return, although I'd feel better about those prospects if earnings were reported later in the week, so that extraneous mayhem wouldn't have a chance to complicate matters.
Traditional Stocks: Caterpillar, Intel, Wells Fargo
Momentum Stocks: Coach, JC Penney
Double Dip Dividend: Alcoa (ex-div 10/31), Cliffs Natural Resources (ex-div November cycle), Intel (ex-div 11/5), Starbucks (ex-div November cycle)
Premiums Enabled by Earnings: Baidu, Las Vegas Sands
Remember, these are just guidelines for the coming week. Adjust accordingly with market movement, and you'll have the makings of a healthy income stream for the week with reduced risk.
Disclosure: I am long COH, LVS, CAT, SBUX, INTC. I wrote this article myself, and it expresses my own opinions. I am not receiving compensation for it (other than from Seeking Alpha). I have no business relationship with any company whose stock is mentioned in this article.
Additional disclosure: I may initiate positions in AA, BIDU, CLF, JCP, WFC